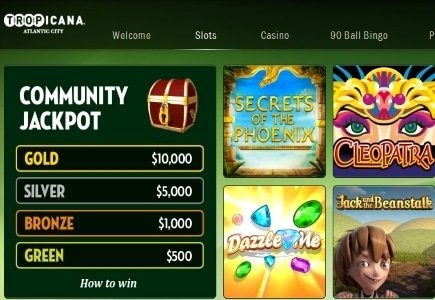 Located in Atlantic City, New Jersey, Tropicana Casino's online gaming services option, TropicanaCasino, has recently merged with top online gaming developer and supplier, Net Entertainment. The Tropicana Casino & Resort has been providing land-based gaming options for decades, and players can expect the same supreme dedication to customer service via their online effort as well. The online option is equipped with a wide assortment of casino games, designed to suit a variety of player types, much like their land-based counterpart does.
Net Entertainment, who uses the slogan, 'Better Gaming,' is a Swedish company, founded in 1996. It has earned a reputation of being a premium supplier of games, to successful online operators across the globe. Upon partnering with Tropicana, players who visit the online casino will now have access to a selection of NetEnt content, which has officially gone live.
Previous gaming content will remain available for play, as the new NetEnt content has simply been integrated within all that the online casino already had to offer, expanding their gaming library. The smooth move was approved by the New Jersey Division of Gaming Enforcement, clearing a necessary transaction waiver needed for NetEnt to launch their games on the Tropicana site.
Since signing with Gamesys back in November of 2015, it has been permissible for NetEnt to work with Tropicana, along with other major operators. Gamesys currently works with Tropicana's land-based casino in Atlantic City, and also operates its online casino: TropicanaCasino.
NetEnt's application for a full license is still pending.