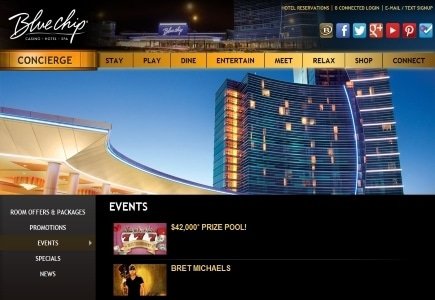 Located in Michigan City, Indiana, Blue Chip Casino hosted its annual Brewfest on Saturday, April 30th, featuring both local and national breweries. This year marked its 6th consecutive year holding the event, and the turnout continues to grow each year.
What began as a total of 600 guests in its first year, has increased to a whopping 2,200 individuals, which attended the event this past Saturday. Brewfest was held in the casino's Stardust Event Center, and people crowded to form a line that stretched from one end of the casino to the other, in order to obtain their glass for beer tastings.
Assistant General Manager of Blue Chip, Jack Elia, commented "We've got 85 breweries here today and over 300 beers. It's just a fun day for all to have! There are a lot of local breweries from Indiana, Ohio, and Michigan that are here but we do have breweries from all over."
Visitors had the opportunity to select from over 80 breweries to sample, with 45 located in the Stardust Event Center, and an additional 40 situated in outdoor tents. A Brewmaster Luncheon was also held, in which John Leinenkugel, a fifth generation member of the Leinenkugel family spoke at. In addition to the Wisconsin-founded brewery, guests also had the chance to sample from Lagunitas Brewing Co.
Of the proceeds collected from the event, as well as those accumulated from the silent auction sales featuring items donated by many of the breweries, a portion will go to the United Way of La Porte County.