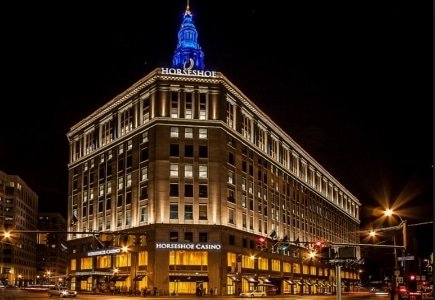 Horseshoe Casino in Cleveland will be rebranding to Jack Cleveland Casino, and it will be open and ready for business once again, under its new name, beginning May 11th. The casino is scheduled to close for a total of 40 hours, starting Tuesday, May 10th or more specifically, 11:59 p.m. on May 9th.
The temporary closing is necessary for officials to transfer everything over from Caesar's Entertainment to Jack Entertainment, which has also rebranded Cleveland Casino, ThistleDown Racino, and Horseshoe Casino Cincinnati.
While some of these other casinos, like ThistleDown Racino, completed its transformation in just 28 hours, more time is needed for Horseshoe's Cleveland location, because it is much larger in size. These particular dates, May 9th through the 11th, have been carefully selected to match the dates in which both the Cleveland Cavaliers and Indians will be out of town.
Aside from the name change, visitors can expect a couple of other new things as well, including improved slots and technology. Additionally, the ClubJACK loyalty program will be introduced as well. Regulars will have to say goodbye to the Caesar's Total Rewards program. Its replacement is made up of four levels, and works as a standard rewards program, in which players will be able to collect points as they play, to be later used toward complimentary gifts or free play.
While the Caesar's Total Rewards program will be no more, players will not lose the points they have racked up. They will receive an equal value converted to ClubJACK points. Points will still be honored at all Caesars-owned sites.