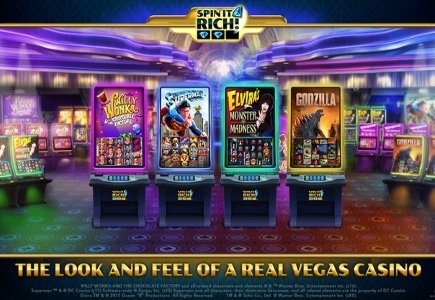 Zynga, American provider of social video game services, has just released its newest title in its casino franchise. Its newest, Spin It Rich! title serves as a sequel to its previous Hit it Rich! slot, which launched in 2014, and is now live on a variety of platforms. Individuals can gain access to the game for free across Android and iOS devices, in addition to Kindle and Facebook.
According to Joe Kaminkow, Chief Game Designer and Senior Vice President of Slots for Zynga, as stated in a press release to GamesBeat, "Since launching in 2014, Hit It Rich! Slots has delighted millions of players, giving them an immersive way to interact with their favorite entertainment brands. Spin It Rich! Slots builds on this beloved free-to-play experience by combining exciting mobile slots gameplay with the glitz and glamour found in casinos around the world. In addition to featuring Hit It Rich! Slots brands that our players love, such as Elvira and Sex & the City, we are thrilled to bring new branded reels to our players in Spin It Rich! Slots, including Godzilla and Superman."
This latest release gives players access to three slot machines, with the opportunity to unlock even more games, based on leveling up. Betting is made easy, as players can select the number of coins they wish to wager per spin, while being awarded experience points simply for doing so.
Spin It Rich! Slots can be downloaded for free on Android's Google Play, Apple's iTunes App Store, and the Amazon App Store.