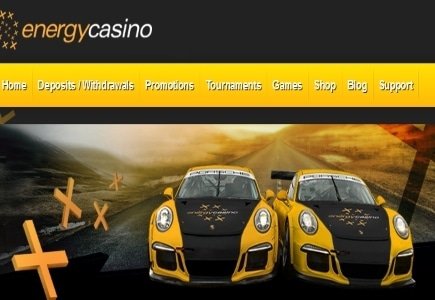 Online casino, established in 2013, EnergyCasino has just made public that it will be sponsoring Sweden's Team Jocke Mangs, which will participate in the upcoming Porsche Carrera Cup Scandinavia.
A mutual partnership between Team Jocke Mangs and EnergyCasino establishes support for the racing team while providing exposure for the site. On May 1st of 2016, EnergyCasino will launch its sponsorship campaign for Team Jocke Mangs just in time for the team's first race of thirteen for the Porsche Carrera Cup Scandinavia.
"When profiling our dream sponsorship, it was important for us to find something different, our goal was to find a personality that would mirror and match the key focus points of the EnergyCasino brand: "Fast & Furious with a bold attitude."
In expressing the overall excitement of the sponsorship, Country Manager Niclas Johansson for EnergyCasino stated, "After the first meeting with Jocke Mangs and the team it was clear that they possessed all of those attributes we were looking for. Jocke Mangs and his Porsche Carrera team have earned a reputation that speaks for itself, and we are looking forward to associating our brand with the energy and drive that Jocke and the team represent. Jocke Mangs and the team will give us a boost when engaging customers, online and at live events, like never before. Jocke and his team are in a race against other teams, and EnergyCasino is in a race against other casinos, so we both share the same competitive and energetic outlook."
The sponsorship of Team Jocke Mangs by EnergyCasino is pivotal to the casino's own marketing and development. Fans of Team Jocke Mangs will undoubtedly take notice of EnergyCasino's support as their own team will be on site at every race and live event in the coming future.
"Me and my Team are extremely happy and very proud to get EnergyCasino as the sponsor of choice. This means so much for me and my team and for the future in my racing career. This is a dream come true for me and my team and I couldn't think of a better brand to represent." Mangs commented himself.