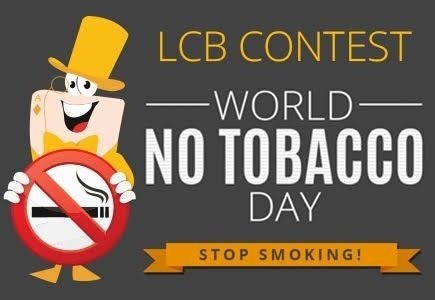 World No Tobacco Day is coming up at the end of May and we thought basing our monthly contest on this day would not only focus attention on an important issue but also serve as encouragement to put down the smokes.

It's a no brainer that smoking is bad for your health but what isn't, right? Cigarettes can cause cancer and gambling can make us broke if we're not careful. A few members of the LCB team used to enjoy a ciggy (and may still crave one from time to time) but we've since found the motivation to quit. Of course we're not here to lecture our members on the importance of quitting but rather to give away $250 in LCB Shop Cash!

Every day now through May 31st will bring about a new tobacco related challenge and even if you've never picked up the habit you can still participate for a chance to win your share of the prize pool.

On Day 1 lipstick is asking members to show her the ugliest smoking related picture you can find. There will be a total of ten winners, one for each daily challenge. The final day will be the toughest and you'll have the opportunity to accept the challenge during an extended period leading right up to World No Tobacco Day on the 31st.

The $250 LCB Shop Cash Prizes:

1 - $65

1 - $40

1 - $35

1 - $30

1 - $25

1 - $20

1 - $15

1 - $10

2 - $5

Good luck and don't miss out on LCB's May contest.

Enter here.