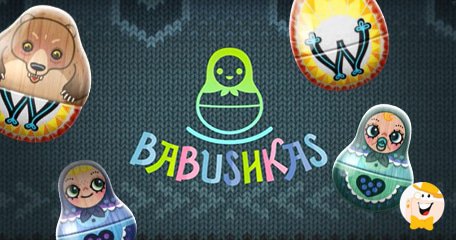 Thunderkick's upcoming Video Slot Game features a bunch of babushkas stripping down to create big wins with the potential to pay like crazy. The dolls come in a variety of shapes and colors and they'll be spinning round and round the reels on August 24th.
The 17-line Slot has a grandmother-like vibe as you'll see with the knitted sweater background. Sometimes it's pink, sometimes it's purple. It all depends on the mood of these little ladies.
From big to small these Thunderkick's Babushkas are flaunting it all. According to Thunderkick, "If your Babushkas can form any new winning lines with the next level color, they will undress for a higher combined win".
The wild symbol will appear on reel 3 only offering players the chance to trigger the one of several bear features. The Scare Bear feature will see a bear will pop out of the wild egg scaring the dolls to undress 1 to 3 times depending on how big and scary he is, the Charm Bear will charm them to undress one time and the Dance Bear will award 7 free spins with the possibility to retrigger.
A screen full of matching dolls will award a payout of up to 100x your bet.
We know you're all just bursting with excitement but the Babushkas will not be available on a desktop or mobile near you until Wednesday. For now we leave you with a sneak peek.
Babushkas Preview: