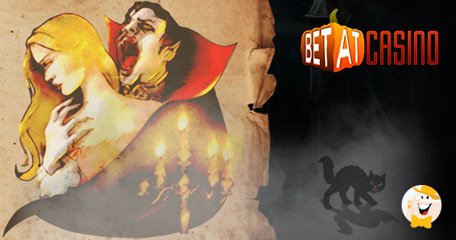 Let the haunts begin! With fall in full swing and October just around the corner, it's only a matter of time before things get a little spooky. BETAT Casino is going all out this season with its terrifying Haunted Hills Tour. The faint of heart must take caution as no kid-friendly spooks lie ahead. Be sure to bundle up, and bring a flashlight… and maybe a cross, wooden, stake, some garlic, and a silver bullet… just in case. You never know what sort of goblins and ghouls may await you on this spook-tacular tour.
Throughout the month of October, players can look forward to an assortment of fang-tastic offers, including free spins, deposit matches, cash back, and more. Halloween weekend will also feature a surprise from the site, which will be kept under wraps until a later date. Prizes will be awarded to lucky players by the Grim Reaper, himself.
Haunted tales will also be featured throughout the month. All of the site's Halloween-inspired promotions will be themed to different realms of horrors, and players will have the opportunity to take part in any of 6 different narratives: Apocalypse Survival Kit, Rise in Pieces, The Devil's Den, Pumpkin Surprise, The Monster's Lair, and Capt. Skull's Sea Sprints. The tales are bursting with tricks and treats that are sure to boost bankrolls. Look out for free spins, deposit bonuses, and much more. While the tales boast prizes, be sure to claim them and move on. It's easy to get lost in the creepy narratives, and once that happens, there's no going back…
Check out full promotional details here.