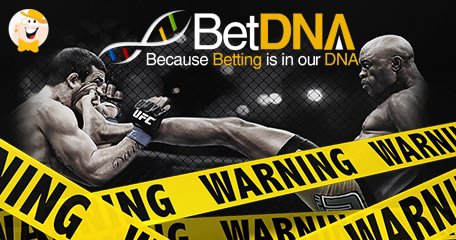 It has recently come to our attention that BetDNA might be manipulating their sportsbook bets to the disadvantage of punters, making it highly unlikely for them to win. (Thepogg report) While this is a serious accusation and an unfortunate turn of events, it is by no means surprising given the shady history of this casino and a constant stream of complaints by their members. Such overwhelmingly negative feedback and the well-known rogue tendencies of their sister sites are reasons enough to take this claims seriously and once again remind our readers not to engage in real money play at this casino.
BetDNA has been caught red-handed changing sports betting lines after confirming the bets. This was first noticed by a US player who placed a series of handicapped bets on three separate sports events, agreeing to the odds that were on offer at the time the bets were placed. After the bets were confirmed by BetDNA, the complaining player noticed that the polarity of the logged handicaps in all three cases has changed from positive to negative values, in such a way which would make it impossible for the punter to win.
As sports betting fans know, bookies may change the polarity of the handicap several times until the event actually begins, but the player will always get the outcome of the bets based on the handicap that booker offered at the time the bet was placed. Since the bets in this particular situation were quite small, it is unlikely that lines were altered manually or that this player was targeted specifically - more probably the manipulation of the handicaps was an automated process which is done only sometimes, not regularly, as that would be very obvious and a foolish thing to do as many players would surely notice.
While it is possible this could be a mistake or a simple technical glitch, there are a few suspicious elements to this story that speak to the fact the manipulation was indeed intentional. Each of the three changes that were made significantly disadvantaged the player without negatively affecting the casino in any way. Additionally, BetDNA remains unresponsive to the inquiries made regarding the compromised sportsbook. The bets in question were not canceled despite the complaints.
And lastly, but most importantly, BetDNA is part of the infamous CasinoAffiliatesNow group which was caught numerous times offering software that was either pirated, or genuine but distributed without a proper license. We have already reported about Pamper Casino and its fake NetEnt games, which also belongs to this affiliate group. Getting exposed time and time again doesn't seem to phase them one bit, as these guys are hell bent on trying to profit from these types of criminal acts. Try to stay away from all gaming operators belonging to this group: betdna.com, casinogirl.eu, moneystorm.com, onlinecasino.ac and pampercasino.com.