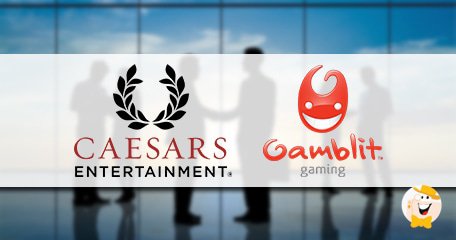 There's something new heading to Caesars Entertainment gaming facilities. Per a recent, multi-year agreement with Gamblit Gaming, visitors can now look forward to the introduction of skill-based gaming terminals, making Caesars the first casino operator to bring the technology provider's offerings to market, as well as the first to introduce skill games throughout California and Nevada.
The process, scheduled to begin in October, will start with Caesar's locations in Southern California, with Gamblit's Model G and Tristation positions being inputted. Following this move, the company will focus on its Nevada properties, before moving on to additional markets.
Harrah's Rincon in Southern California will be the first to receive the skill games, which will include Match-3 and word-matching titles. Later on, Caesars plans to implement both Wicked Witch Software's Catapult King, and Into the Dead.
Melissa Price, Caesars Senior Vice President, commented that Gamblit's offerings are "unlike anything seen on casino floors today. Both the positions and the engaging games themselves are sleek, competitive and social, providing a unique opportunity for players to compete head-to-head, play together against the house, or in single-player games in a differentiated gaming experience."
Price continued, "Together, Caesars and Gamblit are changing the gaming industry, bringing the social and competitive spirit of online gaming to casinos."
At this point, the Nevada launch is still pending approval, and Caesars has plans of launching a field trial of positions to aid in the decision process.
President and chief executive of Caesars, Mark Frissora, believes Caesars' partnership with Gamblit will aid the company in moving toward creating "the casino of the future. Caesars is proud to be first to bring these innovative games to our customers, and we plan to make skill-based games an increasingly important part of the gaming floors."
Gamblit chief executive, Eric Meyerhofer, added "We are excited about our relationship with Caesars, who shares our vision of providing an entirely new type of gaming for their customers. We wanted to start our landmark transformation of gaming with Caesars Entertainment as their forward thinking strategy, innovative moves and wide reaching influence among consumers perfectly aligns with our objective to revolutionize the casino floor."
Darion Lowenstein, Gamblit's chif marketing office also commented, "We can't wait to bring fresh, new content to life at Caesars locations throughout the U.S., offering fun, social and interactive skill based wagering gameplay."