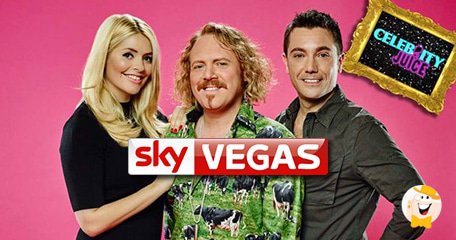 The hit celebrity comedy panel show, Celebrity Juice on UK's ITV2 channel, will be returning next season thanks to the help of its newest, and one of its biggest sponsors yet. Online casino operator Sky Vegas is now proudly a broadcast and off-air sponsor for the popular television show.
Originally broadcast back in September of 2008 on ITV2, the show makes its return for its sixteenth season on September 8th, 2016 and continues to be hosted by the fan favorite Keith Lemon, alter-ego of comedian Leigh Francis.
Head of Media and Acquisition for Sky Betting & Gaming, Dean Leyland, worked tirelessly to find the perfect opportunity to get the Sky Vegas name out into the public.
Leyland commented, "Celebrity Juice is a great match for Sky Vegas. The show provides the perfect mix of fun and excitement that will resonate with our target audience," and that, "We take aligning our brand with a specific TV programme very seriously, so we wanted to pick one that matches the thrills we deliver to our players every minute of every day."
"A TV programme that gives Sky Vegas the level of awareness Celebrity Juice can offer, whilst having fun with characters such as Keith Lemon, are hard to find. And with TV and ITV2 in particular at the heart of our media mix we're thrilled to be involved."
With broadcast support via social media, websites, and ITV Hub on desktop and mobile devices, the Sky Vegas name will surely be seen. Additionally, included in the sponsorship agreement are branded idents where Sky Vegas customers are exclusively offered opportunities to win tickets to recordings of the show by Keith Lemon himself.
Of course, Keith Lemon would not be Keith Lemon without chiming in, "Juice is back sponsored by Sky Vegas. Does that mean I get a free trip to Vegas? What happens to Celeb Juice whilst sponsored by Sky Vegas, stays in Sky Vegas. What's the phrase again?"