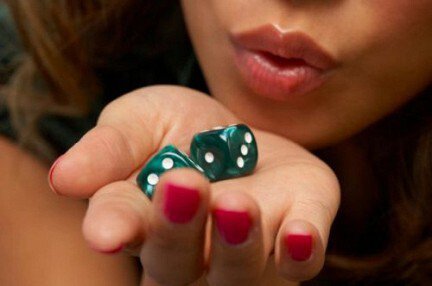 Being superstitious comes with the territory when you're a gambler. It doesn't matter where you are in the world or what game you're playing, superstitions have their place in a gamblers routine. Oh yes, even YOU must have some quirky gambling trick or ritual.
Gambling comes down to one very specific thing called luck. You can't control the ways of the reels, the roll of the dice, the luck of the draw or which numbers will be called but can you help move things along in your favor? Many gamblers believe that they can turn their luck around with the use of a series of personal practices. The funny thing is that some of these superstitious acts and beliefs are more widespread that you think. Does it pay to be superstitious?
Land Based Slots: The Tricks of the Trade
Playing slot machines can be a very unique experience. If you happen to be the inexperienced gambler who rarely visits the casino you may see some players acting in strange ways and catch yourself staring at them like the newest zoo exhibit.
First up you've got the screen tapper. This is the player that repeatedly taps the slot screen every time they spin the reels or each time they see bonus symbols. This tapping motion is sometimes modified into a swiping, swishing or downward push depending on the game and configuration of the reels. The idea behind these actions is to communicate what you need to the slot game. A general hand swish across the screen is often done to kick off a spin. It sends a message of "please give me something good". If you want the reels to spin around one more time or keep moving past that unwanted symbol you simply move them yourself by motioning the actions on the screen. If you've got two bonus symbols on the reels simply swipe the remaining reels downward and once you see the third bonus symbol you must pound on the screen to stop the reel. Makes perfect sense, right?
Another common practice among slot players is to change the bet with every spin. The player starts with the lowest bet and increases it with each spin until the maximum bet is reached and back again. Perhaps this confuses the slot into paying?
Finally, we come to the germaphobes. From time to time there are those players that either wear surgical masks or latex gloves or both. This could definitely be considered a gambling strategy. Think about it, if you caught a cold from the germ infested slot machines you would be out of commission until you felt better. If you can't gamble then you can't win! Ah yes, it's the perfect plan.
Bingo Lucky Charms
Lucky rabbit feet, troll dolls, lighters; there's no shortage of superstitions among bingo players. If you've ever experienced land based bingo then chances are you've seen a few interesting set ups laid out in front of players.
What is the origin of the lucky rabbit's foot? The custom and belief of carrying a rabbit's foot for luck is believed to have started in Europe in 600 BC. Not just any rabbit foot will do. In order for it to be truly lucky, it must come a rabbit captured in a specific place, during a certain phase of the moon and of the four feet, the left hind is the lucky one. Somehow this primitive belief has followed us into present day becoming prevalent in the bingo community.
Troll dolls are still sometimes seen displayed on bingo tables. The original was created by Danish maker Thomas Dam and were known as Dam Dolls. The popularity of these eerie little dolls spread through Europe eventually making their way to the United States. Are they lucky? There's only one way to find out. Line them up to stand guard over your bingo cards and see if your luck improves.
There are even those bingo players that believe the color of a lighter can affect your game. I suppose it's a matter of personal preference. So, which color works for you?
Chinese Gambling Superstitions
Superstitions exist in every part of the world and China has a few unique gambling strategies of their own that have been around for years. In fact, some of the superstitions are no longer accepted in the Chinese culture.
If you're gambling in China there are several do's and don'ts that plenty of people still observe. Let's run through them quickly.
Do
• Wear red. It's considered a lucky color.
• Leave the lights on in your house when you head out to gamble. Well, you better win to pay the electric bill.
• Keep these lucky numbers in mind: 8, 13, 18, 168, 198 or 798.
• Feed sugar the baby ghost lurking around each gambling table. Perhaps a ghost on a sugar high will bring about good luck.
• Shout "Deng" in Cantonese before turning over the cards in a Baccarat or Blackjack game.
• Gamble if you were born with a concave navel. It's believed to be lucky and ensure a prosperous life so if you don't have one maybe you should consider a procedure to get one?
• Enter a gambling establishment from the west side. Hey! Isn't that where the wicked witch is from? All I know is they melted her and dropped a house on her sister from the east.
Don't
• You never count your money when you're sittin' at the table. There'll be time enough for countin' when the dealin's done. Didn't Kenny Rogers warn us of this too?
• This rule goes for the Cantonese. Never ever speak of books while you're gambling because the word sounds too similar to the word lose.
• If you see a nun or a monk on your way to the casino just forget it and turn around and go home.
• Do not touch anyone's shoulder when you're gambling. Other parts of the body are okay but avoid the shoulders.
• As tempting as it may be do not have sex before you gamble. The only thing that you're allowed to pull is the slot lever.
More Symbols of Good/Bad Luck
Just when you thought there couldn't possibly be another thing that represented good or bad luck, I've remembered a few others that are quite common and can't be left out.
Lucky
• How could I leave out the four leaf clover?
• Horseshoes are lucky right?
• Blow on the dice.
• Simply keep those fingers crossed.
Unlucky
• Not a good idea to gamble if you've broken a mirror. It's probably not even a good idea to leave the house for 7 years if you've broken a mirror.
• Walk around the ladder but never under it.
• Stray cats can dart out from anywhere but if it crosses your path it's bad luck. If you own a black cat it's bound to cross your path so just don't gamble period unless you want to lose.
• Don't touch each other's chips.
• Don't loan out any cash during a card game.
• Dropping a card on the floor
• It's not a good idea to gamble and sing especially if your voice sounds like a couple of screaming cats.
• Some say it's bad luck to wash your hands when you gamble. Remember those germaphobes I mentioned? Now I get it!
Can Your Luck Really Be Changed?
Your gambling strategy is extremely personal whether it's logical or not. We've all got something that we do that would sound a bit unusual to someone else. I may look at the woman pounding on the screen of the slot machine so hard that I swear it's going to fall over like she's from Mars but then I turn around and chant a bonus song to myself in a munchkin voice before each spin of the reels or wear two different socks to the casino because I won two years ago when I was wearing those exact socks.
Do these gambling rules that we follow really have an effect on our luck? The truth is they don't. Take my socks for example. I may have accidentally put on mismatched socks before heading out to the casino and I may have won but I've spent the last two years continuing to believe that those socks are lucky without one single win since.
Somewhere along the way a gambler either won or lost creating one or more of these superstitions. A slot player stopped the reels in just the right spot with her fingertips so now she swipes, slaps and punches the slot machine. A bingo player stroked her troll doll's hair and won a huge Coverall prize so now she has twelve troll dolls lined up in front of her that she must stroke before each game. All those unwashed hands made a gambler sick and unable to gamble for a week so now he wears a hazmat suit to the casino.
Fun strategies add to the experience of gambling. Gambling is all about luck so when it's your turn to hit it big you will even if you were born with an outie and not an innie.