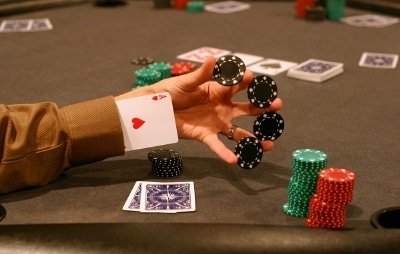 It appears that land based Casinos are locked down tighter in security than Fort Knox. A quote from the blockbuster movie Casino starring Robert Di Nero says it all:
"In Vegas, everybody's gotta watch everybody else. Since the players are looking to beat the casino, the dealers are watching the players. The box men are watching the dealers. The floor men are watching the box men. The pit bosses are watching the floor men. The shift bosses are watching the pit bosses. The casino manager is watching the shift bosses. I'm watching the casino manager. And the eye-in-the-sky is watching us all."
How many times have you sat down at a Blackjack table or a Slot machine and wondered if your every move was watched not to mention if every word spoken is heard. Look up and you'll see those little darkened glass bubbles on the ceiling everywhere. What's inside? It's big brother watching all of us.
I can only imagine the guys and gals upstairs above us all has moments of sheer entertainment as one player sitting at the Video Poker machine shares the torrid details of her love affair and how she almost got caught by her husband. It's enough to make us shutter at some of things we have shared with our gambler partners.
Of course the real aim is not to ease drop on our scandalous stories, but to look for those unsavory characters trying to pull a fast one on the Casino and beat the system by cheating their way to victory.
There might have been a few that have managed to slip under the radar and not get caught. But the majority are busted, escorted out by muscle bound security right to the front lobby exit doors dragged by their ears and landing embarrassingly flat on their backs.
Famous Casino Slot Cheats
It is pretty amazing at some of the clever tricks cheaters come up with from slipping in counterfeit money in machines to rigging the machines mechanism to trigger payouts. Some of the most historical cheaters include:
Dennis Nikrasch – He managed to rig Slot machines scamming Las Vegas Casinos out of $10 million between 1976 and 1979. In 1986 Nikrasch was convicted, sent to prison and released on parole in 1991. Five years later he was back at it, but this time mastered the more sophisticated computerized machines that took over the mechanical reels of the 70's and 80's. By 1996 he was a master at his cheating trade. While Nikrasch would alter a machine, a member from his crew would stand as a blocker to the surveillance cameras. Once the machine was rigged which took a very short amount of time he would leave and have someone from his crew play to hit the Jackpot. During 1996 and 1997 he and his cronies hit six big Las Vegas Casinos winning major cash Jackpots including cars that were then sold. He was in the process of trying to hit the $17 million Megabucks Progressive Jackpot with plans to move to France when he got arrested.
Tommy Glenn Carmichael – Perhaps one of the greatest geniuses of cheat gadgets of all time. With his motto "Give me a slot machine and I'll beat it" he lived up to it bilking Casinos across the US and Caribbean. His invented cheating tools progressed right along with Slot technology starting with the kick stand to the monkey paw and then light wand. In 1980 Carmichael who owned a Tulsa TV repair shop was visited by his old pal Ray Ming from Las Vegas. In Ming's trunk was a Bally's Slot machine and a top-bottom joint cheating device. He began to tinker with the machine and discovered he had new talent and started his Slot cheating spree. In 1990 Carmichael bought an IGT Video Poker machine and began to toil with his new slider aka monkey paw. The monkey paw was created out of guitar wire and spring steel. By snaking it into the machines payout chute he could trip the micro-switch and fool the hopper as it spit out coins and began bankrolling $1,000 an hour on Slots. In 1991 the monkey paw was already considered outdated. He waltzed back into the IGT showroom in Las Vegas as a customer. The IGT engineer answered all his technical questions after the machine was opened up and he knew immediately he could invent a device. That device was the light wand comprised of camera battery and mini light bulb. The light from the device would blind the hopper thereby not realizing it was paying out coins which profited him payoffs of $10,000 a day. IGT then developed a device called the Actuator Arm that made the wand no longer useful. Carmichael managed to obtain the Arm and within an hour developed the "hanger" and was back in the game of cheating the Slots. Living an elite lifestyle by 1995 he took trips, cruises bought two homes and invested in a pawn shop. In 1996 he got busted at Circus Circus Hotel Casino but the charges were dropped. He was then arrested in Laughlin Nevada and in 1999 in Atlantic City where he caught using the light wand. In 2001 he was sentenced to 326 days in jail and three years' probation.
Casino Blackjack Cheaters
Richard Marcus – Living in Las Vegas he realized he couldn't make a living as a professional gambler so he did the next best thing – became a Blackjack and Baccarat dealer. This gave Marcus the opportunity to see how the Casino operation works and took that knowledge to a whole new level of masterminding a way to cheat the Casinos out of millions during his heyday. His system was pretty simple using a bit of magic with the chips. In the case of three chips stacked on the table he would place two $5 red chips on top of a $500 brown chip. To the dealer it appeared the bet was three $5 chips. If Marcus won he would inform the dealer that it was a $500 chip, if he lost he would cleverly replace the chip with a $5 chip when the dealer wasn't looking. After years of scamming the tables he was eventually caught, arrested and banned from Casinos. Today he continues to mentor players on how to cheat as the author of two books that he published.
Cheating at the Craps Table
Dominic LoRiggio – After painstakingly practicing for hours at a time for years the Craps cheat known as "The Dominator" had perfected the dice to land in his favor. His controlled shooting method involves holding the two dice in a specific way, gripping them with exact precision and as they are released keeping them together as they hit the back wall of the Craps table. This technique according to LoRiggio is accomplished by the pure law of physics. One of his most astounding feats was rolling 75 and 79 numbers before a seven showed up. The Dominator holds seminars throughout the country teaching players dice control methods.
Roulette Cheat
Gonzalo Garcia-Pelayo – One of the greatest Roulette cheats of all time, Garcia-Pelayo earned over $1.5 million in his career. Starting in Madrid he was certain that the Roulette wheel was not completely random. He spent long periods of time analyzing the outcome of each Roulette spin and with his computer was able to learn the number probabilities. He discovered that certain numbers come up more often than others. Garcia-Pelayo headed for Las Vegas in the early 1990's and after winning close to $2 million one Casino realized his method and was banned from all Casinos for unethical play. He took the case to the Supreme Court level and the judge ruled in his favor stating there was no illegal activity taking place.
Keno Cheat
Ron Harris – It is a million to 1 odds to hit the $100,000 Keno Jackpot at Bally's Casino Resort in Atlantic City. Those odds were defied in January 1995 when Errol NcNeal won the massive cash prize. But he raised suspicion from officials when he had no identification, requested to be paid in cash and showed hardly any emotion at his huge windfall. Due to the state of New Jersey gambling law it is required any Jackpot over $35,000 is to be verified by the state gaming officials. The officials went to NcNeals hotel room along with two state troopers where they found Ron Harris. McNeal was questioned downstairs where he squealed on Harris saying he was a computer technician for the Nevada Gaming Control Board that regulates the gaming in Las Vegas. Officials went back to the hotel room and Harris was gone. After searching the room discovered evidence on how to beat Bally's random number generator with computer equipment, books and detailed notes left behind. With his equipment Harris was able to duplicate the Keno machine calculations knowing the outcome beforehand. McNeal was arrested and Harris was later apprehended and arrested in Nevada.
Greed Doesn't Pay
Greed can be the root of all evil and in most of these notorious cases of Casino cheats it was not knowing when to quit while ahead. Sooner or later that big eye in the sky will catch up to you. What is most worthy of noting is that in some instances the offenders were either given a light sentence or a Casino ban. Being a true master at how to beat the house is not illegal when learning the probabilities of odds and master the rhythm of the game and its weak points. There is just one small problem, after years of honing your craft where are you going to play if you are on the ban list of every Casino in the world?