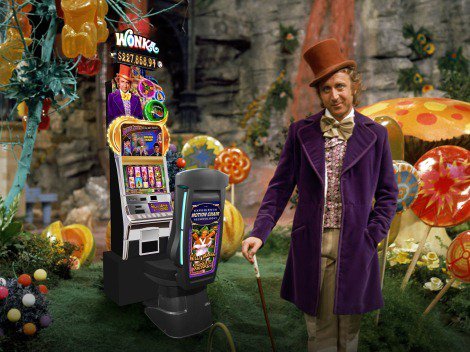 Among all the themes offered with slot games some of the most popular are the branded slots. Whether you're a sucker for nostalgia or you've got your finger on the pulse of today's pop culture you're sure to find one to suit your fancy.
You may have a favorite TV show, movie or game that you think would make a great concept for a slot game but what's involved in developing authentic branded slots? It all comes down to licensing. Gaming software companies such as IGT, Net Entertainment, WMS and others are required to obtain permission from the owners of such brands in order to use graphics, audio and the name. There's quite a bit of wheeling and dealing going on behind the scenes before a branded slot can go into production.
People are attracted to familiarity which could be the reason that branded slot games are so successful. Each brand may represent a memory or a feeling that meant something to us. Maybe you had a favorite comic as a child, watched a game show with your grandmother or played a board game every Friday night with your family. Let's take a look at some of the most popular brands to turn slot game.
Television Themed Slots Debut
Online casinos are filled with loads of slots based on television shows. Most of these can be seen in major gambling meccas around the United States such as Las Vegas. A variety of both online and land based casino software providers have made the most of popular TV shows taking them to the gambling market.
IGT
The HBO network licensed its Sex and the City brand to IGT and the Sex and the City slot was born. All the popular characters make their appearance from Carrie to Samantha, Miranda, Charlotte and even Mr. Big. The game includes a few different bonus features including Simply Fabulous, Change of a Dress, Hello Lover and the Perfect Gift. Carrie's love of shoes is very apparent and each character is tied to their own progressive jackpot. The show may have gone off of the air but it is still very much alive!
One of the most popular game shows on American television is Wheel of Fortune. Viewers sat at home and tried to solve the puzzle along with contestants and clapped as they spun the wheel. Wheel of Fortune has been launched in several slot variations through the years. A three reel classic slot was introduced in a variety of denominations including the bonus wheel and these days the game has moved along with the times with its transformation into a video slot found among land based casinos.
Come on down to the Price is Right. Another classic game show hosted by Bob Barker has turned slot game. Contestants are selected directly from the audience for a chance to win an array of high priced luxury items. With the slot game, players guess the price tags on items and win prizes just as they would as a contestant on the live show.
Other television show based slots from IGT include Jeopardy, The Beverly Hillbillies Millionaire Mile, The X-Factor Steps to Stardom, CSI, Pawn Stars and Judge Judy.
WMS
For those players that enjoyed Happy Days of the 1970's, based on an American teen, his family and friends in the 1950's, WMS launched the Happy Days slot game. Richie Cunningham of Milwaukee, Wisconsin is joined by his family, mother Marion, father Howard and sister Joanie. The Fonze was a smooth talker that lived upstairs from the Cunninghams and he was the epitome of cool with his slick hair, leather jacket and motorcycle. It's definitely a happy day when the free spins bonus is triggered.
Fast forward to the 1980's and Cheers was a hit American TV show based on a crew that hung out in a bar where everybody knows your name. In fact, Cheers was one of the most watched shows in American television history so it's no wonder WMS got to work on delivering a slot game based on it. The Cheers slot features 25 paylines along with Cliff, Norman and Sam re-spins.
Movies
The slot themes are much vaster when it comes to movies. Seeing your favorite actors appear on the reels is really exciting so say hello to my little friend! If that sounds familiar it should. Scarface has taken to the reels thanks to Net Entertainment. Universal Studios gave its stamp of approval for the production of this 20-line slot game starring Al Pacino as Tony Montana. In addition to amazing graphics and audio, Scarface includes stacked wilds, nudge spins, free spins and a unique bonus game. Some players were a bit disturbed by its violent theme but overall Scarface was a big hit when released in 2012.
Who you gonna call? 1984 was a big year with the release of the blockbuster hit Ghostbusters. Prepare for some major ghost hunting in this IGT classic. The StayPuft free spins feature marshmallow wilds and the potential for big wins. Slimer may appear and grant wilds of his own as you spin the reels. Grab your Proton Pack and blast some ghosts in the Ballroom Busters Bonus. Players can also win progressive jackpots. Ghostbusters initially launched in the land based casino environment but quickly made its online debut.
WMS captured the essence of Willy Wonka and the Chocolate factory in a truly entertaining slot. Willy Wonka, the Oompa Loompas, Charlie, Grandpa and all the characters are included. Willy Wonka features a random Oompa Loompa bonus in which the little guys appear and throw wilds down on the reels. Players receive anywhere from one to five wilds and the reels may stretch increasing your winning possibilities. Trigger the bonus feature and bust through the glass is the Wonkavator to reach one of several bonus games including free spins, picking bonuses, a ride on the chocolate river, credits or a jackpot. The graphics are fantastic as is the audio. The chairs accompanying this slot game even offer sounds and movement taking players on a wild ride.
Another highly recognizable movie turned slot game is The Lord of the Rings. The theme is covered by WMS in the land based arena while another version is available online created by Microgaming. The graphics and audio are straight from the blockbuster film complete with bonuses, random features and progressive jackpots. Even Real Time Gaming got in on the LOTR action with Orc vs Elf.
Microgaming released one of the most anticipated slot games with The Dark Knight Rises. Other Microgaming movie themed slots include Terminator, Terminator II, Grease: Racing for Pinks and others.
If you're in the mood for a movie themed slot game the options are endless whether you take a spin on The Hangover, Star Wars, Aliens, The Mummy, Alien vs Predator, Star Trek, The Wizard of Oz or Dirty Dancing.
Comics
Cryptologic and Playtech released an entire series based on Marvel Comics; however Disney's acquisition of Marvel resulted in the company's decision not to renew the licensing contract with casino game developers. The contract with Cryptologic ended in February 2014 while the contract with Playtech is not yet up.
For your Marvel Classics fix, Playtech offers the widest range of slot games online complete with progressive jackpots. Marvel Slots include Spiderman, Iron Man, Iron Man 2, Iron Man 3, X-Men, The Avengers, The Incredible Hulk, Ghost Rider, Thor, Wolverine, Daredevil, Blade, Elektra, Fantastic Four and many more.
Board Games
It's no surprise that classic board games have been introduced into the gambling world. IGT has cornered the market with a variety of Monopoly slots. Roll the die and move around the board to win prizes. There are even social gaming apps based on various levels of Monopoly slots.
Look around at the land based casinos these days and you'll find not only Monopoly but also Clue. Clue has been brought to life on the slot reels by WMS with trademarks from Hasbro. Players visit different room in a mansion and receive free spins and the chance to win a progressive jackpot while trying to solve the crime. Was it Colonel Mustard in the Ballroom with the knife?
We've all played Yahtzee at some point in our lives, right? Well this classic family board game has caught the eye of WMS and they've launched a slot game based on the concept. With licensing from Hasbro, Yahtzee presents the Wild Multiplier Feature and the Yahtzee Party Bonus. The land based game is being taken to the online market to share the excitement of this game with the world.