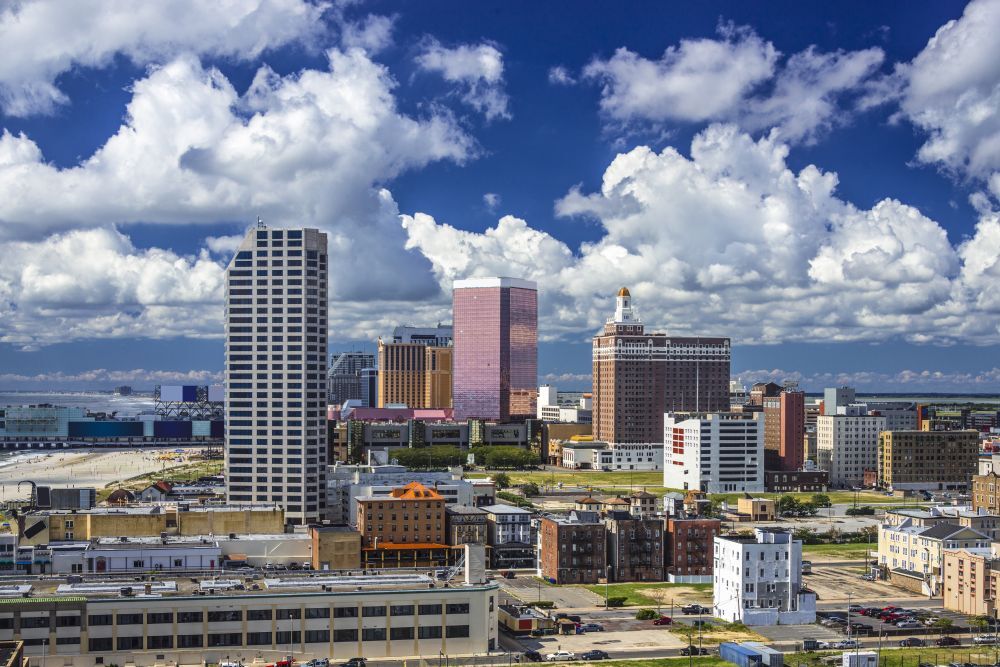 The online gambling business will explode in the United States soon enough but it seems that the land based industry is suffering, specifically in Atlantic City.
The Atlantic City Boardwalk is an American icon drawing in visitors from not only the US but from around the world. It began as a bustling destination filled with shops and attractions but it eventually took a turn becoming the gambling mecca that it is today.
New Jersey citizens took action to breathe new life into the AC voting for legalized land based gambling in casinos in 1976. The law was presented two years prior but was not passed. The first legal casino was unveiled in 1978 by the owners of the Chalfonte-Haddon Hall Hotel who converted it to the Resorts International. Casino began popping up like wild fire all along the Boardwalk. By the end of the 1980's, AC was the among the most popular tourist attractions in the country.
2014 Casino Closures
The gambling industry has been a lucrative business for the city but these days things are changing. Showboat, Trump Plaza and Revel are closing for good.
Revel Casino opened its doors in 2012 but the $2.4-billion resort plans to close up shop. In fact, in an attempt to minimize its losses, the casino will close ahead of schedule in September. Revel sought the permission of the Division of Gaming Enforcement to close September 2nd but the request was denied despite a reported near $15 million loss by the casino.
Revel may still file a state-required petition for an early closure according to Gaming Enforcement Director David Rebuck.
The Atlantic City gambling business is suffering while casinos in neighboring states within driving distance are thriving.
The Showboat is scheduled for closure on August 31st and the Trump Plaza will follow on September 16th. The Division of Gaming Enforcement will also need to issue closing orders for them as well.
Atlantic City trails Nevada and Pennsylvania. AC casino revenue fell from $5.2 billion in 2006 to $2.86 billion last year. Thousands of AC casino jobs left as more gambling options opened elsewhere.
The Showboat is due to close Aug. 31, and Trump Plaza on Sept. 16. The division will need to issue closing orders for each of those properties as well. A spokeswoman said the division is reviewing the status of those casinos.
There were a total of twelve casinos in Atlantic City at the start of the year but as it stands there will be just eight left by the end of the year.
Since 2006, the AC casino industry has lost billions.
Job Losses
The closure of Showboat, Trump Plaza and Revel will leave more than 6,000 people out of work and as a result a mass unemployment filing will take place in the coming week involving newly laid off employees.
In preparation for handling all these out of work people, there will be over 100 work stations on hand to process unemployment claims with the state Department of Labor and other agencies as well as social service organizations.
The majority of casino employees were part of the Local 54 of Unite-HERE union which will establish a resource center to assist folks with unemployment claims and filing for additional benefits including health insurance and food stamps. The effects of the casino closures on employees are major and exemplifies just how critical the gambling industry is in AC.
The union president, Bob McDevitt made the following comment: "Since we first heard news that these casinos were planning to close, we have worked relentlessly to keep these properties open. We are currently in the process of making plans to continue to advocate for these workers. Right now, we are focused on making sure that the basic needs of all of the affected workers are met."
We can't forget that the Atlantic Club closed in January 2014 which resulted in a large number of workers without jobs. Thus far, 2014 has left approximately 8,000 workers out of jobs due to the fall of the casino industry.
Donald Trump Pipes Up
Donald Trump, real estate mogul, once had a strong influence in the AC gaming industry but he has since stepped back and allowed the casinos to continue to bear his name and filed a lawsuit against two of them for letting the quality go and confusing patrons. The Trump Plaza, now closing, and the Trump Taj Mahal have went into "an utter state of disrepair" according to Trump.
He recently spoke out regarding the land casino market in Atlantic City claiming that it began to decline once he decided to discontinue his investments into the casino and hotel industry.
During an interview for Bloomberg Television, Trump said, "A lot of people say when I left that's when it went bad. In one way I'm honored by that statement. But in another way, I feel badly about Atlantic City."
In Trump's opinion, the decline of the business in AC was bound to happen sooner or later.
"The politicians made many mistakes in Atlantic City. And one of the big mistakes: They built a convention center in the wrong location. I used to fight them years ago. They decided to do it their way. They built a convention center in the absolute wrong location, the worst. And then they didn't have hotel rooms and it was too small ... After that happened, I sort of said to myself, 'This is ridiculous.'"
He is not concerned that people will associate him with the poor state of affairs in AC although he was concerned that patrons would associate him the poor service and quality at two Atlantic City properties as they were once under his control.
"I think everyone knows that I've gone. Atlantic City was a place that I really loved", he said.
He believes that his brand is one of the most recognizable in the world. He has now turned his attention to Chicago where a massive sign with 20 foot letter spelling "Trump" is displayed along the river and has caused some controversial responses from residents.
Whether it's Atlantic City, Chicago or anywhere else in the world, Trump has managed to have the Midas touch. If only there were something that could be done to revive Atlantic City casinos.