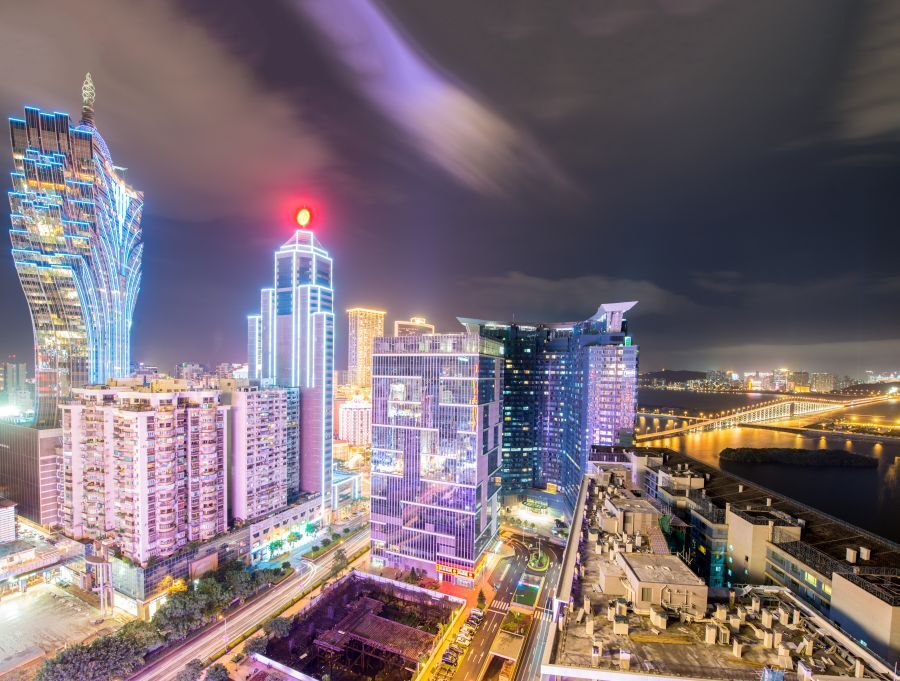 Move over Las Vegas, the long reining gambling capital of the world has lost its number one grandiose title to Macau. A report from the Chinese territory states gambling revenue for 2013 at $45 billion compared to Las Vegas that is projected at $6.5 billion.
Just as it was hard to believe 70 years ago a desert town would flourish into the mecca gambling destination, it seemed unfathomable it could ever be beat in tourism, high rollers and revenue.
History of Macau
The city of Macau is part of the Chinese territory that rests on the shoreline where the Pearl River flows into the South China Sea. Measuring in at 11.39 square miles (29.5 km) it is a third of the size of Miami. Part of the Portuguese colony for almost 500 years the city became part of Chinese control in 1999. Because Macau was entitled to preserve some traditions it is the only city in Chinese territory where gambling is legal.
In 2002 restrictions on foreign operators were lifted and new casinos began to pop up everywhere. This brought in millions of tourists each year especially the Chinese populace enthusiasm to gamble. By 2006 Macau's Casinos exceeded Las Vegas revenue taking over the title of the world's largest gambling city.
Macau's population is half a million and the average wage for a citizen is more than that of Europeans. There is now a gap between the rich and poor that is broadening as construction is endless in building new casinos and designer storefronts. A Louis Vuitton outlet store is said to generate more sales than any other worldwide. In a decade's time the economy has grown in a staggering 19 percent a year. Unemployment is below 3 percent and many college grads can make more money in a casino than they can getting a job with their degree. The surge of success has however has left the city lacking in adequate medical services, taxis, roads and housing.
American Casino groups grew a vast interest in the Macau gambling market. Steve Wynn opened a Casino in 2006 and brings in more than two-thirds of all his global profits there. Wynn considers his company Chinese no longer American and is learning to speak Chinese and there is talk of moving his corporate headquarters in Macau. Unfortunately Chairman Gary Loveman of Caesars Entertainment turned down the opportunity to build in Macau, a decision he considers to be a "big mistake".
Gambling is a big part of Chinese history dating back to ancient China. Superstitions are also part of the culture and gamblers are no stranger to following certain rituals to boost their chances to win. Casinos cater to their superstitions like Wynn hotel added fake doors to the spa after realizing there was only four, a bad luck number that sounds like the word "death".
VIP Players
While Las Vegas profits mainly from Slot players, there is a major profitable difference in Macau with huge VIP bets. High rollers have a reputation for spending massive amounts of cash and are known to play for very long periods of time sometimes around the clock. In 2010 high rollers spent in bets around six hundred billion dollars. That is the equivalent to the amount of cash withdrawals made from the ATM machines in the US in a year's time.
Catering to VIPs is an important part of retaining high rollers and Macau does it in style. Pampering clients in luxury and rolling out the red carpet treatment is expected from the heavy bettors.
Junket Controversy
It is illegal to promote gambling through advertising in China, carry more than three thousand dollars on a trip to Macau and unlawful to collect gambling debts in the People's Republic. Therefore outside companies are hired to combat the problems. These companies referred to as "junkets" bring in wealthy customers from China, issue credit and take care of the handling gambling debts. A junket will hand over money on one side of the boarder and retrieve it on the other side of the border for corrupt officials or execs. It is also an opportunity for those customers who want to take large sums of money out of China through relaxed borders.
The junket industry has for a long time been suspected of being involved in organized crime. Triads responsible for loan sharking and prostitution was prevalent in the 19th century in Macau and Honk Kong. Seizing an opportunity in the gambling industry the triads transitioned to a more lucrative business of fraud and money laundering. A junket operator acts as a tour company and visitors use yuan to buy casino chips, cash out winnings in a foreign currency where the money can be moved to make purchases in Europe and United States. This activity has been under plenty of scrutiny including the US Congressional Executive Commission in China.
The Chinese government has cracked down on corruption and began taking it very seriously effecting the VIP rooms in the casino and luxury shopping malls in Hong Kong. A special focus is placed on illicit transfer of Chinese funds overseas. As a result revenue fell June, July and August, three months in a row as high rollers back away from the casinos.
Casinos in Macau
There are 33 casinos in Macau and the Venetian currently has the largest casino floor in the world. Popular casinos include Casino Lisboa, Crown, Wynn, Sands and Star World Casino. Attractions include a 130 foot volcano that erupts every hour and built Amsterdam on Fisherman's Wharf. And most intriguing is Sheldon Adelson's owner of the Sands' promise to build a replica of the Las Vegas Strip between two of the Macau Islands. At the Wynn Casino every hour in the lobby a hole in the floor opens up. A gigantic dragon climbs out and coils high into the air with animated red eyes that blaze and smoke spilling out of its nostrils.
Game preferences differ among players in Macau and Las Vegas. Baccarat takes prominence over the highly popular table game of Poker. One area that most will agree, Las Vegas has an edge and higher advantage on entertainment venues pulling in top superstars.
Two Very Different Gambling Destinations
Macau once considered a town that was comprised of factories producing fireworks, toys and plastic flowers. Compare it to the lonesome desert town of Las Vegas with scorching heat, tumble weeds and sand storms and both share a common likeness flourishing into mind boggling gambling revenue of riches. Both established with an incredible concept built upon big dreams and the will to risk, the same type of dreams and risks gamblers are made of.
Whether you visit the glamour and nostalgia of Sin City or explore the elite luxury of Macau with the incredible overnight success, it equates to the same magnificent impression……..excitement, thrills and a compelling destination that takes you away from the ordinary into the extraordinary.