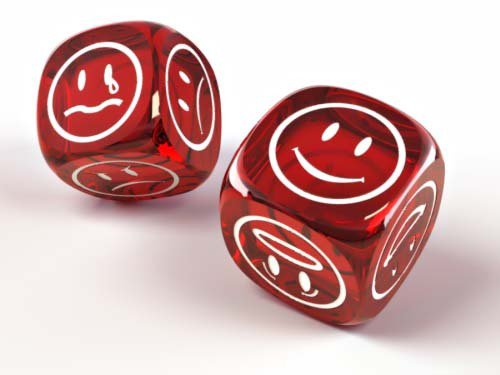 Strip gambling down to its most basic form and we would really begin to wonder………..why anyone in their right mind would take the risk of losing money they worked so hard for. The definition of "gamble" in the dictionary describes it as "To bet on an uncertain outcome; to play a game of chance with stakes." Sure life is about taking risks but there should be certain boundaries like not risking your health in the process or your money. It sounds all too familiar and could only be said by a non-gambler preaching to a gambler.
We gamblers are accustomed to such speeches from those that don't know a thing about gambling to make such an assessment. We simply nod our heads in what appears to be in full agreement but is obviously nothing more than stereo typing the gambler. In reality what we are really doing is having pity on the non-gambler because they haven't clue how gambling is an exciting addition to the art of living, wouldn't you agree?
Do online research on a gambler/gambling and what pops up at the top of the list on your browser every time…….addiction. Right off the bat there is a negative connotation attached to gambling. In all fairness if there is such a concern about addiction shouldn't it be at the top of the internet page when searching ice cream, sports, work and exercise? Everything can be addictive when done in excess but gambling is put out there as a main target right along with health threatening issues like alcohol, smoking and drugs.
Not to make light of gambling addiction which can definitely have serious consequences and providing the warning signs and a place to get help is fantastic, but can we get through one article where the main highlight and focus isn't the negative aspects? Like a scoop of vanilla ice cream, it's described as creamy, delicious and makes the taste buds dance with approval, not the kill joy of how many calories it has, how it can cause brain freeze and if eaten on a daily basis could cause weight gain. Besides we already know this!
Gambling Has Been Around Forever
Alright maybe it's a bit of an exaggeration that gambling has been around forever. It's not like Adam and Eve gambled……..or wait a minute, Eve did take the apple from the forbidden tree. That in itself was a gamble which would mean a female was the first ever gambler! Ahhh well maybe that's a far stretch but you have to admit a nice try to place a woman first.
Gambling however is considered one of the oldest pastimes of mankind. There are signs of this everywhere, quite literally as a matter of fact as depicted in ancient writings and symbols. Going back to our caveman ancestors (yes that far back) there is archaeological evidence suggesting gambling was prevalent. Some 40,000 year old bones were discovered called Astragali having distinct markings suggesting there was score keeping and wagering going on.
The more modern games we are familiar with today originated in China and Europe. Europe popularized Craps, Roulette, Blackjack and Baccarat. Ancient China played Keno and Pai Gow Poker. Slot popularity exploded in the United States as a desert town called Las Vegas built up a Casino emporium accommodating various forms of gaming.
Psychological Connection to Gambling
Gambling is more than spinning the reels on a Slot, throwing a chip down on the Roulette table or rolling the dice on the Craps table. How boring it would be if that's all there was. Take out the emotional gratifications, the psychological aspects, your dreams and gambling would be like a Polaroid picture in black and white lacking the wonderful world of color.
Optimism – A healthy dose of optimism goes a long way. There is always two ways to look at it……is the glass half full or half empty. Follow that adage in the difficult times in your life and you'll discover there is always someone worse off than you are and always something to be thankful for. It is the power of positive thinking that will get you and your gambling ventures better results. Toss off the "woe is me" syndrome and knock off the habitual whining "I never win" mentality and you begin to see a shift in your luck.
A gambler getting ready to sit down and play who has a positive healthy outlook arouses not only the prospect of winning but overall attitude. If you are in the frame of mind you aren't going to win and feeling you don't have a prayer, by all means don't play! There is something to be said about positive and negative energy. If you think you're not going to win chances are you won't. Never forget though to be the wiser and use sensibility along with optimism.
Adrenaline Rush – This is a feeling that is wildly intense. Adrenaline is a natural hormone the body produces. It is secreted throughout the body when something traumatic or exciting suddenly happens. Winning a major Jackpot or coming very close to winning one can generate an adrenaline rush causing the following symptoms: heightened senses, increase energy, accelerated heart rate, sweat and blood pressure spike giving an overall feeling of euphoria.
Benefits of Losing – Hard to imagine even for a second that there are any benefits from losing. In order to appreciate anything, you have to walk on both sides of the street. A baby born with a silver spoon in their mouth will never typically know what it is like to work hard for their money, sacrifice or experience the hard knocks a lower income person has. Losing gives a greater appreciation for winning. If a player won every time they went to the Casino (yes, it sounds awesome) the thrill of winning would diminish to the point of why bother going because it no longer stimulates the challenge or anticipation.
Benefits of Winning – Winning is the one and only greatest achievements for a gambler for a number of reasons. The first reason is obvious, having an unexpected windfall of money that otherwise could take days or weeks to earn is now instantly in your bank account. Besides that it conjures up positive thoughts like fate determined you deserved it boosting your confidence. Generosity kicks in to share it with a loved one or take a much needed holiday. Last but not least paying off some bills to eliminate the monthly obligations to free up more cash flow.
Sheer Thrills – Nothing gives the thrills and excitement of anticipating a win. There are not too many ways to earn extra money or a huge amount of money that is life changing. Gambling allows players to step out of their daily boundaries and take risks. The game of chance is unpredictable and there is where the beauty lies. Life is full of rules and regulations; allowing yourself a bit of freedom from it all is a challenging and rewarding experience. The excitement isn't always about winning, it's the pure exhilaration of playing. Where else can you have this type of entertainment value that doesn't require depending on anyone else for complete enjoyment and is ready on a moment's whim day or night?
The Joy of Gambling
We as a global society are so caught up in quickly pointing out the negative aspects of virtually everything that it is nice to sit back and reflect on the positive. Free up the guilt of having two scoops of ice cream instead of one once in a while or splurge on a that designer shirt you've been eyeing instead of buying off the sale rack. And by all means enjoy every single aspect of gambling including the bright lights, bells & whistles, adrenaline rush, the challenge of losing, thrill of winning and the excitement of spoiling yourself with that extra cash.