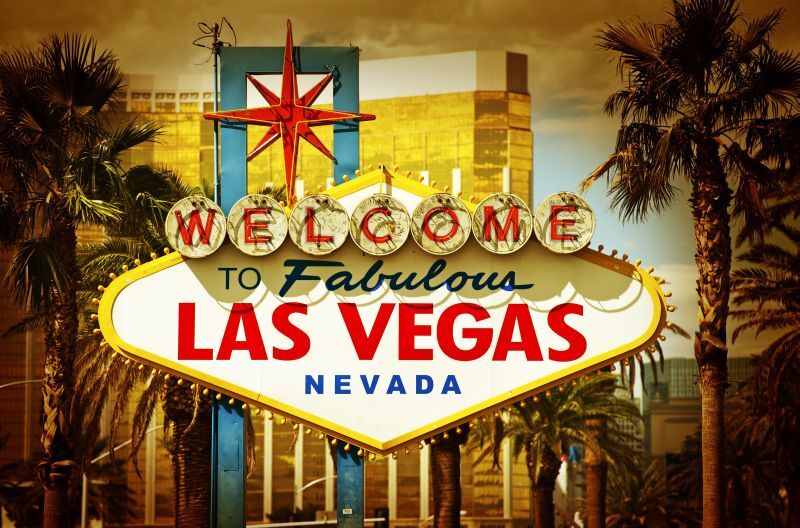 Gambling in America may not be available to all online but when it comes to land based opportunities there are many hot spots. The United States is filled with quite a few cities that are worth mentioning so let's take a look at the top cities to visit for land based casinos.
The American Gaming Association compiled a list of the Top 20 US Casino Markets by annual revenue from 2012.
The following AGA list indicates the city followed by the revenue earned over the course of 2012.
1. Las Vegas Strip, Nev. $6.207 billion
2. Atlantic City, N.J. $3.052 billion
3. Chicagoland, Ind./Ill. $2.243 billion
4. Detroit, Mich. $1.417 billion
5. Connecticut $1.230 billion
6. Philadelphia, Pa. $1.167 billion
7. St. Louis, Mo./Ill. $1.108 billion
8. Gulf Coast, Miss. $1.095 billion
9. "The Poconos, Pa. $902.48 million
10. Tunica/Lula, Miss. $821.95 million
11. Kansas City, Mo. $799.85 million
12. Boulder Strip, Nev. $796.71 million
13. Shreveport/Bossier City, La. $715.65 million
14. Lake Charles, La. $686.99 million
15. New York City, N.Y. $672.57 million
16. Reno/Sparks, Nev. $644.92 million
17. Pittsburgh/Meadow Lands, Pa. $636.24 million
18. Black Hawk, Colo. $633.09 million
19. Lawrenceburg/Rising Sun/Belterra, Ind. $632.14 million
20. New Orleans, La. $622.19 million
We certainly can't discuss gambling in the US without visiting the top two locations first.
Las Vegas, Nevada
What happens in Vegas stays in Vegas and it definitely isn't called Sin City for nothing. Old Vegas was the epitome of glitz and glamor for an adult audience. It was never a thought to take the kids along with you but these days the atmosphere is much different. Gambling is definitely the focal point but families are now welcomed with so many family friendly activities. How many casinos are there on the Strip? The Las Vegas Strip is home to approximately 30 casinos not to mention the numerous casinos in close proximity to the area. Top casinos in Las Vegas include Bellagio, Bally's, Paris, Caesar's Palace, Cosmopolitan, Flamingo, New York New York and Tropicana to name a few.
Atlantic City, New Jersey
Second to Las Vegas has been Atlantic City since 1976 and Americans visited one of these two places when going on a gambling trip. The presence of casinos in surrounding states has hurt the business though. Players no longer have to travel to gamble in a casino with all the options available out their back door. These days AC is not what it once was. The boardwalk continues to bustle but we've lost Revel, Trump Plaza and Showboat and even The Taj Mahal is hurting. AC is still an amazing location for gamblers to see especially if you're a Total Rewards member. Bally's, Caesar's and Harrah's are all owned by Caesar's Entertainment and you can earn points and redeem comps at any of these locations.
There are many more gambling meccas throughout the country, even some that didn't make the AGA's top grossing casino list. Read on for the best places to gamble in the US.
New Orleans, Louisiana
New Orleans is a lively city with no shortage of gambling opportunities. Gambling gained its popularity here during the 1800's and has never stopped growing. Among the most popular casinos in the area is the Harrah's New Orleans location. Other New Orleans casinos include Bally's, Carnival Club and Crescent City Casino.
Reno, Nevada
Let's head back to Nevada and check out Reno. This spot has over twenty casinos for gamblers to visit. Among the casinos to check out are Atlantis Casino Resort, Bonanza, Circus Circus, Nugget, Sands Regency and so many more. Many of the casino are also resorts so you won't have to look very far for a place to stay.
Laughlin, Nevada
This city sits along the Colorado River so not only is it a lovely destination but there are also several casinos to be seen. The casino resorts on the river are great places to stay. Consider the Aquarius Casino Resort, Colorado Belle Casino Resort, Don Laughlin's Riverside Resort Hotel & Casino, Harrah's, Golden Nugget and several others.
Foxwoods Casino Resort, Connecticut
Foxwoods Casino Resort is owned and operated by the Mashantucket Pequot Tribe of Native Americans. This location is known as the largest resort casino in North America and one of the largest in the world. Recognition as a Native American tribe gives the Pequot tribe the authorization to operate a casino even where it may be illegal. Foxwoods has it all from gambling, entertainment and shows, a spa, golfing and much more.
Biloxi, Mississippi
Not only is Biloxi a beautiful city on the ocean but it's home to several top notch casinos and many amenities. Dine, golf and enjoy the scenery on the Gulf Coast. The casinos are a bit spread out and not located in a strip like you see in Vegas or Atlantic City. The Gulf Coast is home to Harrah's, Palace, Hard Rock, Golden Nugget and more.
Tunica, Mississippi
Tunica is a fabulous gambling haven. You'll fly into the tiniest airport and make your way to the casinos. There are two areas of casinos but you must have transportation to get from one to the other. Tunica is home to Horseshoe, Bally's, Roadhouse and many others. Visitors will enjoy a range of dining experiences including great buffets.
Chicagoland, Illinois and Indiana
Just over the Illinois/Indiana border, there are several casinos to visit. Horseshoe, Ameristar and Majestic Star will keep you busy for quite a while. Horseshoe has the best buffet in the area with a full view of Lake Michigan. Ameristar is among the best for gambling with a good ambiance and selection of games; however there isn't much offered with the rewards program. Horseshoe features Total Rewards and is the best in terms of comps. One thing to note is that alcohol is not complimentary.
Player Rewards Programs
An important aspect of land based gambling is the rewards programs available. The Caesar's Entertainment Group dominates with Total Rewards however M Life is a popular loyalty program as well. When planning your trips across America, choose to stay at casinos featuring rewards programs that you belong to. You'll make the most of your money and possibly earn free meals and trips by using your player's card so get out there and gamble across the US.