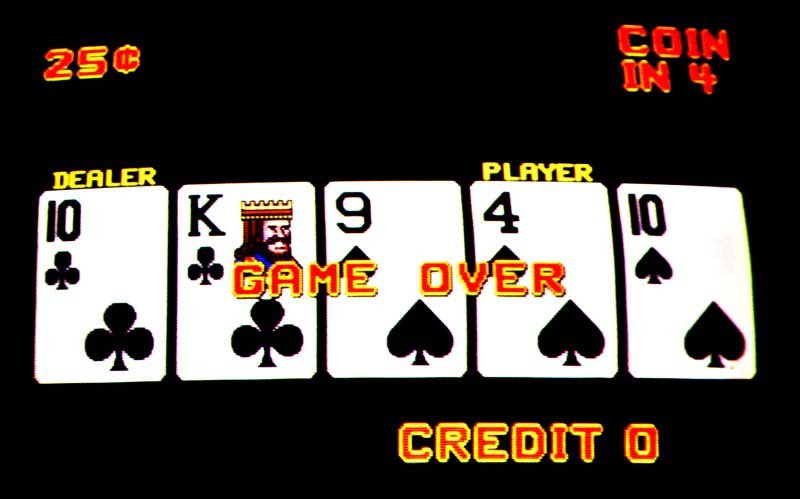 Hard to fathom not just any ordinary technology but gaming technology leaving the testing floor with a bug free stamp approval and missing a huge glitch. Game King released its 5.0 version in 2002 proudly showing off its state-of-the arts graphics, stereo sound and multi-game options to the gambling world.
There was just one problem, well I guess that depends on who you ask. A series of elusive errors in the program slipped past the laboratory testing and the course code review. A definite nightmare blunder for the manufacturer but a gambler's dream who detects it.
John Kane's Discovery
A huge fan of Video Poker, it would be safe to assume playing became John Kane's addiction considering he blew a half a million dollars in 2006 alone, spending up and over $100,000 annually. Surely he was one of the rare players to earn enough Club points to pay for his very own personal Game King in is home including any technical services. According to his lawyer Andrew Leavitt: "He's played more than anyone else in the United States. I'm not exaggerating or embellishing. It's an addiction."
It is man vs machine game that takes more skill than spinning the reels on a Slot. 5 cards are dealt and it is a process of keeping the best and tossing the rest. Then comes the draw and with luck and good judgment a winning hand splashes across your screen. Like anything we have a passion for, the addiction is easy to understand. There is just one distinct difference, the smart gambler knows their limits where the addictive player has no boundaries.
Call is sweet revenge and an opportunity for Kane to recoup his losses when he made the unthinkable discovery; there is a bug. The 50 year old residing just outside of Sin City visited local area Casinos including one of his favorite stomping grounds Boulder Station.
On this particular spring day in April 2009 Kane played low limit Game King at the Freemont. Switching from one variation to the next he made a halfway decent payout and decided to set his sights on another machine. This is the moment that his life would change forever.
Kane hit the cash-out button and was about to get up when the game locked and the candle on top of the machine lit up. Across his screen read $1,000 Jackpot, requiring a hand pay. A bit perplexed because he didn't play a new hand it dawns on him there is a big mistake. As the casino attendant comes over he tells the worker there is some kind of mistake and tries to explain. The worker assuming he was joking paid him the winning cash and walked away.
This is the part where on one shoulder rests the angel with a halo while the other sits with the devil with horns. Should he shrug it off, walk away and consider it dumb luck or get down to the nitty gritty and crack secret the behind the malfunction.
Andre Nestor
The biggest gamble of all is about to take place and change his life forever when he picks up the phone and calls his friend Andre Nestor in Pennsylvania.
Andre Nestor had a long term affair with gambling ever since he was old enough to place his first wager. His luck can be summed up as always a day late and a dollar short, playing the right numbers at the wrong time and ignoring his hunch to play the numbers on Pennsylvania lottery Big 4 that won. Following his appetite for gambling he moved to Las Vegas in 2001. Landing a job at the bank he wagered his measly salary in the Casinos. He met Kane in an online chatroom for Vegas locals and soon became fast friends.
Nestor was no light weight gambler losing about $20,000 a year. After six years he decided to hang up his gambling boots and headed back to Pittsburgh. Once home he survived on public assistance and gambled rarely.
Not surprisingly he had the gambler's traits; superstition and intuition. He had a gut feeling everything was about to change and indeed it did when he answered Kane's call. After Kane told him about the Game King bug Nestor drove straight to the airport that evening and on got on the next flight to Las Vegas. Arriving at McCarran airport Kane picked him up, they went to breakfast. After eating they promptly went to the Fremont and took up a seat next to each other at Game Kings Video Poker machine.
Game King Glitch Exploited
Like two thieves in the night the duo worked fast and furiously trying different game variations and game play prepared to steal the machine blind of its riches. Kane had somewhat of an idea how the glitch worked but hadn't ironed out his own bugs to perfect and produce winning hands. It took all of 7 hours for the duo to come up with a combination of maneuvers that would manipulate jackpots.
In just the right conditions by switching the coin denomination levels the hand would go retroactive. So another words play low limit one cent per credit and once a solid hand like four aces with the kicker hits change to a $1 per credit and the machine will reward the same winning hand. Although the process sounds simple enough it required a step by step procedure to have success and confused the internal variables.
After racking up a few jackpots during their cracking and unveiling the secret recipe session it was time to celebrate over dinner and discuss a plan. It was decided that they would have to move around from one casino to the next to prevent from getting noticed. It was an easy mapped out plan considering Game King Video Poker machines were extremely popular and could be found at big luxurious casinos to local convenient stores.
Away from the hustle bustle Kane lived in a roomy two bedroom home. His second bedroom is where he housed his pride and joy model train set complete with fine details including miniature tracks, tunnels, towns, hills and hills. The living room is where there were three magnificent Steinway grand pianos. In the 1980's Kane a lead dance accompanist in Chicago and is a virtuoso pianist. He gave up is profession after not making it in the Van Cliburn International Piano Competition.
His business now was managing a prosperous consulting company and was familiar with handling large sums of money. On the other hand he had concerns about Nestor becoming frivolous with his winnings and spending it carelessly. In an attempt to set him on the path of conserving his money and not give it all back to the casino he asks "If you had a million dollars, what 10 things would you do?"
As they began their adventure to other casinos something was going terrible wrong. The system devised wasn't working at Hilton, Cannery, Stratosphere, Terrible's, Hard Rock, Tropicana, Luxor including five other casinos. They learned quickly the glitch was only at Fremont.
Nestor disappointed went back home while Kane milked what he could at the Fremont. To speed up his winnings he used the Double Up feature and at the end of 5 weeks won over $100,000. Naturally the Fremont became suspicious and disabled the Double Up option after the house concluded Kane's luck must have had something to do with it.
Phoning Nestor with the bad news he listened processing the Double Up feature and figured out that if the button was enabled the glitch worked, if it was disabled it didn't and they didn't realize it. Because the Double Up is not a very popular feature it is disabled at many casinos but can easily be turned on by asking a Slot attendant.
Nestor was back on a plane to Las Vegas with a couple dress shirts and ready to jump in on the action at Harrah's. As thought the staff was more than happy to turn on the Double Up feature. Nestor hit the first major jackpot snaring $10,000 after hitting four 4's with the kicker.
They were both on the highroad of big money. Nestor no longer on a fixed income of $1,000 a month enjoyed a new future as a homeowner, investment account, fancy clothes and gifts for his friends back home. Kane on the other hand was chasing back all his losses throughout the years and succeeding.
Another trick was to prowl machines for winning hands still left on the machine and raise the max bet and win the previous players jackpot. "You had complete control over how much you could win," Nestor says. "If you wanted to go to a casino and win $500,000 in one day, you could win $500,000 in one day."
Money can be the source of all evil so they say and it was no exception with the two men as the tension began to escalate over a split agreement. Nestor gave Kane half his winnings at the end of the night. But because his winnings were bigger jackpots he feared that come tax time he would owe too much and couldn't pay it back. Kane was not happy and took it as basically reneging on the agreement.
Nestor concluded he didn't need Kane to gamble and went on his own eventually going home and playing in nearby casinos. He became flashy and chatty in casinos boasting about his wins. Joined by friends, he had them collect on some of the Jackpots to avoid taxes.
The Dream Ride is Over
As you might have suspected the party came to a screeching halt. Starting with Kane at Silverton Casino as he was escorted by head of security and handcuffed while waiting to get hand paid. The $27,000 was confiscated from his pocket and was booked at the Clarke Detention Center for suspicion of theft. Kane was released the next day and immediately warned Nestor not to gamble. Nestor not believing his story thinking Kane wanted to hoard the money all for himself at casinos ignored his plea.
Nestor was at home on October 6th 2009 when the police arrived ransacking his home as he was handcuffed to a kitchen chair. Nestor and Kane were charged on a federal level in Las Vegas. As the FBI agents walked Nestor to a waiting car he stopped for the TV cameras saying:
"I'm being arrested federally now—for winning at a slot machine!" he shouted in disbelief. "This is what they do to people! They put a machine on the floor, and if it has programming that doesn't take your money and you win on their machine, they will throw you in jail!" The case went on for 18 months and charges for computer hacking was dropped because it was not justified as hacking. Instead a charge of conspiracy to commit wire fraud remained and was also later dropped setting both men free.
The Feds made an offer to both men during the trial to testify against each other and the first one that did would basically get slap on the wrist and 5 years of probation. Without talking to each other they both refused the offer choosing to remain silent.
Unfortunately since 2009 the silence still lingers. While Kane records classical music Nestor is hooked on Candy Crush clearing 515 levels in a 2 month period.
Reference: