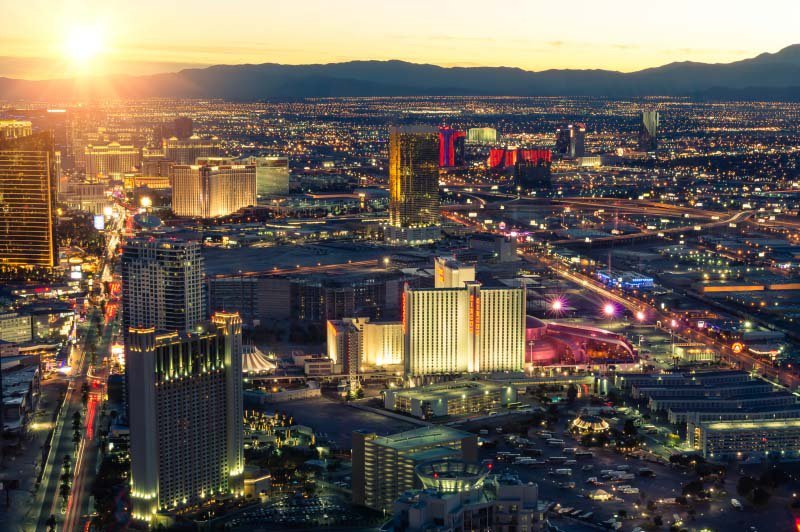 October has rolled around for yet another year and brings with it the spooky, creepy, scary and terrifying tricks of the Halloween season. Many of us tend to enjoy a good horror flick this month and spend time preparing costumes for the kids and our pets. Stories of hauntings are being told around campfires, at bedtime and on the average Friday night with your friends but what happens when the season has come and gone? There several casinos that are reportedly haunted and these ghosts don't care whether it's Halloween or not, they're making themselves known.
Yes, even casinos can inhabit ghosts. It actually makes a lot of sense that a spirit would remain in a casino. In fact, you'll find me hanging around in the Video Poker section when I'm gone. This may or may not surprise you but there are several hotels, casinos and card rooms where things go bump in the night.
MGM Las Vegas
MGM had a previous home before settling in its current location. In November 1980 when the casino stood where Bally's is today, a fire started killing almost 90 people and leaving nearly 700 injured. The fire was the result of shoddy wiring plus the building didn't have sprinklers allowing the fire to get out of hand. The people that died in the fire fell to their deaths when they leapt from the windows in terror. MGM, in shambles, was torn down and Bally's eventually purchased the site where it has been said that the spirits of the deceased remain on the property.
Guests of the hotel and casino claim that they've seen activity on the upper floors of the hotel with ghost sightings in the North Tower. Reports include crying, figures, smell of smoke and flames. Among the most eerie is a sounds of young boy crying for his mother and an elderly couple in each other's arms that appear to fade into the wall behind them.
The Flamingo Hotel and Casino Las Vegas
During a time of growth and prosperity in Las Vegas, American mobster, Benjamin "Bugsy" Siegel had his hand in the action after taking over the financial aspects of opening The Flamingo in 1946. The owner ran out of cash and Bugsy stepped in gaining a reputation for taking Las Vegas to the next level. The casino was named after Bugsy's nickname for his girlfriend; however he was shot at her home in 1947 once mob bosses were tipped off to his skimming.
Bugsy stayed in an apartment at the Flamingo which has since been torn down. All the original elements of the hotel no longer remain but this hasn't stopped visitors from trying to catch a glimpse of the mobster. Although he was gunned down in California, it is said that his spirit returned to haunt the Flamingo in Sin City, specifically two spots on the property. The current Presidential suite at the Flamingo is said to contain fixtures from his original apartment and guests claim to have seen his spirit lurking. The area where his apartment once stood has been replaced with gardens and a Bugsy memorial where his spirit has also been seen. Guests report sightings of him hanging around the pool area plus it is said that one employee freaked out and quit after seeing Bugsy on the 5th floor of the hotel.
Luxor Las Vegas
The Luxor was built in the early 1990's modeled after the pyramids of Ancient Egypt. The concept is cool but many believe that its a curse. As the pyramid was being built, a construction worker was killed and is believed to roam the halls of the Luxor today. There were also reports of people jumping to their death inside the pyramid.
In 1996, the Las Vegas Sun reported a woman in her 30's that jumped from the 26th floor of the hotel and casino overlooking an atrium. She died from numerous head injuries and had no identification at the time. In 2011, the news publication also reported that a 25-year-old man from New Jersey jumped from the 4th floor and was pronounced dead after arriving at the hospital. Were they at the end of their rope with gambling addiction, driven by the mysterious force of the pyramid or something else?
Tropicana Las Vegas
The Trop opened on the Strip in the 1950's and stories of paranormal activity have swirled around the tiki mask in the hotel lobby. Some of those who have come into contact with the mask reported rashes and a fog is said to appear in some of the photos taken of people next to the mask.
There are many other haunted locations around Las Vegas including casinos. Visitors can take tours and visit all the hot spots or make up your own haunted trail.
Personal Haunted Casino Experiences
Have you ever entered into a location that just didn't feel right? You can't quite put your finger on it but something is off. Maybe you consistently have good luck in a particular casino and you can't explain why. Did you ever think that something paranormal was at work?
There's a local casino café in my area which only has 5 gaming machines. I've had a strange feeling in there, not necessarily a bad feeling, but my luck has been good so I've gone back. A friend plays there as well and has experienced impeccable luck. She was in there alone, the café employee stepped out for a moment, and she heard all sorts of knocks and bangs. The worker came back in and when she heard what happened, she said that several other customers have thought the café was haunted. Could there be spirits trying to communicate or was it just the ice maker or some other completely explainable sound?
As gamblers are we more superstitious? Do we tend to believe in something other worldly more than others? Superstitious or not, unexplainable things happen around us. Do you have any eerie local casino stories of your own to share?
You don't have to believe in ghosts but let me ask you this; would you stay a night alone in any of the above haunted Las Vegas casinos on Halloween night?