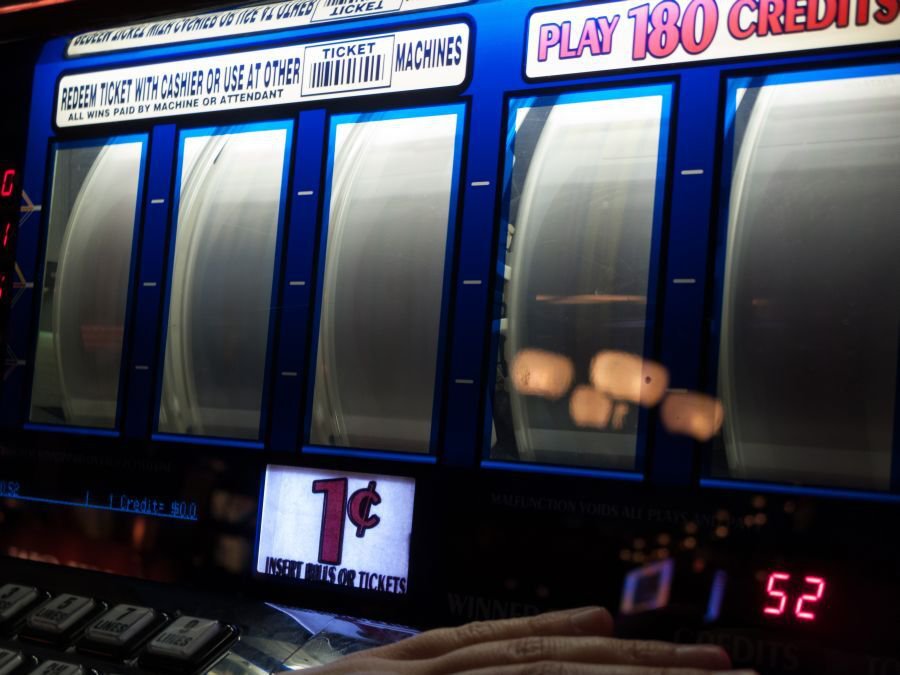 Worst nightmare for a gambler isn't monsters chasing them on some dark abandon street. It is far more sinister than waking up from a bad dream to your heart pounding so hard it feels like it will jump through your throat!
It is when two extreme emotions collide in a rare moment of circumstances that will top the Richter scale. Pandemonium personified takes over and it is enough for a damsel in distress to grab her smelling salts and for a man resisting the urge to punch a hole in the nearest wall. That is of course you don't go complete numb and into complete shock.
What would cause such an onset of erratic behavior? Enter the casino with high hopes of winning big. Carefully choose your favorite Slot machine, the one with the magnificent Progressive Jackpot cash prize pool scrolling across the top in neon lights flashing in the millions. In just an instant you could be a multi-millionaire doing what you love – spinning the reels.
Slipping a $100 bill in the quarter machine the chances of winning seem bleak but you forge ahead because after all somebody has to eventually win it right? Sandwiched in your seat elbow to elbow with players on each side sharing the same vision of those magic Jackpot symbols lining up on the reels in perfect precision.
In almost a hypnotic trance you watch the reels go round and round when suddenly the machine locks and what appears across the screen is like a mirage…..5 Jackpot symbols. Jackpot is flashing and it reads $4,500,601.78. Blinking hard and rereading the screen over and over again sheer absolute, insanely thrilling emotions begin to flood your body.
A crowd begins to form in complete disbelief an amazement as they look over your shoulder at the machine. The Slot host and security arrive complete with big smiles and bigger congratulations. Taking your ID they promise to return quickly with one of the biggest payouts the Casino has ever seen.
The waiting is taking an extraordinarily long time but never having won a millionaire Jackpot of this magnitude you're not concerned and chalk it up to procedure. Besides, you are still reeling in your seat as visions of how you will surprise your family and friends with the news.
Finally a couple men in business suits complete with ties come over with a rather somber Mafioso "don't mess with me" look. Without the slightest hesitation or blink of an eye one of them speaks and says the worst word in the gambling dictionary "MALFUNCTION"! Followed by "sorry, but we will give you 2 complimentary free coupons to the buffet".
Your world comes tumbling down around you as a massive explosion goes off in your head and emotions of elation take a drastic switch of crashing to a dimension so low you didn't know it even existed followed by intense outrage!
Slot Machine Malfunctions
With modern technology it is hard to believe a Slot machine would malfunction but like everything else in life anything is possible, even artificial intelligence. Once the handle has been pulled or the button pushed the Slot reels begin to spin in motion and through the Random Number Generator (RNG) program stops at a random selection of symbols. During a malfunction the machine isn't able to complete the random selection process and begins to lapse in "tilt" mode.
Depending on the software for engineering reasons the machine will momentarily stop in the jackpot position on the reels during a technical error and slowly begin to spin. Players that have seen this happen think a Jackpot has been won. For that reason manufacturers have changed the brief stop location from a jackpot alignment to avoid confusion.
During a malfunction occurrence the machine will no longer accept any credits and will typically lock preventing any further play. The lights on top of the machine will begin to flash and across the screen a unique set of numbers or code will display. Additionally the reels may spin erratically and a message may appear to "call attendant" or "hopper empty".
Fortunately it is a rare occurrence that a Slot machine malfunctions. Reasons a machine may tilt vary including: coin jams, empty hopper, tampering, switch failures, computer chip failures and accidental bumping.
Some of the Biggest Jackpot Malfunctions
The McMahons thought they were the happy couple of a $11 million fortune while playing at Wildwood Casino in Cripple Creek, Colorado. The electronic display flashed 1,627.82 (£1,122) when it suddenly began to show "CURRENT" and $11,000,600.01 flashing both sums of money. When Mrs. McMahon tracked down the staff at the Casino to collect her winnings she was disappointedly told something had gone wrong with the machine. After the Colorado Gaming Division conducted a full inspection it was concluded the massive Jackpot was not their prize money, instead it was the $1627.
When Pauline McKee entered the Isle of Capri Casino in Waterloo Iowa she could have never expected what cruel twist of fate was about to take place. The Illinois resident sat down to play the popular Miss Kitty Slot machine. Moments later the machine went off like a celebrated holiday as bells and flashing lights began to resonate. The Jackpot……….a staggering $41,797,550.16 displayed on the screen. The penny machine's max payout was $10,000 so it was a major surprise for the player. Iowa Racing and Gaming Commission began an investigation that determined the jackpot wasn't valid. McKee hired an attorney who argued in court, program updates were not conducted on the machine wherein the bonus feature could have been disable preventing the mishap.
Imagine winning a $42 million Jackpot. That is what happened to Louise Chavez at Fortune Valley Casino in Central City, Colorado as she began to jump up and down in her seat with sheer excitement. It was just a few minutes later that her world collapsed after being told by Casino officials that the machine malfunctioned and she didn't win anything. As compensation the Casino gave back her $23 she spent on Slots during her visit plus a comp room and free buffet. Leaving with a bad taste in her mouth she claimed she would never go back.
Casinos vs Players Battle it Out
There are two sides to every story and as a gambler I immediately want to rally around in defense of the player. One philosophy is that if a machine flashes a Jackpot win then the Casino should stand behind their products and pay it out. It is not like this happens every day and besides to keep in good standing with customers considering the type of dough they hall in on any given night isn't it a drop in the bucket?
On the other hand the Casino does cover their tracks in one sense with a message on every single machine that states "A Malfunction Voids all Pays and Play". And in the broader scheme of themes who is really scamming who here? The player clearly knows what the max Jackpot is. If it is not a Progressive Jackpot then it certainly isn't going to payout millions and if it is a Progressive look up and the total cash prize is visible on a scrolling marquee.
In the end let's face it the player is never going to win when up against a powerhouse Casino. It is like fighting city hall, a losing battle.
Source:
The Nevada Gaming Commission and the State Gaming Control Board