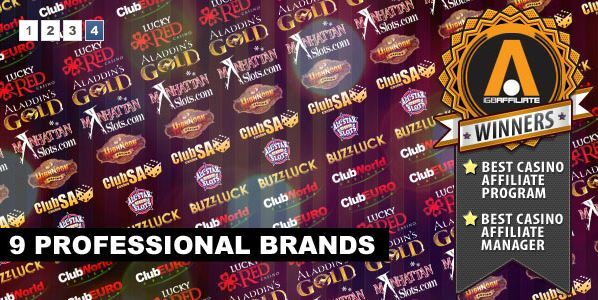 I had the chance to sit down with Martyn at the BAC on October 25, 2014. Affiliate Edge brands include Club World/Club USA, Aladdins Gold, Lucky Red, Manhattan Slots, All Star Slots, High Noon, Club SA and BuzzLuck.
1. With so many online casinos moving toward multi-software platforms, how do you compete?
We base our competiveness on what we've developed in the past ten years which is a strong reputation for fairness. We don't try to cut any corners or mistreat customers on purpose. We try to keep complaints low. We offer RTG but I think it's the whole package that helps us standout.
2. Are there any plans to integrate additional software or do you plan to remain strictly Real Time Gaming (RTG)?
As far as I know, I don't think so. One of our casinos runs off of a sister of RTG which is NuWorks but as far as I'm aware, no plans at this stage.
3. Are there any plans to launch a Live Casino?
It's been discussed but how far along we are at this point, I don't know.
4. What do you think makes your brands unique?
The sites themselves sell them. We do very differently themed sites. Take Aladdin's Gold for example, it's got sort of a Disney style animated movie at the start with the characters and I think that goes a long way with the players. It's the interaction with the characters that they recognize and I think it helps the overall branding. The bonuses we offer are fair and even the wagering requirements compared to others are pretty fair.
5. Does it depend on the casino when focusing on a specific market?
The main target for us is the US. Our big three countries are the US, Canada and Australia. Although we're based in the UK we're not white listed so after this month we're dropping out and taking no more UK players. It's just not a big market for us. We have to compete with the likes of Ladbrokes and it's just not going to happen. We're not a high street brand so it doesn't count for much.
6. Are there any upcoming new game releases?
Yes, there are new game releases every month. The latest one was Voodoo Magic which you may have seen. It's a slight variation. Most of the games that come out are 25-line games but this is 12 lines. RTG is coming out with slightly different games just to keep interest in them.
7. Are there any future plans for the casinos that you can discuss?
Mobile. We launched it a while back and pulled it because we weren't happy with it. We're in the testing phase now and it's live currently so we're just getting whatever traffic falls into it just to make sure it's right before we launch it properly and give it a full push across all brands. There are five casinos live right now and within the next month we will have mobile live across all brands.
8. Will players be able to access all games via mobile or will the offering be limited?
There is a limitation. Currently there are 18 games but again, every month there are more games being added so by the time we launch there will be twenty odd.
9. What would you say to any players on the fence about registering an account with you guys?
I'd say use the bonus from LCB to test us first. LCB has special deposit offers as well. The best way I can say it is try us out with the feature, if you win you can get some cash out from it if you meet the wagering. Deposit back in, play for real and give it a go. If you look at the terms and conditions of our bonuses, they're fair compared to other bonuses that you see. Usually if a bonus is too big, it's too good to be true and it generally is. With us, we offer some big bonuses but the terms are fair to go with those bonuses. We're not trying to invite people in with an offering that they're never going to get. There's a big chance of winning. With High Noon Casino, LCB has a $61 offer and players cash out from this every day. It's a good value free chip for the players.