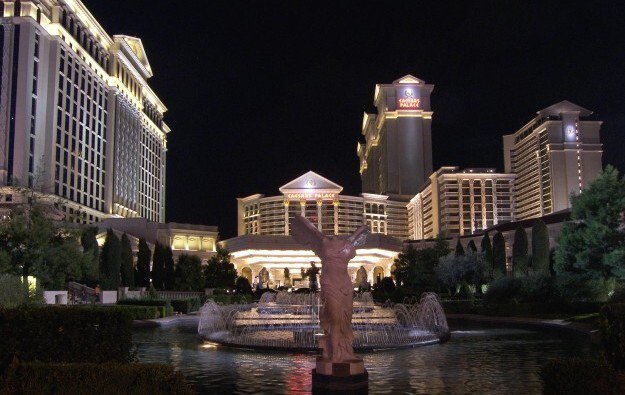 Is history repeating itself in the rise and fall of Caesar's Empire in a modern day sequel? Caesars Entertainment's financial woes isn't a sudden impact, it has been brewing like a bad storm for a number of years now. Early indications of struggle began in 2009 with a now current staggering debt of $25 billion. It is hard for a player, even a high roller, the biggest cash cow attributor on the Casino floor to wrap their mind around a figure that enormous. No Table Game or Slot Jackpot comes close to a number quite so rich or in this case catastrophic.
As a last resort, the resolution every business conglomerate dreads is to prepare to file for bankruptcy. But before gamblers go into complete pandemonium it doesn't mean the empire will collapse like a deck of playing cards. Instead there is a hopeful promise it will rise from the ashes as a newly reinvented company.
Understanding the Caesar's Debt Crisis
Unable to produce a profit for quite some time the losses have placed a heavy burden on the debt load. In 2008 the company formerly known as Harrah's Entertainment became private by TPG Capital and Apollo Global in a buyout. It wasn't until four years later in 2012 that the company began public trading once again.
Furthermore the economic crisis caused a major impact on a global level with results that severely hampered the Casino industry. Cutting back on expenditures became a new wave of future to tackle the economy crunch. Gamblers began to limit their activity in Casinos and started to fatten up personal bank accounts on a sure thing – saving. Since the recession Casinos still haven't recovered and players are still cautious in the amount they are willing to spend.
In the biggest gambling market the United States, Casinos are not producing the revenue it once had. A consistent decline since 2007 has hurt the possibility of a profitable operation. As new Casinos pop up across the country the competition mounts creating so many more gambling options for players that some are left in the dust.
Atlantic City has been another major cause of concern in a gambling destination that once thrived. Caesars Entertainment, a strong contender monopolized Atlantic City with four Casino brands took a hit when Showboat shut its doors this year due to the recession.
What Will Happen During the Bankruptcy?
Reorganizing the company is a plan of negotiations Caesars and has begun talks with creditors and bondholders. Restructuring the operating company's debt of over $18 billion which consists of subdivisions including Planet Hollywood, Paris and Flamingo resorts.
In a recent security filing a proposal to creditors was presented that would create a real estate investment trust (REIT) for the operating company. This organization would legally require a minimum of 90 percent of its taxable income to shareholders. How the plan would work is the company split into two. Under this plan one company would own property while the other would manage it. As a result the top creditors could recover 100% of their cash while the rest of the creditors would receive more than 93%.
Unless some type of proposal is accepted and agreed upon the company could file for bankruptcy as early as January. It is estimated by the fourth quarter of 2015 Caesars Entertainment will run out of cash unless a major reconstruction is put into place.
What Impact Will This Have on Total Rewards Members?
As the bankruptcy proceedings forge forward analyst predict it will have no effect on the gambling community whatsoever. Properties will remain open and business will gone as usual on the Casino floor. All Casinos will run the way the always have with no player inclination the company is in the midst of bankruptcy. Any cut backs will not affect the Total Rewards VIP program and the promotional incentives that are offered.
However it will cause a blow to some of the employees who will be left out of work. Caesar's has publically announced that a layoff is eminent and out of its 68,000 workforce less than 1% will be let go. Fortunately it is a small enough percentage that won't cause an overwhelming flood of jobless employees.
Before Caesars Was Harrah's
If you are like many gamblers old habits die hard like sticking with the old regime name Harrah's Entertainment. To really get a good grasp of the current Caesars Entertainment company it is important to start from the beginning.
William (Bill) Harrah, born in Pasadena, California September 2, 1911 came from a prominent family of a lawyer and politician. Behind every dark cloud is a silver lining and when the car his father bought him was stolen and stripped it emerged a determination and prophetic reaction. He vowed to his sister that one day he would own a duplicate of every car the family had ever owned. Throughout his life he amassed over 1,400 vintage vehicles most of which were sold at auction after his death at a reported $100 million.
As if fate somehow stepped in, the young Bill was forced to drop out of college at UCLA while pursuing an education in mechanical engineering during the Great Depression in the 1920's. Though he didn't know it his life was about to change forever after he took over his dad's bingo style Reno Game business. His father fed up with his 20 year old son's constant complaints on how to improve the failing business sells it to him for $500. Thinking he would teach his son a good hard lesson and certain he would not succeed he challenges him. The lesson boomeranged right back to dad when Bill turned over a $100 a week profit into a $50,000 a year business by the third year.
The First Harrah's Opens
Frustrated with battling the local politicians who claimed the Bingo game was a form of gambling which was considered illegal and not a game of chance Bill decided it was time to move. On October 30th, 1937 Harrah's Club Bingo opened in Reno. Too far from the action it quickly closed. Relocating to close to other clubs his business began to flourish. Part of his success was his reputation for operating an honest business and treating his staff and customers with respect.
Harrah's began to expand into several properties and in 1969 he built his first hotel and in 1973 opened a hotel at Harrah's Tahoe. Deserving more notoriety then he is known for he was very influential in the Nevada gaming industry. Due his influence the Nevada Gaming Board was created in 1955 to regulate gaming. In 1959 Harrah developed the Gaming Commission to rid crime and corruption.
Well known for his excellent people skills he breaks barriers by hiring women as dealers as well as other employees regardless of their race or gender. He is also the first to introduce the first African American entertainers in the Casinos.
William Hill passed away in 1978 after undergoing extensive heart surgery suffering from an aneurism during recovery. Married 7 times throughout his life including Bobbie Gentry and his widow Verna who produced Anaconda among several other movies. The highest status Total Rewards Card tier "Seven Stars" was named in honor of his seven wives.
Holiday Inn Acquires Harrah's
In 1980 Holiday Inn acquires Harrah's which included a Hotel Casino in Reno and Lake Tahoe plus is the massive auto collection. The vehicles were a huge hit for Hollywood movie producers and a popular tourist attraction in Reno. After liquidating the automobile collection at auction it is reported that it recovered the purchase price of both hotels and Casinos to Holiday Inn.
More properties were placed on the map with the opening of Harrah's Atlantic City, Bills Casino and Harrah's Laughlin in 1988. In January 1990 Bass PLC acquired Holiday Inn and the Promus Companies created its first Las Vegas property in April 1992 converting Holiday Casino to Harrah's Casino adding Harrah's Joliet, Harrah's Tunica, Harrah's Phoenix AK-Chin, Horizon Casino Mississippi and Harrah's Shreveport.
It was not until June 1995 Harrah's Inc. was renamed to Harrah's Entertainment. This is followed after the split of Promus hotel brands. New properties continued to open including the acquisition of Showboat Inc.
Harrah's Entertainment Now Caesars Entertainment
In June 2005 Harrah's takes over Caesars Entertainment and the merger would make Harrah's the largest gambling company in the world with nearly 100,000 employees and over 40 Casinos. It was at that time the company decided to consolidate all their brands under specific names including Harrah's Rio, Caesars and Horseshoe. Later expanding from 2 to 6 Casinos in Las Vegas. The company planned a name change and on November 23, 2010 Harrah's Entertainment Inc. becomes Caesars Entertainment Corp.
Can Caesars Entertainment Rebound?
How can a company so massive who corners the Casino market fall into the red? There is a lot to be said about the bigger they are the harder they fall. Although throughout history it has taught us that every empire eventually crumbles, Caesar's entertainment will be the one exception to the proverbial rule. Since its early conception back in the 1930's the company has been through many bends and turns along the way. Continuing to evolve yet keeping the same values as William Harrah in providing quality customer care and sheer determination to thrive is the Jackpot bell that rings at every impasse.
Resource: