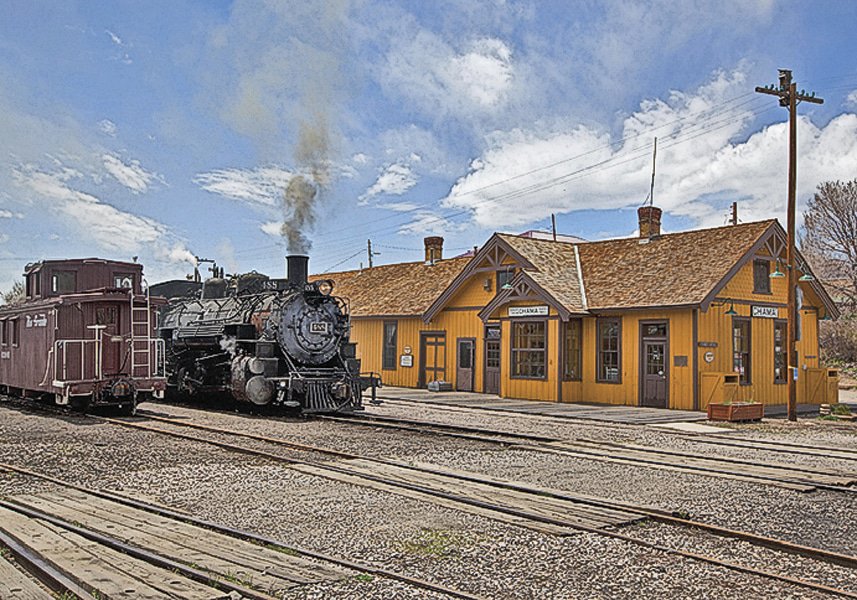 On a sunny April morning in 1901 in Clayton, N.M., a small ranching community near the New Mexico Caprock, an unsmiling deputy walked out of the sheriff's office carrying a large poster and hammer. Giving the poster a final check, he marched over to the town square next to the jail.
Removing four nails from his mouth, the deputy hammered the poster into place as a crowd gathered around him. As he stepped back from the poster, an old man with a white beard asked, 'What's it say? I left my reading glasses at home.'
Somebody read the words for him: 'PUBLIC HANGING NOTICE: Convicted of Train Robbery. Thomas 'Blackjack' Ketchum will be hanged by the neck until dead April 1, 1 p.m. at the Jail Yard Gallows, Clayton, N.M.' The poster contained a drawing of a hand pointing an accusatory finger at a noose.
As the execution hour neared, hundreds of people gathered around the gallows. They watched as a tall solidly built man with a drooping handlebar mustache was led out of the jail. Although his legs were in shackles to discourage any attempt at escape, his hands were not bound for the simple reason that Thomas 'Blackjack' Ketchum, one of the most notorious train robbers and outlaws of that era, had only one arm.
Doctors had amputated Ketchum's right arm which had been injured by a shotgun blast when Blackjack tried single-handedly to rob a railroad train. The following day after the botched holdup, a posse found Ketchum lying along the railroad tracks in shock and suffering from loss of blood.
Although the outlaw was holding a pistol in his left hand, he dropped it and raised his one good arm when he saw the posse members approach.
'I'm done, Boys,' he said wearily. 'You got me.'
Actually the man who 'got' the outlaw was train conductor Frank Harrington. Having been robbed by Blackjack and his gang twice before, this time he decided to be ready by arming himself with a double-barrel shotgun loaded with buckshot.
When Ketchum jumped off his horse and climbed aboard the baggage car on its blind side, Harrington was waiting for him. Blackjack got off the first shot and missed. Harrington didn't.
The load of buckshot hit Blackjack in the right elbow, nearly severing his arm. It knocked him through the open door, sending him tumbling down a hill next to the tracks. He later told deputies he tried to mount his horse several times but was too weak from the loss of blood.
A posse member in his 30s had a question for Blackjack as they carried him back to a train that would transport him to a hospital in Trinidad, CO. where he would undergo treatment before being charged and tried for attempted train robbery.
'Where's the gold, Blackjack?', the deputy said. 'Your gang got a lot in your last train robbery. Over $50,000 in gold and silver, I heard. What did you do with it?'
Another deputy, an older man, shrugged. 'He's a caveman. Hell, he and Billy the Kid shared caves all over this territory. My guess is he probably buried the cash and the gold it in one of his caves.'
Ketchum's face was a mask as the posse members moved him, not unkindly, to the waiting train.
'You'd like to know that, wouldn't you?,' he said before mercifully passing out from the pain and loss of blood.
Thomas E. 'Blackjack' Ketchum was born on Oct. 31, 1863 in San Saba County, Texas. He was the youngest of six sons and two daughters born to Green Berry and Temperance Katherine Ketchum. When he was five, his father died. His mother became blind and expired shortly after his 10th birthday. Both are buried in China Creek Cemetery in San Saba County.
Ketchum and his older brother, Sam, grew up with wild streaks, probably enhanced by the early deaths of their parents. Tall, slim and handsome -- Blackjack was a dandy with the ladies -- he and Sam became cowboys at an early age for the gigantic Bell Ranch that spread across eastern New Mexico Territory and west Texas.
They also became gamblers, playing poker, faro and other games of chance with fellow wranglers and a slim young man with a pock-marked face named William Bonney, who later would go by the nickname of Billy the Kid.
The brothers also spent time at the Bassett Ranch near Brown's Park, CO. Herb Bassett enjoyed their company and had two attractive daughters that liked being around the Ketchum boys. They would herd cattle and break horses for Bassett, and when they weren't working, they would take the girls into town to go dancing and leave off steam.
Blackjack and Sam were popular with the local girls. Their popularity increased after they discovered they could increase their income handily by robbing trains. According to historical accounts, they rode fast horses, dressed well and always had plenty of money to spend.
One of their favorite saloons was St. James Hotel in Cimarron, N.M. Today the restored hotel is open to the public and listed with the National Register of Historic Places. Part of the Cimarron Historic District, it was built in 1872 by Henry Lambert, a personal chef to President Abraham Lincoln, after President U.S.S. Grant made a recommendation.
The St. James Hotel has had many famous as well as infamous guests over the years, including Wyatt and Morgan Earp, Jesse James -- his preferred room was 14 -- Clay Allison, Buffalo Bill Cody and Annie Oakley. The hotel reportedly has over 20 bullet holes and was the site of a number of fatal shootings of wanted men as well as Buffalo Soldiers.
One of their first known robberies occurred in early June 1896. On June 12, after finishing up their work at the Bell Ranch, the brothers rode into Liberty, N.M. to buy some supplies.
As they prepared to head back to the ranch, a major thunderstorm moved in. The heavy black clouds, lightning and heavy rain caused them to change their plans. They returned to the store owned by Morris and Levi Hertzstein and ask if they could stay until the storm lifted.
Levi graciously gave them bedding for the night. In the morning under cleared skies, he returned to the store to discover the brothers gone and both his business and the post office had been broken into and burglarized.
Outraged at the betrayal of his friendship by the Ketchums, Levi Hertzstein quickly organized a posse of four men and began trailing the robbers. They found them camped in Plaza Largo Arroyo a half-day's ride from town.
As the posse approached, the brothers saw them coming and drew their rifles. A sharp gunfight broke out and when the smoke cleared, Levi Hertzstein and Anastacio Borque lay dying. One posse member fled on horseback out of the arroyo while the fourth man, Placido Gurule, had the wind knocked out of him by a bullet from a 30-30 rifle.
He later told law enforcement officers that he was in a semi-conscious state when he saw Blackjack walk up to the wounded men and nonchalantly empty a rifle into their twitching bodies.
Although the brothers were never tried for the killings, Morris Herzstein gained some satisfaction five years later when he attended Blackjack's hanging.
The Ketchum brothers split up temporarily after the bloody incident at Plaza Largo and tried to make themselves invisible to the law. Blackjack holed up in a cave on Tucumcari Mountain near the town of Tucumcari, N.M. The cave was large enough to conceal him and his horse and gave him a panoramic view of the prairie country for 75 miles in every direction so he could see any pursuing posses.
I have been to Blackjack's outlaw cave. As reporter for the Tucumcari Daily News, I would rent a horse from Quay County Sheriff Claude Moncus and explore the mountain along with the outlaw breaks near Tucumcari. The cave was deep, dark and forbidding. I walked back as far as I could but never went all the way because of the danger of a cave-in.
When Ketchum needed supplies, he would slip into town, usually at night and sometimes in disguise. He loved to hang out at the local gambling establishments where he would try his luck at cars and consume enormous quantities of corn whiskey. On one of his trips, he ran into a member of the Hole in the Wall Gang. They were planning a train robbery and asked if he wanted to join them. He smiled and told the man to count him in.
The Hole in the Wall Gang was a formidable band of outlaws headed by Butch Cassidy and Elzy Lay. Between their holdups of trains and banks, the gang would hide out in the Outlaw Breaks, a spectacular stretch of nearly impassable terrain and caves in the Texas Panhandle.
Trailing an outlaw gang across the rocks was next to impossible and suicidal since an ambush could occur at any time or place. The Hole in the Wall Gang felt comfortable and secure in the Breaks which they considered their own domain, and posses generally left them alone.
Blackjack took part in several train robberies from 1896 to 1900. He didn't trust banks and would bury his share of the loot, whether in cash, gold or silver. Nobody knew where he hid his loot, but suspected he kept it in secret stashes near the caves where he hid from pursuing posses.
Kid Curry and his brother, Lonny, were members of the Hole in the Wall Gang. Although Kid Curry tolerated Blackjack, they had no love for one another. Curry was a cold-blooded murderer who would kill nine lawmen during his eight years as an outlaw. He was much more volatile than Ketchum, and Blackjack did his best to stay away from him.
From 1896 until his capture, Blackjack roamed over the Panhandle on horseback, going as far north as Raton Pass and southern Colorado. He formed his own gang for some robberies, but generally rode with the Hole in the Wall Gang, often accompanied by his brother Sam. They robbed the same railway train three times between Folsom and Des Moines in the New Mexico Territory without incident.
One of the holdups was notable for the large amount of gold and silver taken. On Sept. 3, 1897, the gang robbed a train of $20,000 in gold and $40,000 in silver. They reportedly hid the lot in a cave just south of Folsom, N.M. Since gold was selling for $10 an ounce in those days, the amount of the robbery proceeds by today's standards would be more than $4 million.
Public uproar over the train robberies led to Huefano County Sheriff Ed Farr being ordered to organize a posse along with five special agents from the Colorado and Southern Railroad.
After the third train holdup, Farr's posse picked up the gang's trail and followed them relentlessly into Turkey Creek Canyon near present-day Cimarron, N.M. When the posse confronted the game, shots were exchanged. Sam Ketchum and two deputies were seriously wounded, but all the gang members managed to escape with the posse hot on their trail.
Several days later, another gun battle erupted. Sheriff Farr and a special agent died instantly under a hail of bullets. Although Sam managed to make his second escape, he was arrested a short time later at the home of a rancher who had befriended him.
The critically injured outlaw was moved to Santa Fe Territorial Prison where he died from his wounds. He was buried at Odd Fellows Cemetery, now known as Fairview Cemetery, on Cerrillos Road in Santa Fe, where his remains now lie.
Blackjack didn't know about his brother's death. On Aug. 16, 1899, he left one of his sheltering caves and decided to rob another train -- this time by himself.
He was familiar with the routine used by the Hold in the Wall Gang. Get into the train, seize command at gunpoint, force the train to stop, separate the mail and baggage cars from the train, move them a mile away and them ransack the cars for anything of value.
But this time it didn't work. Ketchum was gunned down by a determined conductor, arrested, lost his arm through amputation and was charged, convicted and sentenced to die at the end of a rope.
On the morning of the hanging, the entire town turned out. Several deputies added to the lively atmosphere by selling tickets to those who wanted to watch the execution at close range.. All of the businesses in Clayton except the saloons were closed as the hanging hour approached.
The San Francisco Chronicle reported Blackjack's final words: 'Goodbye,' he told the onlookers. 'Please dig my grave very deep. All right -- now hurry up!'
Unfortunately, the hanging did not go as planned. Nobody in Clayton had ever hung anyone before. The rope turned out to be too long, the sandbag had not been properly weighed, and Blackjack had gained some extra pounds on his prison diet.
When the hooded outlaw fell through the trapdoor, he was instantly decapitated, causing some onlookers to faint. Photos were taken of Ketchum just before he made his 'dance with death,' as one scribe penned it. One photo shows his decapitated body lying in front of two grim-faced deputies. It was so popular that it was even made into a souvenir postcard.
Ketchum was buried in Clayton Cemetery. As for his hidden gold, silver and cash, it has never been found. Maybe I should have spent a little more time back in that cave.