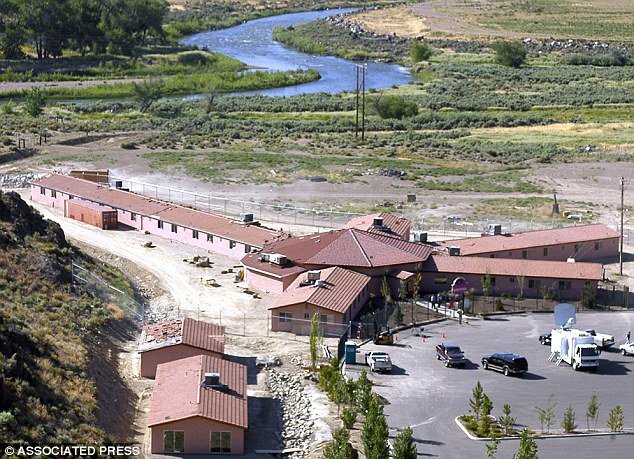 Outside of the surface of the Moon or Mars, there is no place like northern Nevada.
If you have never visited Reno or Virginia City, you are missing out on life. Add Yerrington, a town 70 miles south of Reno, or the infamous Mustang Ranch where you can either ogle available girls or have a tasty lunch while exotic dancers entertain you, and you might say to yourself, 'Where has this been all my life?'
I recently spent a month in northern Nevada. It was a combination business-pleasure trip. The widow of a friend had invited me to be her guest. She lived in Yerington, a community of 3,800 residents that sits about four miles from the famous Anaconda Mine, one of the biggest producers of gold, silver and copper in American history.
Kit was married to Arthur Winfield Knight, an award-winning author and university professor whose published books included 'The Making of the Misfits,' a novel based on the filming of the John Huston-directed movie starring Clark Gable, Marilyn Monroe, Montgomery Clift and Eli Wallach.
Interestingly, 'The Misfits' was shot in various scenic locations between Yerington and Reno. There are plenty of wild mustangs in the area -- I passed a herd of them while driving Kit's classic 2005 Thunderbird convertible. They were beautiful, wild and free just like in Huston's movie.
I like traveling by Greyhound rather than flying. It gives you a chance to see and feel the heart of America, complete with parents changing baby diapers on board the bus and attractive tattooed women napping or smiling at writer-gamblers in the middle of the night.
As we neared the Reno outskirts, I turned to my seat partner. She was a beauty in her late 20s who was a native of Lake Tahoe and was on her way home for the holidays.
'What was it like growing up in Tahoe?,' I wondered aloud.
'Well,' she mused, 'my daddy was a gambler. So was his brother. And my Mama was a blackjack dealer. I guess it was okay if you like living wild.'
Living wild. Nice title for a book, I thought. And it's a great description of what northern Nevada is all about.
Kit was sending a driver to meet me in Reno and transport me to Yerington. He wasn't scheduled to arrive until the following day. That gave me time to get acquainted with the 'biggest little town in the world.' That's the Reno Chamber of Commerce's description, not mine.
The Greyhound Bus Depot is just a couple of blocks from Reno's famed Virginia Street where several of the major casino resorts are located. I collected my single suitcase and lugged it to the neon-lit Eldorado Resort. It was lit up brighter than the Reno harvest moon.
I had reserved a room at the Eldorado. After checking in, I turned my suitcase over to the bellhop, a man who appeared to be in his 60s.
'Welcome to Reno, Sir, and good luck at the tables,' he said as I slipped him a bill.
At 4 p.m., the casino was packed. I found my way to the poker room. It was located next to a sports betting place where you could wager on thoroughbred race horses anywhere in the civilized world. Santa Anita was running. The race was a seven-furlong event. At that distance, I love outside entries. It was an eight-horse vent and the outside horse's odds were 7/2. Perfect.
'Twenty to win and place on number eight,' I said. The wizened cashier had a rubber ace that reminded me of some long-ago stand up comedian.
'You got it, Buddy,' he said, taking the cash and snapping me the tickets.
Bingo! The horse went off at 3-1 odds and won by a length and a half, returning just over $100 for my $40 bet. I love beginner's luck.
After collecting my winnings, I ambled to the poker room. The attractive poker room manager asked me what I wanted to play.
'Omaha if you have it,' I said. 'I'm trying to change over from Texas Hold'em.'
'I know what you mean,' she said. 'A lot of our players are getting a bit tired of Hold'em. As a matter of fact, we're starting up an Omaha High-Low game. How's $4-8 with a kill sound to you?"
'Perfect,' I said, thinking, 'This is my kind of town.'
The action was great. The 'kill' factor helped build the pots. I found the game every bit as exciting as no-limit Texas Hold'em, without the added risk. When I left the table for dinner at 8 p.m., I was over $300 ahead.
I decided to dine at La Strada. Not only was the upscale restaurant famous for its Italian specialties, it was named after my favorite Fellini film. The food did not disappoint me. It was superb. I went to bed that night with an enchanting view of downtown Reno that made it easy to fall into a deep contented sleep.
Next morning, Kit's driver, a young man with -- you guessed it -- tattoos, picked me up. He was driving Kit's blue convertible and the top was down.
The 90-minute trip to Yerington went through the high desert country of spectacular Nevada. The mountains were craggy and far-off. I had read Arthur Knight's book and fell in love with Marilyn, like everybody else, as well as the Arthur Miller-John Huston plot about a bunch of misfits who go mustang hunting.
'Much gold in those mountains?,' I said. The driver was surly but he responded, 'Just about everywhere you can look. Nevada Copper Company is opening a mine called the Pumpkin Patch near Yerington. They expect to get a lot of gold and copper out off it in the next five or 10 years.'
I found Yerington to be a picturesque community with an old courthouse, a library with well manicured lawns, some neat restaurants -- and two gambling casinos, the Pioneer Crossing and Dino's.
The Pioneer Crossing is a family-owned casino that features -- get this -- a free $10,000 Bingo game several times a week. Locals as well as visitors crowd the casino trying their luck at filling a Bingo card. Nobody has claimed the $10,000 prize yet since the caller only calls 52 numbers. After that, the prize drops to $1,000, $100 and then $25 which is what the winner usually claims.
Pioneer Crossing has a small one-table poker room. The dealer was a genial man with a mustache named Walter who was full of mining, gambling and stories about the desperadoes of old Nevada. The game was $3-6 with a kill.
'We don't run the game,' smiled Walter, shuffling the cards. 'The old timers like Pete here run it. They prefer limit to no-limit, so that's what we play.'
Everybody I talked to in Yerington was excited about the planned opening of the Pumpkin Patch Mine in January 2015.
'It's going to turn Yerington into a boomtown,' said a sheriff's deputy who was playing blackjack. Chewing on a toothpick, he added, 'Nevada Copper is going to hire anywhere from 700 to 900 miners. Pay's good, too -- anywhere from $90,000 to $120,000 a year, depending on their experience.'
The poker table filled and we played until midnight. I even took a Bingo card and tried my luck at the $10,000 prize. The game was free and it was fun. I didn't win, of course. Somebody collected the $25 alternate prize, and the casino quickly emptied.
Before leaving Yerington, I drove Kit to the Mustang Ranch where we had lunch. The waitress was a lovely brunette who was one of the dancers. She hailed from Phoenix and recommended the meatloaf.
'It's really good,' she said. 'The chef has a secret recipe. He won't tell anybody what he puts in it, but I think it's applesauce to keep it moist and give it flavor.'
We also visited Virginia City. I saw the old printing press that Samuel Clements, who used the pen-name of Mark Twain, used to publish the Territorial Enterprise. It is a permanent fixture in a museum on the mountain community's main street.
Kit insisted we stop at the Bucket of Blood, a famous bar where bullet holes from gunfights in the late 1800s can still be seen in the walls and ceiling. The bar has about 20 slot machines and I managed to pick up $50 on a quarter machine. Kit isn't a gambler, but she did wish me luck.
As we headed back to Yerington, the sun was sinking in the West against a stark turquoise sky. I put the Thunderbird on cruise control at 70 and leaned back against the leather seat with the wind filling my senses with the smell of creosote.
'Look,' said Kit, pointing to the left. 'Mustangs!'
A herd of about 15 horses were running across the prairie. They were about a half mile from us. I pulled the car to the side of the road and admired their beauty.
'They're wild and free,' I said.
'That's better than most of the rest of us,' said Kit, to which I added a hearty 'Amen.'