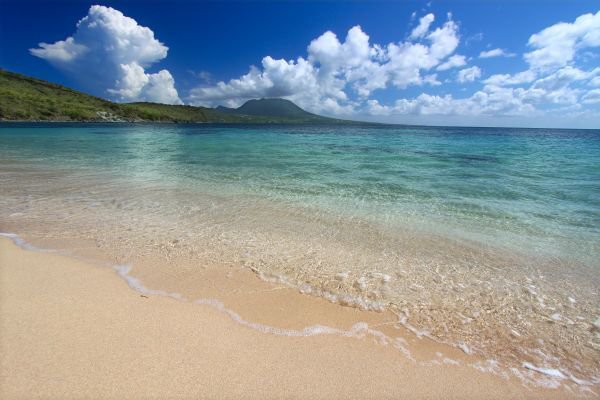 This may come as a surprise to my ex-wife and my brother, but occasionally I am wrong.
I belong to a society of gamblers around the world who all know the secret to successful living is to admit that you are occasionally wrong.
Since I am a risk-taker, as I assume most of my readers are, I will start with the premise of how to live a good life as a gambler: never leave your wife alone in strange or exotic places. It will come back to haunt you.
Luck comes in streaks, as all true gamblers know. The streaks will come unexpectedly and can dazzle you. but they will eventually end. When that happens, what can you do to get your luck back on course?
Absolutely nothing.
When good luck deserts you, do as I do. Take a vacation. Try the tropics, either the Mexican Riviera which I hear is wonderful -- I've never been there -- or the Caribbean, on which I am an expert.
In 2003, I accepted a position as editor of a weekly newspaper called The Observer. It served the Island federation of Nevis and St. Kitts, two gorgeous islands that were three miles apart.
I loved my islands. St. Kitts was scenic with mountain roads that led into the rain forests past the coconut fields and sugar cane plantations. You passed through coconut palms, banana plants and an occasional marijuana patch being cultivated by a smiling Rastafarian.
St. Kitts, the larger island, has several gambling casinos. Nevis has none. 'Dey too snobbish over dere,' a member off a reggae band told me. 'We keep the gambling money over here in St. Kitts'.
The islands treated me nicely. My publisher Kenneth Williams furnished me with a two or three bedroom house near the ocean. I never could understand what that third room was for, Kenneth. I didn't need it and so I never bothered going thee to see what was in the room.
To travel between St. Kitts and Nevis, you could go by government ferry which runs several times a day at a nominal cost. You could also fly cheaply on the local airline at a more expensive cost, but you got your money's worth in the view of the ocean and the islands.
The Marriott Hotel had a casino at Jack Tar Villege. The resort was situated with its back against the ocean. There is an outdoor seating establishment that is wonderful and romantic.
I would finish work a couple of days a week, climb into my company-owned brown Honda, and drive along the plantation road to Jack Tar Village. I would pass tired sugar cane workers walking along the road, rusty machetes draped over the shoulders and pull the car to the side.
'Can I offer you a lift?,' I would say.
'Great, Mon,' would be the response. My passenger would put the machete in the back seat and I would drive him to where he was going.
I played blackjack, dice and poker in the elegant casino. The waitresses are island girls and are very attentive to your needs. A very exclusive restaurant touching the white sand beach was open until the early morning hours -- but only to hotel guests. Since I was a member of the media, the smiling restaurant manager waived the rule. He even politely refused the tip I offered him.
Since I have not been back to St. Kitts for the past couple of years, I don't know if the poker game is still going. But the island beauty remains and I would return to St. Kitts or Nevis anytime I get a writing job or can afford a vacation.
In closing, the islands for some real casino gambling are St. Maarten and Aruba, about which I shall write more later.
Getting back to the theme of this article -- I did get offtrack, didn't I -- after vacationing and getting tanned on one of the islands I have mentioned, you can return to the casino and game of your choice. You will find yourself re-energized, ready to buck the odds and tackle the world. The future is yours.