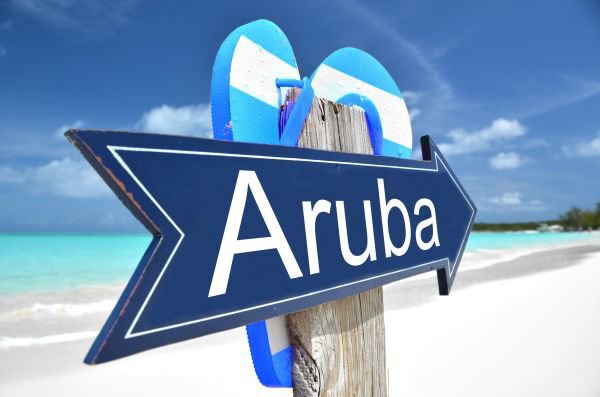 There are places in Aruba that you don't want to go. But some of you will find them, of course. They always do.
I have always been a seeker after paradise. I say 'after' rather than 'of' because I don't know if paradise really exists.
From 1976-84, I worked as a reporter on the Phoenix Gazette. It was as good a journalistic job as you could find in Phoenix, Arizona, where you were surrounded by orange trees and imported coconut palms. Where you could catch a whiff of the desert or smell burning creosote or hibiscus coming from the Japanese flower gardens that grew along Baseline Road.
Phoenix was paradise to me. It was free in those days. Mothers Against Drunk Drivers hadn't yet been organized. Driving and drinking was not only tolerated, it was encouraged. Everybody I knew who was a drinker would grab a six-pack or two before setting off on a cross-country trip. By the time they arrived at their destination, the six-packs were gone and I can assure you all that beer was not consumed at a rest stop.
The Valley of the Sun, which the Chamber of Commerce nicknamed their cash cow, was filled with all the good things of life -- great restaurants, cowboy bars, exotic night clubs and gambling. You could bet on the live greyhounds at any of the several greyhound tracks that surrounded the city.
If you were a horse player, you headed out to Turf Paradise, just a few miles north of downtown Phoenix. Poker was available in most of the fraternal clubs like the American Legion where I belonged or the Eagles Lodge. Casino gambling hadn't arrived yet. That would come later when the tribal leaders gathered in a council meeting and decided it was time they evened score with their white brothers for all that land the federal government stole from them.
Betting on the thoroughbreds helped develop my passion for horses. Several riding stables operated in South Mountain Park which offered some of the most scenic riding trails in the Southwest. Many a Saturday I spent riding through that mountain range, exploring dry washes for traces of gold or turquoise, dodging coiled up sidewinders, edging around Saguaro Cactus plants with their sharp needles, and trying to avoid stepping on a Gila Monster or jackrabbit.
After tiring of the desert, I decided to try the Caribbean. Eastern Airlines had qualified me as an accredited travel writer, a fancy term for saying I could fly free to any exotic destinations along their route as long as I promised to publish a story about my trip. When I found they had a seat available for Aruba, I leaped at the chance.
Aruba is one of the ABC islands owned by the Dutch Government -- Aruba, Bonare and Curacao. All have spectacular white sand beaches and tropical scenery. They also have the Dutch attitude toward living which means anything goes.
I was saddened to read about Natalie Holloway. Natalie, the 18-year-old blond Alabama beauty vanished from from sight after an evening of partying with other graduate from her high school and several islanders who broke into their party. She. would have turned 28 in October.
Aruba must have been paradise for Natalie. She had been an honors student at her high school in Mountain Brook, a sleepy town in southern Alabama. Because of her intelligence, she won a full scholarship to the University of Alabama. Her ambition was to go into pre-med.
She and her friends had no trouble getting served in Aruba. The bar owners and cashiers were only too happy to take their money. They could drink, gamble, and cavort on the warm beaches to their heart's content as long as they had money. They could act like the adults they had barely become.
I can imagine what Natalie Holliday's last night on earth was like.
During the week I spent in Aruba, I danced on the pier at midnight with a woman I couldn't even see. The reggae music played by a steel band echoed over the glistening ocean water as the waves lapped gently onto the beach.
Because I was a special guest of Eastern Airlines, I could not spend my money. My glass was never empty with a smiling cocktail waitress in a sarong and walking barefoot would push a fresh glass of rum into my hand.
The dark waters, the darkness on the narrow paths between the buildings, and the tropical nights were full of beauty, promise and danger. When I walked back to my room, I made sure to stay alert. I had heard about muggings and worse on the island, and I wanted to be ready.
I feel badly about this beautiful young girl's tragic disappearance. But I feel equally bad about the undeserved bad reputation a beautiful island like Aruba had gotten through no fault of her own.
The island is magnificently beautiful with its divi divi trees, those bent-over trees that are shaped by the constant ocean wind. It has gambling night and day for the true gambler, and one of the best Texas Hold-em games in the Caribbean. When I was there a number of years ago, the game started out limit, then increased in blinds, until around 11 p.m. and thereafter would go to no-limit.
I returned to the United States safe with plenty of good memories of Aruba. Natalie Holloway never made it back. Perhaps that is the price one occasionally pays for dancing in paradise.