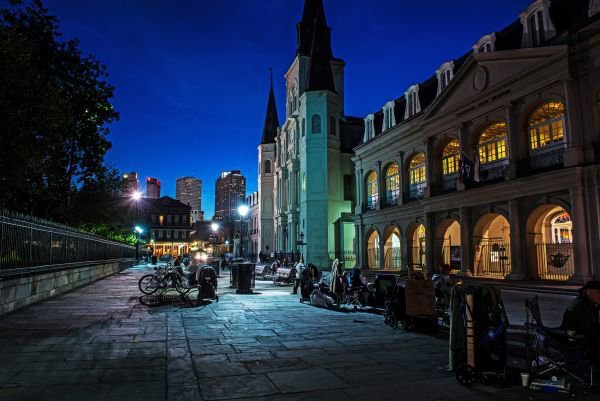 New Orleans is the kind of city where a newcomer can be shocked, thrilled and then shocked again by the bodacious attitude of the people who live and work there.
If you're used to rules, forget them. Rules don't operate in New Orleans. People do.
When I lived in Mandeville just across the 30-mile Causeway from New Orleans, there was plenty of gambling to satisfy anyone's appetite -- as long as you were willing to do things the Big Easy way.
For instance. Here I am working for a company that publishes commercial fishing magazines. My publisher was a wonderful old gent named Harry Peace, owner of Peace Publications. He had two sons and a wife working in the family-owned operation. Each month they put out two slick magazines, 'The Fish Boat' and 'The Work Boat,' to tell the story of Louisiana's commercial fishing industry.
My job as associate editor was to roam the bayous and small towns of Louisiana to find people who were building shrimp boats or other fishing vessels. Fishing, especially shrimping, makes up a major part of the state's economy.
As I traveled through cities and towns like Slidell, Golden Isle, Lafayette and Covington, I met Cajuns, Vietnamese and other people whose livelihood depended on what their nets could pull into those steel-hulled shrimpers they were building in their backyards.
A shrimp boat was a family operation. Cajuns were hard-working people who were fearless when it came to protecting themselves or their families. They would work 24 hours a day pounding a shrimp boat into shape and making it seaworthy so it could roam the bayous and head into the mouth of the Gulf of Mexico.
Entire families would go out for a week to 10 days. They would brave tropical heat, tropical storms and near hurricanes to bring home a boatload of fish or shrimp to sell to wholesalers or the many seafood restaurants that are popular in Louisiana, Mississippi, Texas and Alabama.
A fierce rivalry existed between the Cajuns and other Louisianans vs. the Vietnamese who were considered newcomers to the area. Sometimes the rivalry would denigrate into shootings and arsons at sea. The Vietnamese even had their own village where they operated Vietnamese shops, restaurants, grocery stores and had so many signs in their own language that one Cajun joked, 'I thought I was back in Vietnam every time I drove past the place.'
But while the Louisiana fishermen disagreed over how low a net should go into the water, there was one thing they agreed on -- gambling.
Before the Louisiana State Legislature officially approved land-based casinos, they had riverboats operating in and around New Orleans. There were race tracks, slot machines, card games and dice operating all over the city and in the small towns between New Orleans, Lafayette, Shreveport and the extreme southern part of the state.
The best poker game in New Orleans was, believe it or not, at the New Orleans Athletic Club. When I told a friend I was looking for a good honest poker game, he laughed and said, 'I can tell you where to go. The New Orleans Athletic Club has the best action in the Big Easy. Everybody goes there -- politicians, judges, police, business owners. Just head over to their establishment and for the cost of admission, you can work out with weights, get a deep sauna, have a massage and then play some damn good poker.'
On a Saturday, I headed for the club. After working out in the gym and getting my sauna and massage, I found out where the game was to be played. Half a dozen men were already seated when I got there.
The dealer smiled. 'Your first time here?' I admitted it was.
'It's a $500 buy-in,' he said. 'It's dealer's choice.'
That was a bit steep for me, but I decided to give it a chance. The players included a Superior Court judge, two attorneys, a doctor and a detective on the New Orleans Police Department.
The detective grinned at the judge, 'Guess who's going to show up to do a little politickin'?,' he said.
'You don't mean?....' Everybody burst into laughter. 'Yep,' said the detective, 'the big guy himself. He ought to be coming through that door...just...about...now.'
At that precise moment, a well dressed man in a gray suit and dark tie, impeccably groomed with slicked back silver hair, rushed into the room. He came in like a freight train, exchanging handshakes and backslaps with all the players.
'Governor,' said the dealer beaming, 'we made sure to save a seat for you.' He turned to me and winked. 'Meet the governor of the State of Louisiana, Edwin Edwards,' he said.
Gov. Edwards took his seat and tossed five crisp $100 bills onto the table. They were transferred into chips.
'Now I caint' stay long, boys,' he said. 'I got, um, some state business to take care of. So if you want some of my money, you'd best be quick about it.' He glanced at me. 'Hello young fellow. Edwin Edwards. You must be new to Louisiana.'
'I am, Sir,' I said sheepishly. 'But if you don't mind my asking, how did you know that?'
He gave me a big warm smile and slapped me on the shoulder. 'Hell, boy, everybody in the state knows me. They love me and that's why they vote for me. Hang around. You'll see it's the truth.'
Edwards stayed about an hour, lost most of his money. Then he rose to his feet, shook everybody's hand and left along with two bodyguards.
'That's the way you politic for votes in Louisiana, Son,' said the detective, winking. 'That's our boy, Edwin Edwards. Just like Huey Long and his brother. Built more bridges and schools than anybody. Good man.'
I had a lucky day and left the athletic club with a little over $1,200.
Since I haven't been back to New Orleans for a while, I don't know if the poker game is still operating. There are plenty of other casinos and hotels in the greater New Orleans area to accommodate you. Harrah's on Canal Street with over 120 table games and 20 poker tables, and nearly 2,000 slot machines. There is BoomTown where you can play 7-card stud, limit Texas Hold'em and Omaha High. Other casinos include the Isle of Capris, Holiday Inn Express, Palace, Diamond Jubilee and other casino operations at the thoroughbred race tracks.
While you're in New Orleans, find out where Irma Thomas is playing. The sultry blues songstress is a friend of B.B. King and has one of the biggest following of fans in the state. Be sure to ask a cabbie or a bartender where you can find the best tasting crawfish. And if you aren't brave enough to suck the head, you just ain't Noo Awleans material.