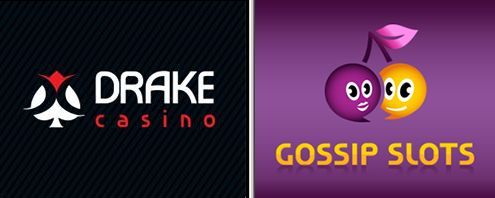 Both Drake Casino and Gossip Slots focus on the American market but players from around the globe are welcome.
1. What sets your brands apart in an ever growing online gambling industry?
The integration of our tournaments feature at both Drake Casino and Gossip slots is definitely something that will move us to new levels for US players. We are currently the only Betsoft operator offering this function.
Our huge focus on mobile is also a feature that we believe makes us stand far ahead of our competitors focusing primarily on the US market.
2. Tell us some of the positive aspects of BetSoft software.
Betsoft offers one of the most advanced 3d software around, and this is hugely appealing to players. Betsoft has grown to be an industry leader when it comes to software providers, and as mentioned above the addition of tournaments within the Betsoft client is ahuge bonus for Drake Casino and Gossip Slots.
3. For those that are unfamiliar with Arrow's Edge, what can you tell us about the software and games available at Drake Casino?
Arrows Edge is a newer software that is exclusive to Drake Casino and Gossip Slots. It is a simple but elegant software, offering players a good variety of games. Our most popular game is without a doubt Chef Wars, which is actually one of our most popular games at Drake Casino. Other popular games from Arrows edge include Bluebeards Gold and Drab to Fab with the Arrows Edge Video Poker also being popular.
4. Are there plans to integrate additional software or a Live Casino on either of your brands?
We have quite a lot of exciting things in development right now and talks are definitely ongoing internally about the addition of another software provider for the early part of 2015. Live dealer casino has not really been our main focus but who knows what might happen in 2015!
5. What specific games are most popular among your players?
The most popular Betsoft games at Drake and Gossip Slots are: Rocks Revenge, Mr Vegas and Sugar Pop. The most popular Arrows Edge games are: Chef Wars and Bluebeards Gold.
6. How many games are available in the mobile casino?
We currently have a total of 46 games available on mobile devices and tablets and are adding about 3 new games per month!
7. Which regions do most of the Drake Casino and Gossip Slots players come from?
Our main focus is America as we only have USD available for players to choose from, but are having more and more players coming in from Australia, and more and more Europeans seem to be loving Drake casino and Gossip slots.
8. Are there any new games, promotions or plans that you can share with us?
Right now we have the $20.000 Guaranteed tournament going on which are offering all LCB players free entry into. The password to get your free entry is "myentry" and is valid for both New players as well as existing players. We also have the 13 days of Christmas promotion running now, which is offering players new daily bonuses and free spins, and a huge hit amongst our players!
9. LCB members have given both Drake Casino and Gossip Slots good ratings, what factors do you believe have contributed to the success of both brands?
The great promotions and bonuses we continuously offer our players, the outstanding customer support that is available 24/7, and our very prompt payouts seems to be a huge factor as to why players love Drake Casino and Gossip Slots.
10. What would you like to take this opportunity to say to our members?
We would like to thank all LCB members for allowing us to serve you in the best possible way, and would like you all to know that we are here to assist you around the clock, and value each and every one of your input whether it be good or bad and wish each of you a very happy holidays and all the very best for 2015!