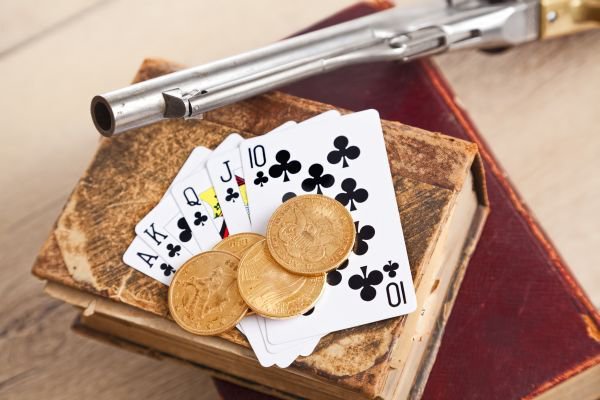 Now that I have your undivided attention with my title, let's talk about guns.
I have been around guns all my life. Grew up with them actually. I owned a Red Ryder Bee-Bee gun at age six, stole my younger brother's Daisy pellet rifle from him when I was nine, and bought my first real weapon, a twin-barrel Winchester Lightweight .16 gauge shotgun when I turned 15.
I hunted jackrabbits and rattlesnakes in the lovely deserts of the Southwest -- New Mexico, Texas, Arizona, Nevada and even California. It was great fun and an incredible sport. Me armed with a sturdy Ruger .22 with hollow-point mini-mags, and out there the enemy -- jackrabbits, rattlesnakes, coyotes or maybe even a wild boar hog. And yes, once I shot a wild boar hog when it attacked me while friends and I were picking wildflowers in California.
Gamblers have always carried guns. I have carried them with me into casinos tucked away in a boot or concealed in a vest.
I never wanted to get into an argument or a fight where guns were involved. Never. That would be too dangerous. and a gambler never wants to get into a situation where he knows he is in over his head.
Johnny Moss carried a gun. He and his friend Benny Binion, both of whom I had the pleasure of meeting, carried guns when they played in their outlaw gambling games in Texas where they were born.
Johnny was a crafty sort, a man who could not be trusted. He had the eyes of a serpent and a twitching manner when he looked like he was ready to go for a gun. He was that nervous when I first met him in the 1980s -- Moss was managing the poker room at the Sands Casino.
Oh, I knew about Johnny's reputation. He was supposed to be a real hoodlum -- someone out off the Prohibitionist years of the 1930s. He supposedly killed a couple of men in Texas, and he taught dealers at various casinos how to cheat the rake by doing a sleight-of-hand trick to rake in chips. The dealers were cautioned to do this only when the suckers -- the customers -- were not looking, preferably after they had been drinking.
Benny Binion was the more cowboy type. Unlike Johnny Moss, he wouldn't shoot you in the back. He'd face you at high noon on a dusty western street, the sun in his eyes. Benny might even give you the first shot. But'd you'd better get him on the first shot because he'd damn well get you on the second.
Being a life-long lover of guns, I can truthfully say that I have never reached for a gun in anger. There was a time when I was driving alone across Oklahoma at midnight on a two-lane highway many miles from nowhere. A car came up behind me with four men inside and they tried to force me off the road. They came along side me waving and yelling to pull me over. Their car eased in front of me and forced me to a rolling stop.
I had my loaded Ruger in my hand and was mentally calculating the distance between them and me when the headlights of a vehicle appeared magically in the distance. It was a life-saver. The men cursed their ill fortune and the car sent back a shower of gravel and dirt as they tore off into the night.