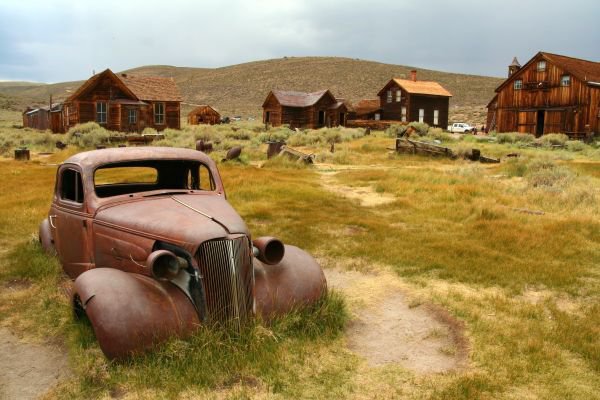 If you wake up tomorrow and discover the land your house sits on has more gold than you could spend in several lifetimes, you would probably be in ecstasy. Human nature being what it is, people would envy you and want to elect you to high offfice.
This is what happened to Johann August Sutter more than a century and a half ago. The place where it occurred was California.
Sutter was not a Californian or even an America by birth. He was a native of Grand-Duchy of Baden.
Born on Feb. 15, 1803 in the shadows of the mountains of Switzerland, Sutter came from a long line of entrepreneurs. The most famous was his grandfather, Jacob Sutterr, who had founded a number of paperr manufacturing plants, lumber mills and factories that employed thousands.
John Sutter's earliest years are not recorded. What is known about him is that he married, fathered four children, and when he was in his 30s, suddenly abandoned his wife and family after a history of thievery, chicanery, forged letters of credit and other crimes that could have sent him to prison for the rest of his life.
But Sutter was a cagey thinker who stayed one step ahead of the law. He lived during tough economic times when wealthy men owned slaves and made their own laws.
For 14 years, his wife and family heard nothing about him. They had no idea where he had gone or if he was alive or dead. Then one day, his name was shouted with wonder and amazement, from California to New York and around the world.
When Sutter arrived by steamship in New York Harbor on July 7, 1834, he was sipping wine on deck and carrying his head high following an all-night poker game in the dining room -- a game that had enriched his pocket book by several thousand.
Described by friend as a 'man with the heart of a lion and a keen eye for business,' Sutter stepped into the new America ready for whatever faced him. He was a good gambler who knew the odds and who knew how to protect himself from cheats. Personable among men, he would stake his fortune and even his life on the turn of a card.
As he wandered through the streets off New York trying to dream up business ventures that would make him wealthy, he heard talk of a place called California. The talk came from stevedores, laborers, barbers, merchants, soldiers and even bankers. There, the people assured him, you can find your fortune.
The dream took root in Sutter, but it took two years before he could make the journey. During those years, he worked for a draper and s pharmacist, and entered into a partnership with a Rumanian peddler. He also continued to add to his bankroll by gambling at poker, dice and faro.
When a circus came to town, the tall man with the mutton chops, mustache and beard became a ringmaster and entertained the crowds for pay. He even learned to shoe horses, studied taxidermy and worked for a dentist.
A historian said Sutter had more energy than any three men combined. He sold roses from a decorated horse wagon, worked in a sawmill, boxed for money, and taught math at a school operated by a Church minister. along the way, he learned to speak many different languages and dialects, including French, Hungarian, Portuguese, Sioux, Comanche, Spanish and, of course, English.
He used part of his growing bank account to open a tavern. There he listened to tales of travelers who described their ventures in California and the West. One of his regular drinkers was a quiet morose man named Edgar Allen Poe.
Sutter finally decided to make a major move. He teamed up with some German merchants who were heading for St. Louis. That was toward California, and Sutter threw in with them . He discovered they were slave traders. Although Sutter wasn't thrilled by that business, he joined his new business associates and profited from their transactions in the trade.
In St. Louis, Sutter profited from the 800 steamboats that made the city their port of call on a regular basis. The passengers disembarking from those ships required tobacco, corn, wheat, cotton and other products, and Sutter learned the art of trading quickly.
He was popular in the city, treating his paid employees as well as he treated the slaves. The profits from his growing ventures soared. He kept his house open to visitors and maintained a table laden with the best foods and wines. He would greet pioneers, colonists, fur trappers, adventurers and gamblers, and never turn anyone away.
After converting some of his holdings into cash, he bought three covered wagons and loaded them down with merchandise. Armed with a double-barrel shotgun, he mounted a sturdy horse and joined a company of 35 traders. Their destination was Santa Fe, 800 miles away.
The wagon train was poorly equipped and organized. Sutter did not trust the leaders. He left them and began trading his merchandise with travelers and Indians he met along the way.
The Indian leaders learned to trust Sutter, for whom they had great admiration. They told him where he should go.
Lighting his pipe, one chief said, 'California, Sutter. That is where you will achieve your dreams.'
Sutter would share his motto with anyone who cared to listen: 'To succeed, one must dare.'
He joined up with a caravan that included an Army officer, five British missionaries who had been dispatched by the London Bible Society to study the Cree dialect, and three women who were California-bound for their own reasons.
They ran into trouble on the trail -- Indian trouble. The Apaches didn't like so many uninvited travelers coming through their land. They donned war paint and would strike an individual rider or wagon train when and where they chose. Sutter weighed the risks and decided the best and safest way to get to California would be by clipper ship. He took passage on the triple-masted schooner 'The Columbia,' bound for the Sandwich (Hawaiian) Islands. It was a considerable detour, but, Sutter thought, all roads lead to Rome.
After an enchanting voyage through the islands, Sutter eventually wound up at what is now the Port of San Francisco. He made some acquaintences and was able to meet a governor named Alvarado who was part of the Spanish Crown.
Alvarado was in charge of 1,400 miles of land reaching from the tip of northern California to Baja or Lower California. Alvarado and Sutter took a liking to one another. Sutter told him he wanted to settle in the country, cultivate the soil, set up businesses and bring great prosperity to the region. It would bring in taxes and make things better for everyone, he said. He even promised to organize an army and assign lands to the Indians to work. He said he would do all this in the Sacramento Valley at the mouth of the Rio de los Americanos.
'I will call the settlement New Helvetia,' declared Sutter, adding that he was 'a Swiss and a Republican.'
They shook hands and alvarado gave him a 10-year concession to develop a large strip of land that extended far down the coast.
'Develop it,' said Alvarado, lighting two cigars and handing one to Sutter. 'And we shall see what happens.'
Sutter had the golden touch.
He made the land flourish and turning New Helvetia into a thriving settlement with 4,000 oxen and steers, 1,200 cows, 1,500 horses and mules and 12,000 sheep. The Indians worked hard and Sutter paid them a decent wage. The harvests were abundant and the granaries were filled to capacity.
Under Sutter's direction, ranches and rancheros were built, wheat fields were planted, and granaries and store houses were constructed. He ordered his workers to build a wall five feet thick and 12 feet high to keep out intruders. He also formed a garrison of 100 troops to defend the area.
Sutter's trade literally exploded. He made daily shipments of hides, grain, talc, maize, dried meat, cheese, butter, flour, lumber and even smoked salmon to Vancouver, Sitka, the Sandwich Islands, Mexico and South America. The trade made Sutter so wealthy his peers called him 'the richest man in America and maybe in the world.'
He had credit lines at the largest banking houses in America and Great Britain. His expanding businesses included munitions, seeds, plants and firearms. There seemed to be no ceiling to his success until the day one of his employees found gold.
Let John Sutter tell the rest of the story in his own words, as taken from 'Sutter's Gold,' a remarkable book written by Blaise Cendrars and translated from French. The book was published in 1926.
'It was the middle of January 1848,' Sutter wrote. 'Mr. Marshall of New Jersey, my carpenter, was at work for me on my mills. He was working on a new saw-pit in the mountains. I needed a sawmill as I was short of lumber for my big steam mill under construction at Brighton. The boiler and machinery had just arrived after 18 months journey.'
On a rainy afternoon while Sutter was seated at his desk writing a letter, Marshall suddenly burst into the room. He was dripping wet and had a wild look on his face. Barely able to speak, he told Sutter to close and lock the door.
Marshall opened his pockets. They were filled with gold nuggets that he had found at the mill.
Sutter immediately tested the nuggets with nitro muriatic acid. He read an article on gold in the Enclyclopedia Americana. Closing the book, Sutter looked at his employee.
'It's gold, all right,' he said. 'Pure gold in the virgin state.'
Marshall began shaking like a leaf. He began to leave. Sutter begged him to stay, even offering him higher wages, but the man was determined to go back to the mill and find more gold.
Despite Sutter's efforts to keep the news quiet, it spread like wildfire. His workers began abandoning their jobs by the scores, by the hundreds. Indians, Mexican Vaqueros, roustabouts, almost everybody left, some without collecting the salaries due them.
Sutter's incredible kingdom began falling apart. Not overnight. Piece by piece. Technically he owned the land the Governor had given him, but the gold seekers ignored property rights in their frenzied search for gold.
Sutter's fields were abandoned and went fallow. His animals died. Even his beloved hacienda, The Hermitage, were set on fire and burned to the ground. Lawsuits, violence, arson, robberies and killings swept the entire district. One of his sons committed suicide.
Although Sutter took the matter to court and waged a legal battle for his rights, the case was never settled. He died a poor rejected man with just a shadow of his once immense fortune.
'Gold is the winner,' he said before dying at the age of 77 on June 17, 1880. 'Not right or honesty. Just gold.'