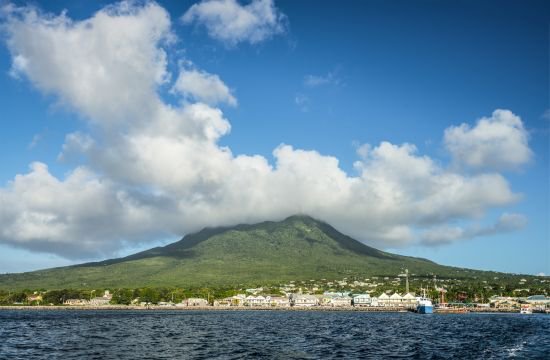 The Caribbean can be a lonely place for a white divorced male in his sixties. It was that way for me at first after I accepted a job offer to edit a weekly newspaper owned by a publisher who had been born in Trinidad.
My job was pleasant. I managed a staff of three reporters and a photographer and was responsible for the content of a newspaper that served the islands of St. Kitts and Nevis, which were only three miles apart.
One of the things I like about moving to a new place is restaurant searching. I love to hunt for the hidden gems that nobody else knows about. That was how I discovered Leona's by the Sea.
The restaurant was near the ocean about a mile from my newspaper office. I was driving my company-owned Honda on the left side of the street (St. Kitts and Nevis were owned by the British before the people declared their independence. All traffic laws and signs are according to British rule) when I saw the two-story building that housed the restaurant.
Tall palm trees with graceful curving trunks shaded Leona's by the Sea from the warm tropical sun. As I walked up the curving stairwell, a monkey with a greenish silver sheen flashed by and vanished into a tree.
An older island woman with a huge smile greeted me from the upstairs porch.
'Welcome to paradise,' she shouted. 'I know who you are from your picture in the newspaper. You are the new American editor who is going to try to tell me what my island is all about.'
I laughed out loud as I bounded up the steps. I hadn't even met Leona, and I liked her already.
Leona, her husband and her niece, a waitress at the restaurant, were grouped around a table when I walked into the open-air dining room. Soft island music came out of a small brown radio and I could see the lights of the ships blinking at sea.
'Don't look at the menu,' she said. 'I am going to make you an island meal you will never forget. It is on my husband and me. Just tell all the others at the newspaper about my food.'
Her niece, Lynnette, was a beauty in her 20s. She had just reigned as runner-up in an island beauty competition. Leona's nephew was Steve, who worked part-time as her dishwasher.
The meal was scrumptous, to use the best word I can think of. Jerk chicken, sweet potatoes, beans, fresh salad and strong island coffee. In exchange for the fine dinner, I answered all the questions they asked me. They were interested in where I had lived, why I had come to st. Kitts and Nevis and my hobbies.
I answered them patiently while I enjoyed the fine dinner.
Steve, a good looking youth who had just turned 18, was curious about my hobbies.
'I'm a horseback rider and I love to play poker,' I said.
He brightened. 'Poker? You are a risk-taker? A gambler?'
Nodding, I concurred. 'You could say that. Risk-taker I definitely am.'
He looked at me directly. 'Have you ever gone pearl diving?'
I shook my head. 'Gold prospecting, yes. In Arizona and Nevada. I even searched for diamonds in a volcanic crater in Arkansas once. But pearl diving, no.'
Excitedly, he said, 'I am taking my boat and going pearl diving tomorrow morning. If you would like to come along to watch, you are welcome.'
Leona came to the table. 'He is full of dreams,' she said. 'Always looking for nonsense. I tell him, find fish or conch and I will buy them from you and make it into food for my customers. But he wants to find pearls.' She walked away shaking her head.
Steve wore a big grin as his grandmother went into the kitchen.
'She is always that way,' he said. 'I love her but she doesn't understand. There ARE pearls out there in the reefs. My friends have found them in conch shells. Not often, but they are definitely there. Would you like to come with me? The waves could be a bit high and my motorboat is small, but if we found some pearls, that would be a good story for your newspaper.'
I love an adventure. The next day was Saturday and I was off.
'I'll go with you,' I said. 'What time do you want me to show up and where?'
The following morning at 6 a.m., I met Steve at a pier near the restaurant. I climbed aboard, took my seat and we shoved off for the reefs where the conch shells were and where the pearls might be found.
Nevis is a round island surrounded by lovely beaches, rain forests and coconut palm trees. It's about half the size of St. Kitts which can be seen three miles away. I balanced myself carefully as the slim motorboat slipped through the white-capped waves. Steve was a skillful boatsman and kept the craft moving properly between the waves.
When we arrived at the reef, he dropped anchor and stripped off his shirt. Grabbing a brown net, he said, 'Here I go,' and slipped into the deep blue water until he was out of sight.
He seemed to be down there forever. Finally he burst through the surface towing a net full of conch shells behind him.
I helped him and the net into the boat. He counted the shells. They were big and shining in the early morning sun. There were a total of 24.
'These look good,' he said. 'The ones I found the other day were much smaller. Maybe I'll get lucky. If I don't find a pearl...' He shrugged. 'My grandmother will buy the meat and make conch salad out of it for the tourists.'
Back at the pier, we tied the motorboat to the dock. I helped Steve lug the conch shells onto the pier. Steve took a long sharp fisherman's knife out of the boat and began opening the conch shells. He piled the fresh pink meat onto a special shelf built on the pier for fishermen to filet their catch.
For the first 20 shells, he found nothing. As he opened the 21st shell with the knife, I saw a flash of white embedded in the flesh. I smiled. Steve was stunned. With trembling fingers, he separated the pearl from the shell.
'I was right,' he said. Then he screamed. 'I WAS RIGHT!'
After shooting a dozen photos of Steve and his pearl, which turned out to be worth $1,000, which an American tourist happily paid him -- he planned to make the pearl into a ring for his wife -- I walked up to the dining room at Leona's By The Sea.
'I heard the good news,' Leona said. 'Now he'll be impossible to live with.' But she smiled proudly, adding, 'I am going to make certain he uses the money for his college education. If you had found such a pearl, Geno, what would you have done with the money?'
I laughed. 'Never ask a poker player a question like that, Leona. I'm already thinking about entering a poker tournament in St. Maarten next Saturday.'