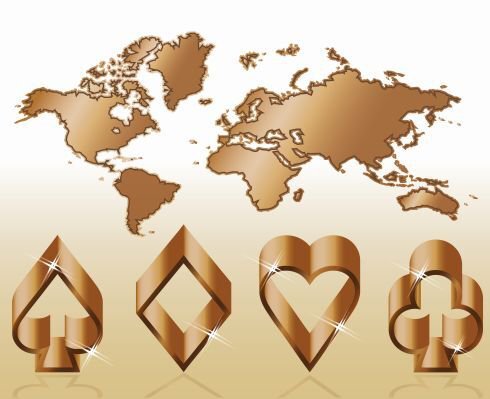 Every gambler creates his own world. It depends on where he lives, what he has access to and whether gambling is legal in his geographic district.
I am leaving next week on a journey by train, plane and automobile that will take me to many parts of my favorite country. If the trip goes well for me as a poker player, horse player and freelance writer, who knows? I may end up on my own sailboat somewhere in the Caribbean or -- more preferably only because I haven't been there -- the South Pacific.
Some of you are laughing. I'm certain of it, but it's okay. You pity me because you think it is not true. I pity you because you have never dared to attempt such a journey.
I designed my road map with you, my readers, in mind.
I am going to take you on a journey with me to some of my favorite gambling establishments. I will share personal stories with you about luck and bucking the odds. Some may be funny, some sad, but they will all have a purpose in mind -- to make you a better player and to give you an edge in any game of chance.
Here is my travel itinerary: I hope I meet you along the way.
I will travel on AMTRAK from St. Louis, MO. to Reno, NV. There a friend will meet me who knows the night life of Reno, the casinos, Lake Tahoe, Virginia City, Carson City and all the rest of northern Nevada. We will travel according to Marie's World and we will have fun gambling and gambling, which we will share with all of you.
From there, I will travel by auto to Yerington, Nevada, home of the famous Anaconda Gold Mine, and the Pioneer Crossing Casino, home of the free $10,000 Bingo game.
After exploring the gold and silver mines of the Yerington area, I will head by car to Phoenix, AZ. There I plan to play $4-8 Omaha High-Low at the Arizona Casino, pot limit Omaha High and maybe a little seven card stud high-low.
Tucson and the Desert Diamond Casino will be my next stop. The players include cowboys who wear silk shirts and who have never sat on a horse, Hopis, hopheads and lost weekenders. My kind of people.
Tucson is home of Sabino Canyon, which offers some of the Southwest's most scenic trails for horseback riding, and miles upon miles of national forestland where the saguaro cactus is king. It is also home to Kitt Peak, one of the world's greatest observatories, and Old Tucson where some legendary western movies including 'Arizona' were filmed.
It's pretty hard to top Arizona for scenery and pure poker and horse racing action, but from there, I could either continue west to San Diego and Lake Elsinore, CA. where I have played some serious poker, or head east to Ft. Lauderdale and Hollywood, FL. for some poker and horse playing action at the Hard Rock Casino.
After a week or so of fun in the sun on the Florida beaches, I will make up my mind where I want to go next. It will either be a cruise to some of my favorite Caribbean islands -- Berry, San Juan, Dominica, Grand Cayman, St. Kitts or Aruba -- or it will be to the South Pacific. I may stop off in Pennsylvania and West Virginia for a little R&R with my friends at The Meadows, Rivers Casino, Wheeling Downs and the Mardi Gras in Charleston, WV. where Jim Gussius runs a tight ship with some great gambling.
I have been to Hawaii three times and enjoyed Hawaii more on each visit. But I want to visit islands in the South Pacific where the beaches have never been marked by my footprints. I will keep in touch with the members of this site along the way. Good gambling.