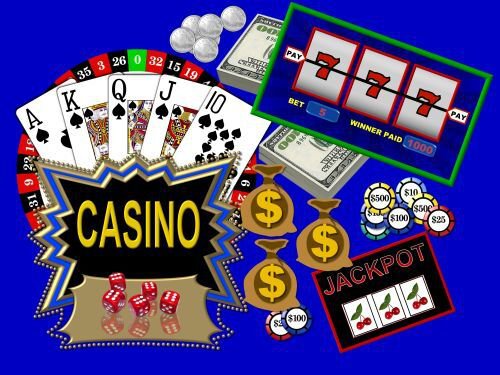 Don't ever knock a person for playing slot machines. If you do, it's like being in Texas and not supporting the home team at a football game. It just isn't kosher.
Now I know about Texans and sports. I worked for a year as a reporter for the Hereford Brand, a daily newspaper in Hereford, TX. It still hearts my eardrums when I recall the verbal attack the wife of a Hereford high school football coach launched on me when I made an offhand despairing remark about the local team. I won't repeat her words, but you get the message.
Can slot players win at poker? Sure they can. It takes practice. You can't let the regular poker players intimidate you. And you will probably have to take a few financial lumps before you start winning, but it can be done.
Now I am not going to knock the slots. I have played them, not a lot, but in various casinos in the United States and the Caribbean over the years. slots are a lot of fun. Sometimes they pay off with monster jackpots. I still remember the night I hit a diamond royal flush at Sam's Town in Las Vegas.
Being a rookie player at slots, I had only dropped two quarters into the machine. Instead of winning a $1,000 jackpot, I only picked up $400 for my efforts. But it was still a thrill. And I remember the night a housewife from Los Angeles put a $20 bill into a Nicklemania machine at a downtown Las Vegas casino and won $250,000.
I had just met the woman and her husband, who had gone to the hotel room reservations desk a short distance away. He was still getting his credit card approved when the lights on the machine his wife had been playing started blinking and bells and sirens went off.
She shrieked and jumped up and down. The husband, thinking his wife was having a stroke, stopped what he was doing and ran to her side. A security guard with a broad grin ran up.
'Congratulations, honey,' he said. 'You just won $250,000.'
'Nickles?,' the husband said.
'No , dollars,' the guard said.
I presently live in Missouri where I share a home with my daughter and three grandchildren. There are several charter bus services that operate in the area and transport people to casinos on Indian-owned reservations in Oklahoma and Kansas.
Most of the regulars who use the buses play slots or Bingo. Once in a while, they will try their luck at blackjack, roulette, Let It Ride, or Caribbean stud poker. But very few of them will sit down at a live poker game.
I asked Pam, one of the slot players, why she and her sister, Juanita, didn't try their luck at poker.
'Are you afraid of losing your money?,' I said in a kidding fashion.
'It isn't that,' said Juanita. 'I don't know anything about the game. I'm afraid I would do something to embarrass myself. I don't want to act like a fool.'
I have a younger brother, Legs, who absolutely loves the slots. One night at The Meadows, a casino in Washington, PA. about 50 miles from where we grew up, I offered to stake him in a poker game.
'Nope,' he said firmly, turning down the money. 'I'd be too nervous. I'd probably start stuttering and they'd know I had a good hand and would throw their cards away. I don't have a poker face.'
It's too bad my brother and the players on the buses won't try their luck at poker. The odds against winning at the slots aren't nearly as good as they would be in a skill game like poker or blackjack, also called 21. One-armed bandits are set up to return a certain percentage of wagers to the casino or House. Yes, you may win the big jackpot. But the odds are against you.
Here are a few rules for slot machine and Bingo players to follow if they want to learn how to win at poker.
Rule number one: relax. Don't let the other players intimidate you. Dealers are instructed to treat all players, especially beiginners, with respect. The dealer will tell you when it's your turn to play. That is when you will either fold (throw your cards into the center of the table or the muck, as it is called in poker parlance); call the bet; or raise.
Rule number two: decide which poker game you want to play, then buy an instructional book on poker through the Gamblers' Book Store in Las Vegas or at a used or new book store in your home town. You can also find many used poker books on-line that you can purchase at a fraction of the cost of a new book. My favorite games are Omaha High-Low, Omaha High, seven-card stud high or high-low, and limit Texas Hold'em. Once you get a book by one of the top poker players -- Doyle Brunson, David Sklansky, Bob Ciaffone or Mike Caro, read it. Devour it. And read it again.
Play tight. This means you should risk your money only when the cards dealt to you are good cards that can turn into good hands. When you are dealt a good hand, become aggressive. You don't want to act passively with a good hand. Be a tiger.
Watch the other players. Watch how they raise, fold or just call. By being observant, you can find out who is a bluffer, who only plays good cards, who is the timid one and who holds the 'nuts' or the best hand. It takes time, but you can do it.
Don't forget to tip the dealer when you have a winning hand. It probably won't win you any more money, but it sends good vibrations around the table and you'll get better service from the cocktail waitresses.
When you are at home, practice playing poker by dealing eight hands around a table. That is the average number of people who play poker in a card room. Study the cards to see which hands you believe people will play. This will give you a better feel for the game and the next time you go to a casino, you will feel much more relaxed.
Practice playing poker on the Internet. There are many websites that offer free poker on-line. Some even provide lessons and tips from professionals. Take notes. And keep studying your poker books.
With that said, I would not advise you to give up playing the slot machines. Especially if the machine is Nicklemania.