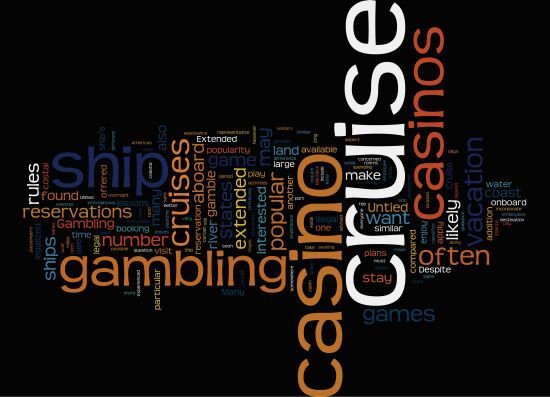 First, seasickness is overrated.
Second, if you do get seasick, you'll never forget it.
Third, you'll never get seasick if you focus your gaze on the horizon and refrain from drinking too much rum or eating too much at those sumptuous feasts they serve you on those cruise lines.
Gambling cruises are big time these days, especially poker cruises. It's growing into a major part of the travel and tourism industry, with nearly all the major cruise lines getting involved.
Being a veteran of the seven seas, I decided to tell you the truth about those poker cruises that are promoted in gaming magazines like ANTE UP, CARD PLAYER, BLUFF, ALL-IN, CASINO PLAYER, POKER PLAYER and the others.
The truth about those poker cruises, frankly, is that they are wonderful.
There, I said it. And it's true.
I have been on scores of gambling cruises. When I lived in South Florida in West Palm Beach, Lake Worth, Lantana, Naples, Marco Island and Bonita Springs, I was within a couple hours drive of some of the best cruise ships in the country.
Picture this. It's Friday night, time for some R&R. I have my choice of heading to the Hard Rock Casino in Hollywood, FL., or I can drive to Port Everglades near Ft. Lauderdale for a 'Cruise to Nowhere' on the Vegas Express, the SeaEscape or one of the other vessels that journey into the deep.
Once a ship gets into international waters, almost anything goes. In this case, it's gambling.
Life doesn't get much better than gambling and enjoying the night life on a cruise ship. I always wore a bathing suit beneath my clothes to sunbathe or take a dip in one of the swimming pools on the several tiered ship.
The scenery is terrific, and I'm not just talking about the yachts and sailboats that cruise past you. On a ship that accommodates up to 6,000 people, you will surely find some eye-catching beauties in bikinis sunning themselves beneath a tropical sky.
After cooling myself off in the pool, I wait until I dry off in those balmy Florida breezes. Then I dress and head for the casino where I can find all the slot machines, table and poker that my heart desires.
If I don't want to gamble, no problem. I find a table in the showroom next to the bandstand, order a cool cocktail and wait for the show to begin. It's usually a Las Vegas-style show complete with comedian, orchestra, a vocalist or two and sometimes a magician. Whatever the billing, the show is entertaining.
The food on cruise ships is generally excellent. I have read about some cruise ships that have experienced cases of food poisoning at sea, which is never a good experience. Fortunately, these are extremely rare and the cruise lines have taken steps to make sure it doesn't happen on their ships.
My experiences on the SeaEscape were always good. The large cruise ship even offers overnight accommodations for a ridiculously low rate. If you sail, for example, on a Friday evening, you can stay aboard the ship in a comfortable air-conditioned cabin for less than $20 and continue gambling, eating and drinking the next day.
The Vegas Express was a smaller ship with two decks. It was kept docked in Hollywood in a cove where you could go deep sea fishing with a group of other anglers. The charge was nominal for a half day at sea, and the catch was usually good.
While the Vegas Express could only accommodate 400 people, it offered great food, a spectacular view of the ocean and the shoreline communities and plenty of action for anyone who played poker, blackjack, slots, dice or any of the other poker games.
I still remember the night a tropical storm came up. The winds hit us about three hours after we left port and the waves were amazing. The ship handled the inclement weather well except for one wave that hit with such force, it uprooted the dice table from the floor.
Amazingly, except for the dice shooters, the rest of the gamblers kept playing. The wave had knocked a couple of players at my poker table to the deck. Smiling, I picked up my scattered chips and regained my seat, still holding my cards.
'I raise,' I said.
ANTE UP Magazine is one of my favorite poker publications. It is given away free at many poker rooms. The publication hosts more than a dozen poker cruises each year. Their schedule for 2015 includes sailing to the Bahamas out off Port Canaveral, FL. from Feb. 9-13; Port Canaveral to the Bahamas and Key West April 10-18; a cruise from Boston to the Southern Caribbean from Oct. 25 to Nov. 7, which will make stops at St. Kitts where I lived and worked for two years; St. Lucia; Barbados; Aruba; and Curacao; and a Nov. 7-12 cruise from Tampa, FL. through the Western Caribbean, visiting Key West and Cozumel, Mexico. Rates for cruises range from $549 up and cover all your meals and port charges.
CARD PLAYER Magazine where I worked as a staff writer for a year also sponsors cruises. The magazine will host a seven-day Alaska sawyer glacier poker cruise on Celebrity's Solstice of the Seas out of Seattle, WA. beginning May 8, 2015, starting at $1,055 per passenger. On Aug. 29, the magazine will sponsor a seven-day cruise through the Western Caribbean out of Ft. Lauderdale, FL. for as low as $849. That will be on Royal Caribbean's Oasis of the Seas. On Sept. 5, there will be a sevenday cruise out of Ft. Lauderdale on the same ship through the Eastern Caribbean starting at $739.
Cruises include parties, poker seminars, free poker instruction, tournaments, gifts and all the perks the cruise line furnishes to its passengers. Although the casinos are reserved for adults, there is fun for people of all ages including planned activities for children, and you can bring the entire family.
I will keep you advised on these cruises since I plan to go on the Southern Caribbean cruise in October and will be following up with future stories about some of these cruises. Good sailing and good playing.