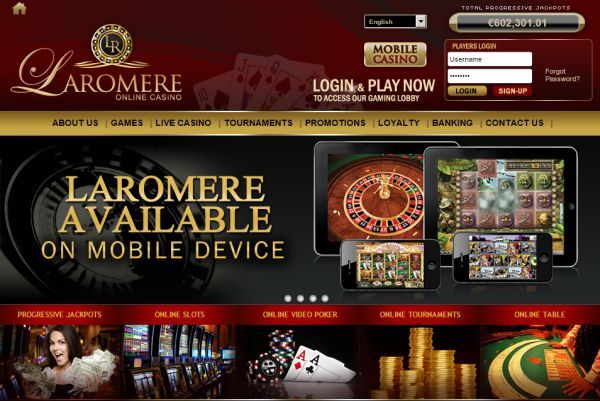 It looks like there's quite a bit to look forward to with LaRomere this year. Read on!
1. You currently feature software from NetEnt and BetSoft but do you plan to integrate games from other providers?
Yes we do, the more the merrier! More software providers will be integrated within the first quarter so, watch this space to find out who we plan on bringing on board.
2. What makes LaRomere different from other NetEnt online casinos?
At LaRomere we pride ourselves on the high levels of customer service we deliver. All queries are handled by our highly trained helpdesk team members who are available 24/7. Customer service is the heart of our casino, without good service, no one's coming back!
Our promotions are also a big differentiator between us and other NetEnt casinos. Our promotions department are constantly creating newer and better ideas on how to get the LaRomere community playing towards wins outside of the casino because we feel our players deserve the best and we have that to offer. In November 2014, 5 lucky players and their partners were flown to the Palace of the Lost City in South Africa and were treated to a Big 5 Safari, 5 star accommodation and dining along with cultural and casino entertainment, all expenses paid!
3. How do you ensure the safety and security of player data?
Your details are safe. Your personal LaRomere Online Casino User Name and password must be supplied prior to any credit card transactions taking place. Secured encrypted data transfer during any transaction is guaranteed. The casino software uses 128-Bit encryption when data is transferred. Each player chooses their own User Name and their own password, which they alone can access. All credit card information is encrypted in the back-office and no level of access can reveal this information which is managed by the player alone.
4. Has a player ever won a large progressive jackpot at LaRomere?
We've had multiple progressive wins in the past and with the current progressive jackpot total ticking away at over €600,000, it's bound to happen again soon.
5. How many games are currently available on the mobile casino?
We currently have over 60 games available on mobile and as our software providers continue to grow, we look forward to seeing even more games added to the suite.
6. Are there any new games in the pipeline?
Well we're all looking forward to the Guns and Roses video slot launching later in the year but, we're not losing sight of the colourful Spiñata Grande that goes live toward the end of March – We won't give too much away but we will say double tickets to Mexico are on the cards!
7. Which promotions are most popular among your players?
Our scratch card opening offer bonus has been hugely successful. All new account holders who sign up and scratch a match will receive up to 15 free spins on Netent games. That's a guaranteed no deposit bonus.
8. Is there anything you'd like to say to LCB members?
Don't take your eyes off LaRomere in 2015. Even bigger things are coming and if you liked playing here before, you're going to love what lies ahead.