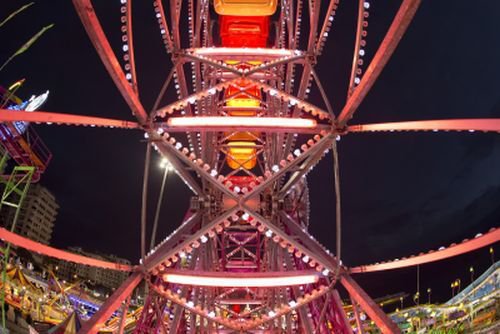 When I told my grandchildren we were going to Las Vegas for the weekend, they were ecstatic beyond belief.
Almost.
Harrison, nine, has watched dozens of videos about Las Vegas. He is fascinated about anything his nine-year-old mind can conjure. He asks questions, dozens of them, often piling question upon question even before I can answer his previous one.
'Are there rides in Las Vegas, Grandpa?'
'Maybe, but probably not. The people who built Las Vegas made it for adults, not children.'
Harrison frowned. His sister, Josie, 10, who is more sophisticated than Harrison by a hair, wrinkled her nose.
'Harrison, those rides you see at New York, New York don't even have real people in them,' she said. 'They're just dummies.'
Harrison persisted. 'How about Treasure Island? Can we ride on the pirate ship when it's shooting the cannons?'
'I don't think so,' I said. 'The pirate ship outside Treasure Island is a replica, not a real ship. I don't think there's room on board for a couple of kids.'
When Chevvie Chase as Clark Griswold made the film, 'National Lampoon's Vegas Vacation,' the scriptwriters had him, his movie wife Beverly D'Angelo, who happens to be one of my favorite actresses, and their two precocious children sharing all the excitement of Las Vegas, from casinos to meeting celebrities like Wayne Newton.
The couple's teenage son comes up with a fake ID so he can gain entry to the casinos. There wearing a fake mustache, he meets attractive women in the lounge, gambles and wins four brand new cars that at the end of the movie the family drives back to their hometown.
If it was only that easy.
No, my daughter and I are leaving today for a weekend in Las Vegas. We will stay at the New Orleans, a wonderful resort about a mile from the Strip. It has an Olympic-sized pool which all of us will enjoy, a health spa and gym, half a dozen restaurants, sports betting, a horse room and of course the poker room where I plan to try my luck in a tournament or two.
My daughter is not a poker player. Although she has played poker in a couple of casinos in Oklahoma and Arizona, she will test her gambling skills on blackjack and the slots. She honed up on her blackjack by borrowing a copy of 'Beat The Dealer' by Edward Thorpe from the Phoenix Public Library. Thorpe is the ultimate authority on how to win at blackjack and I could not recommend a better teacher for the game of 21.
If you are planning a visit to Las Vegas and want to bring the kids, be my guest. There are plenty of things for a family to do in Glitter Gulch that have little to do with gambling, like visiting Circus Circus where circus acts perform inside the casino. Or you could go to Caesar's Palace and look at live wild animals that are on view.
Another fun family event is walking on Las Vegas Boulevard, the famed Las Vegas Strip. It's like being in a Fellini movie. The last time I was in Las Vegas, I saw clowns, jugglers, wandering musicians, people walking on their hands, and celebrities. I met Nicki Menaj on the Strip and she was absolutely warm and wonderful, snapping photos of her mother and grandmother, and fielding my questions with charm.
We're planning a side trip to Hoover Dam -- my daughter has always wanted to see what it looks like inside the incredible man-made creation -- and will go horseback riding on scenic Mt. Charlestown 30 miles north of Las Vegas.
But I am going to keep a wary eye on Harrison. Knowing my intellectual grandson, it would not surprise me to find him missing and Josie spotting him at the top of the the ride at New York, New York with the dummies and demanding, HARRISON, YOU COME DOWN HERE, RIGHT NOW! I just hope Harrison doesn't come up with a fake ID card. I don't think he'd look good in a mustache.