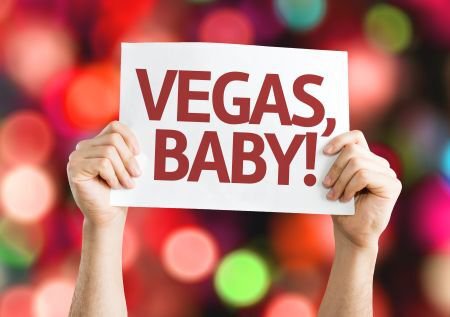 Make no mistake about it. I love Las Vegas.
I fell in love with this glittering city of misery and hope the night I crossed over Hoover Dam more than three decades ago. I was driving a blue Impala convertible that I literally stole from Eddie Paskan, a high school buddy who owned a used car lot in Sutersville, PA. where I grew up.
Now Eddie wasn't much of a used car salesman to begin with. He had a heart of gold, wouldn't argue with anyone, and was simply no match for my mother. She knocked down Eddie's asking price that he looked at me and said glumly, 'By the time this is over with, I will owe your mother money.'
As you cross over the magnificent Hoover Dam, you become instantly aware of the size of man. We're not really very big in comparison to a massive project made of cement and steel that controls nearly the entire water supply for Arizona and Southern California.
Then just outside Henderson, NV. the lights come on. One second it's dark, the next the heavens light up with the neon magnificence of Las Vegas. Although the city is still a 30-minute drive away, it makes its presence known in a way that rivals 'Star Wars' and 'Close Encounters of a Fourth Kind.'
Last week I treated my daughter and three grandchildren to a weekend in Las Vegas. As a grandfather and dad, I did my best to act paternal. Of course in the end the gambling urge won out and I found myself spending much more time in the poker and horse room than I had intended.
Las Vegas, the city of passion and achievable desires, does that to you.
Although my daughter had been to Glitter Gulch, the oldtimers' favorite nickname for Las Vegas, before, this was the first time for the kids to see it. Josie is 10 going on 21, and Harrison is nine and believes he already knows everything there is to learn about life.
After we got settled in to our comfortable air-conditioned suite at the new Orleans Casino and Resort, I headed for the poker room to play in a no-limit Texas Hold'em tournament. Rossana loaded Josie and Harrison into the van and took them on a tour of the world's most famous entertainment city..
After they left and unknown to me, the weather turned sour. Although it was near 90 degrees in Phoenix, the Las Vegas weather cannot be predicted. It turned chilly and the rains came, a near cloudburst according to my daughter.
Despite the adverse weather, they managed to take a tour of some of the Strip's most famous casino. They missed Circus Circus, something Harrison is still upset about, which he tells me every chance he gets.
Although I got knocked out of the Orleans bounty tournament early, I did well at the poker tables and managed to cover our expenses plus make a small profit.
I felt I had to make up for the weather and the Circus Circus miss, so we drove to Oatman, a tiny ghost town 23 miles from Kingman, AZ. There the kids rode horses supplied by the local gunfighters association, a group of beer-drinking cowboys who stage fake shootouts and bank robberies to entertain the tourists.
Oatman, a town that once produced a fortune in gold, was absent of tourists when we arrived near sundown. In fact, along with the cowboys and their horses, we were the only living beings on Main Street.
We wandered inside the Oatman Hotel, established in 1832 if the weather-beaten sign on the outside is correct. There a young dance hall hostess who reminded me of Kitty of 'Gunsmoke' fame greeted us.
She wore a low-cut saloon dress and spider-webbed lace stockings.
'Sorry to turn the lights out on you, but we're loading the horses and heading up north to Durango, Colorado,' she said. 'My boyfriend don't like the Arizona summers and neither do my horses.'
The children got their free ride. Before we hit the Oatman town limits, we saw three of the wild burros the community is famous for. From there we headed south to Laughlin, NV. 12 miles distance. I had once worked briefly in Laughlin at the Riverside Hotel, owned by the town fofunder Don Laughlin.
While my daughter and the kids cruised the Colorado River on ferry boats, I found a poker table. By the time they arrived hungry for dinner, I had picked up a couple of hundred and we headed to a nearby steak house.