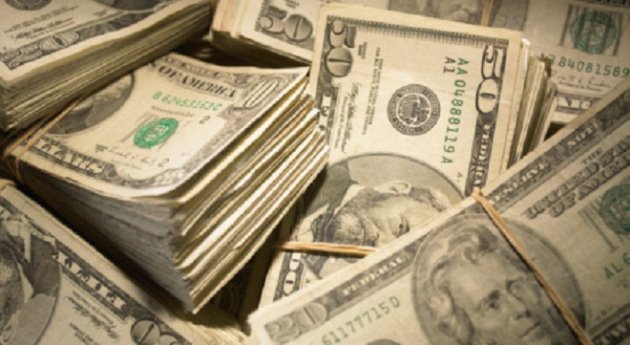 When I was a kid, one of my favorite cartoon characters was Scrooge McDuck. He was Donald Duck's uncle, a miserly multi-millionaire who had only one thing in life that he loved.
Money.
The cartoonist who created the Donald Duck cartoon strip that was syndicated around the world gave Scrooge McDuck a fettish that a lot of people, especially gamblers, can identify with an appreciate. Scrooge loved to take a bath in money or roll around in greenbacks.
Now while I have not made money my god, like everyone else, I can appreciate what money can do for a person. That's why I jumped about six feet into the air when I knocked the final player out of a World Poker Open Omaha High-Low Tournament in Tunica, MS. and won over $42,000.
Nolan Della, a fine poker writer and book author, was covering the tournament for Card Player Magazine, and notice the leap. He ended up writing an article about how I had played those final hands which you can read by doing an Internet search.
So there you are. You are in Las Vegas, Tunica, Reno or Atlantic City. You have just won a lot of money in a poker, blackjack or slot tournament. You are totally bizacko, flying higher than you have ever flown before and probably will never fly again. What happens next?
You go to the money room to get paid.
Most people who frequent a casino have never been inside a money room. It is not friendly to the general public and for good reason. There is more cash in a money room than you have ever seen before in your life. It is protected by the most sophisticated surveillance equipment on the market, and serious looking people who carry guns. Big ones.
So there I was, in the money room. On my wrist was a diamond-studded gold bracelet that was part of the WPO prize. I was waiting to be paid along with a tall, slim black gentleman from Los Angeles who had won an even bigger tournament than me earlier in the evening. His winnings totaled over $80,000. There were others, men and women, who had won lesser amounts, but we were the big winners.
An elderly man with white hair and wire-rimmed glasses introduced himself as the assistant casino manager. He wore an expensive dark suit, an expensive tie, expensive shoes and took charge of the proceedings by the simple process of staring us down.
After we signed innumerable papers, it was pay-off time. We stood in line obediently like good soldiers while he escorted the winners over to a table piled with stacks of hundred dollar bills. An attractive secretary sat at the table and counted out the bills, stacking them neatly in piles, while the assistant manager, who bore a close resemblance to Meyer Lansky, made sure her count was correct.
While they counted out my money, the black gentleman from Los Angeles stood behind me, nervously jiggling his leg. Around his neck was a thick gold chain, the kind they call 'a rope' in street parlance.
The assistant manager asked me if I had a briefcase to carry my stacks of hundred dollar bills.
'No, Sir,' I confessed. 'You see, I never expected to win this thing.'
He nodded without a smile. He was a veteran at this sort of thing. I wasn't. He turned to the secretary.
'Ginger,' he said. 'Bring me some brown paper bags.'
He filled a half a dozen brown paper bags with the hundred-dollar bills. I stick them into every pocket I could think of. When I was finished packing, I bulged so much I looked like the Pillsbury Dough Boy.
Then it was the black winner's turn to be paid.
He gave the assistant manager an incredulous stare.
Softly he said, 'You expect to load me down with $80,000 in hundred-dollar bills and send me back to Los Angeles at 3 a.m. and expect me to get back home alive? Bro, you gotta be kidding. Give me a few thousand in cash and write out a certified cashier's check for the rest of it.'
That is how a casino money room operates. Good luck. Let the games begin.