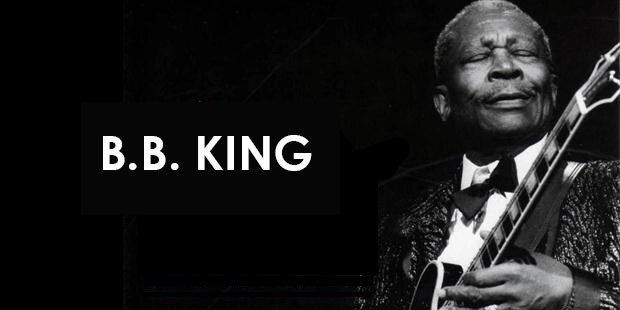 Last year when I heard blues musician B.B. King had a concert booked in Springfield, MO. where I was then living, I tried to schedule an interview with him through his road agent.
It would have been my third meeting with the legendary blues guitarist from the Mississippi Delta, and I really wanted to do it. Hey, King was nearly 90 years old. Even Oak trees don't last forever and I wanted to capture this legend's memories before he became part of the old rock.
It wasn't meant to happen.
The road agent said Sorry, B.B. ain't feeling too well. He's just doing his concerts when he feels up to it. Some other time.
Well, some other time didn't occur. He passed away at his home in Las Vegas. Just died in his sleep. I hope he was cradling his famous guitar, Lucille, in his arms when it happened.
I first met King around 1982 when I was working as a reporter for the Phoenix Gazette, a daily newspaper in Phoenix, AZ. My City Editor Vic Thornton was a big fan of country and blues music. He assigned me to write a review on B.B.'s concert. Being a big fan of the King of Blues, I was happy to comply.
He turned out to be a warm, pleasant fellow, full of memories of living and working on a sharecropper's farm in the Mississippi Delta. He talked about New Orleans, craw fish, women, blues and gambling. His favorite game was dice. He had a home in Las Vegas and admitted he would rather be 'shaking the bones' at a dice table than doing a concert.
'But concerts pay the bills,' said B.B. with that big belly laugh of his. 'I got a lot of musicians and singers on my staff, and I got to meet the payroll.'
That evening, his concert was incredible. He had a big band with at least 10 musicians and an attractive new singer. She had a good voice, an incredible body, and enthralled the packed crowd with her stage moves, flirts and X-rated lyrics to songs that had the women smiling and the males panting for more.
B.B.'s concert format was intriguing and creative. He would have his band and vocalist warm up the audience. That would usually take about an hour. Then he would stroll on stage with Lucille and sing and talk the songs that made him famous, with the show-stopper, of course, being 'The Thrill Is Gone.'
Just before he went on stage, he came over to my table.
'Hey, Reporter,' he said. 'Do you know any good after-hours joints in this town? Me and the singer want to go out and have a little fun after the show's over.'
I hesitated. 'Well, B.B., sure. I know an after-hours place. But it's around 4th and Monroe. That's in a pretty rough part of town.'
He roared with laughter. 'Rough part of town? Son, you ain't never been to New Orleans, have you? Rough part of town?' He was still laughing and shaking his head when he went on stage to the crowd's wild applause.
After the show ended, his limo driver picked me up in front of Buster Boniff's Star Theater where the concert had taken place. There were three people in the limo besides the driver -- the sultry singer, his road manager who had wild hair and who resembled Don King, the fight promoter and King.
The long black limo snaked through the streets of Phoenix at midnight. We pulled up in front of the after-hours joint. I approached the door and an eye appeared behind the keyhole.
'Who's out there?,' a suspicious voice said. 'Oh, that's you. Who you got with you?"
The voice belonged to Louie, the gate man. He was the person who took care of any trouble. 'B.B. King and entourage,' I said. 'Can we come in?'
That night B.B. shot dice and regaled the after-hours people with his tales about being on the road. His booming laugh filled the place. I danced with the singer, his road manager drank good whiskey, and B.B., using a controlled roll, won over $6,000 at the dice table. Later Louie reminded me that 'We used the good dice 'cause it's B.B. King. If he'd of been anybody else, he wouldn't have had a chance.'
I smiled.
'You're not joshing?'
He laughed. 'No joke. Ike and Tina Turner were here a couple of weeks ago when they performed. Ike was messed up as usual and everybody knows how he treats Tina. We moved the bad dice in on him. He'll have to work a while to make up the money he lost in the back room.'
The only other time I saw King perform was years later in Pittsburgh, PA. I treated my brother Legs and his wife, Marie, to the show. Again, it was an incredible performance by the legend from Mississippi. Same great 10-piece band, a different singer but still beautiful and sexy, and the blues. Always the blues.
Rest in peace, B.B. And give Lucille a high-five for me.