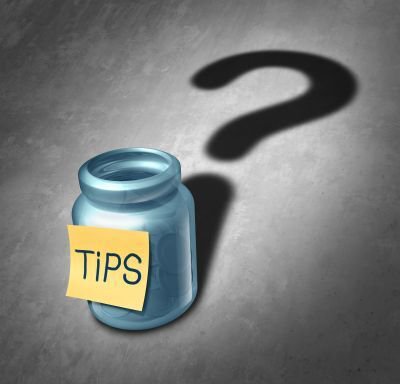 Tipping is an essential part of casino gambling. It isn't really a question of whether to tip or not -- it's how much.
When Shakespeare came up with his well-known quote, 'To Be or Not To Be -- That is the question,' he stirred the literary world with his observation. In the case of casinos, dealers, cocktail waitresses, chip runners and other personnel are not highly paid and must rely on tips to justify their working at the establishment.
Now I am the first to admit that I have had a problem with some dealers and waitresses when it comes to tipping. While the instances I am about to share with you are infrequent, they do occur and must eventually be handled.
Over the past three years, my casinos of choice have been Downstream, Indigo Sky and Harrah's in Oklahoma and Kansas City. I have also played at Talking Stick and Wild Horse Pass in Phoenix and Chandler, AZ., and recently spent several days at the Golden Nugget and The Orleans Resort in Las Vegas.
While the dealers at these casinos are professional and courteous for the most part, there are some who should either be given a good talking to by their supervisors or fired.
First, let's try to understand the average poker player and why he/she goes to a casino to spend an evening. The key word here -- and it seems to be a mystery to some dealers and supervisors -- is escape.
I dine out because I don't want to be at home alone when I eat. I want people around me, a pleasant, fun atmosphere, the aroma of good well prepared food, and a waitress or waiter who smiles when my food or drink is delivered.
What I don't want is someone who is too much in a hurry and too impatient tot give me that smile or exchange brief small talk. If a waitress has no time to share that smile or small talk with me, it generally costs that person in the amount of the tip I leave.
The same is true when it comes to a poker, dice or blackjack dealer. I love a dealer with personality and a sense of humor. Poker can turn into a blood-and-guts game when a person is losing. This happens to all players from time to time, and a good-natured dealer who handles the situation well can make all the difference in the world.
All games have rules or policies that must be enforced. Some dealers will enforce those rules strictly, like the 'show one, show all' policy when a winning player exposes his hand to the person on his right or left, but not to the rest of the table. Other dealers, perhaps because the player is a regular, fail to enforce such a rule. When this happens, tempers can flare and the table takes on an edge that should not exist in a poker room.
I believe a hard-working dealer or waitress deserves every tip a player givess the employee fails to deliver good service with a smile. Owen Wister wrote a wonderful best-selling novel called 'The Virginian.' It became a classic and was made into a movie. In one of the scenes, Trampas, a feared gunfighter, is in a saloon when he brushes against a cowboy leaning against the bar.
The man sputters his indignant rage and uses a profanity against Trampas. The gunfighter rests his hand on his holstered pistol and tells him he can call him anything he wants -- as long as he smiles. The man gulps and then gives him a weak smile.
Tipping becomes a major problem for some players in tournament settings. When a person wins several thousand dollars or even more, how much should the tip be?
Having played in hundreds of tournaments over the years and have won my share, I can assure you that the percentage varies from player to player. I always tip what is comfortable to me and don't give a set percentage of my winnings to the dealers.
In some tournaments, a certain percentage of your buy-in goes to the dealers. Be sure to take that into your consideration when you decide on how much to tip. Dealers are impressed when a player is fair. Of course there are always a few dealers who want as much as they can get. I will reserve that subject for a future column.