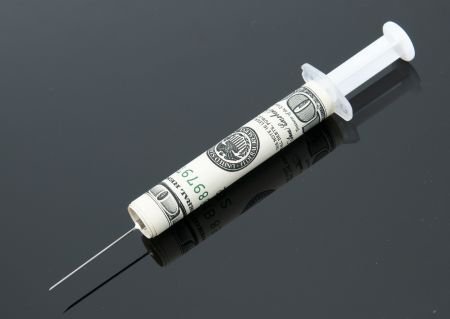 It isn't easy quitting a winner in this business of gambling. Even the professionals understand that principle.
Harold Smith Jr., son of the famous Pappy Smith who built the equally famous Harold's Club in Reno, NV., titled his autobiography, 'I Want To Quit Winners,' which is the hope of all gamblers.
Harold wrote about the winners and losers whose lives had crossed his over the years. One of his best friends was a loyal casino employee who happened to be a heroin addict.
Like the famous character actors Lon Chaney and Peter Lorre who starred in creepy 1940s films about ghouls, monsters, vampires and ghosts, Harold's friend was extremely serious about life and carried his long face with him wherever he traveled.
Although Harold Smith distrusted illegal drugs -- his favorite mood-altering substance was alcohol and he certainly could put away a lot of it -- he liked this employee whom I will call Peter. They drank and ate and shared conversation together. They also had a dream of one day sailing to the South Pacific and enjoying a dream vacation on unspoiled beaches beneath coconut trees where nubile young maidens would feed them grapes and attend to their every need.
For years Harold was too busy helping his father run the casino. Then one day it happened. Peter got on a rush at the dice tables and won over $140,000.
Harold congratulated his friend and said, 'Now that you have all this money, how about you and I book that cruise to the South Pacific? I'll call my travel agent and have her set it up. We'll visit Hawaii, Samoa, Tahiti and all the other islands in paradise. Are you ready to do that with me?'
'Oh, yes, Harold,' Peter said, smiling. 'Please book our passage. I will pay for everything.'
That afternoon, Peter got into his heroin. By 5 p.m., he was flying so high, he couldn't see the ground. He went to a dice table across the street at Harrah's Casino and began shooting dice.
Harold didn't know what was happening to his friend. He made reservations for the cruise with his travel agent. Around midnight, he returned to the casino to check on things.
Sharon, one of the cocktail waitresses, said, 'Did you hear about Peter? The poor thing went to Harrah's and lost all his money playing craps. By 11 p.m., he was hitting the ATM to get enough money to pay his hotel bill. That's sad.'
To Harold, it was more than sad. A good friend who also happened to be an employee had let him down. They never went on the cruise to the South Pacific and Peter never won anything major at gambling again.
Here's a piece of advice you should follow: When you win, keep your money and spend it in the right places. Otherwise you will never quit a winner.