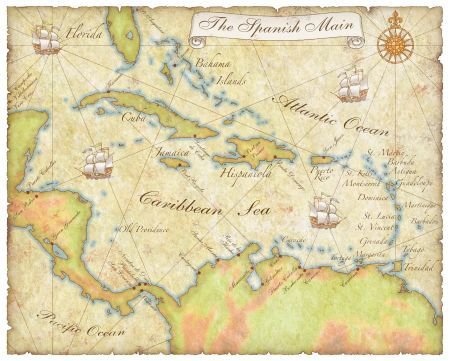 Poor Johnny Depp. When he made his movie, 'Pirates of the Caribbean,' he and his producers chose a good theme that could have made a very lively adventurous story.
Unfortunately, they blew it.
Depp's character as a pirate was ludicrous. Like the readers on this website, I know his reputation as a partaker of the blessed herb, as my Caribbean friends call ganja. But he appeared stoned throughout the film and there was no sense of reality in the story line. Maybe the producers thought it fit in with his campy style, but the movie left me cold and I left the theater 30 minutes into the plot.
The real pirates of the Caribbean were thugs and skull-crushers who hung out at waterfront bars and who could be hired for a few dollars and a bottle of rum or a case of the local beer.
I returned about a year ago from living in the Caribbean. I worked as a journalist on the islands of St. Kitts, Nevis and St. Maarten, all part of the Leeward island chain in the Eastern Caribbean.
St. Kitts, a tranquil fish-shaped island about 60 kilometers from St. Maarten, was the site of the last massive pirate hanging. The public hanging took place a half mile from the offices of The Observer, a weekly newspaper where I worked as editor. My publisher was Kenneth Williams, a native of Trinidad who took pride in publishing the island's only politically independent newspaper, answerable to nobody except himself and his high editorial standards.
The island of Nevis is located just three miles by ferry boat from St. Kitts. I became friends with the Luppinaci family who own The Hermitage Plantation Inn. Travel magazines like Conde Nast refer to The Hermitage as one of the most romantic resorts in the world, and I can vouch the reputation is well deserved.
Richard Luppinaci is a retired investment banker from Philadelphia. He and his lovely wife, Maureen, retired to St. Kitts quite a few years ago, planning to spend their retirement in tropical splendor. Instead they became bored and decided to turn their century-old English Tudor home into a resort. They built a number of cottages, each individually named, hired a local reggae band built a half-mile thoroughbred race track next to the beach and invited friends to visit their island paradise.
Their son, Richie Jr., who now manages the Hermitage, is an expert on pirate history. We spent many evenings in the small bar in the main house talking about Blackbeard, the pirate, his gambling, cutthroat ways and surprising generosity with people who needed help.
St. Kitts has several small casinos as well as a major one at the Marriott Hotel in Jack Tar Village, six miles from the island capital of Basseterre. There you can enjoy all of the games of chance, from slots to dice, baccarat, roulette, televised horse racing, Caribbean Stud Poker and live poker.
Blackbeard, whose real name was Edward Teach, sailed a ship called Queen Anne's Revenge. It was manned by a ruthless crew of 35 buccaneers who drank, gambled and took on the British Navy before Blackbeard met his violent end when a British Admiral nearly decapitated him with a sword on the bloody deck of a ship the pirates were trying to capture.
'You should write a book about Blackbeard' Richie told me. 'He was a colorful, romantic figure who was fearless. Rumor has it that he buried some of his stolen gold on St. Kitts, Nevis and Anguilla, but of course nobody has ever found it.'
I may write that book. And if Johnny Depp or one of his producers happen to read this column, I wouldn't mind it at all if they would contact me about writing a real story about pirates of the Caribbean.