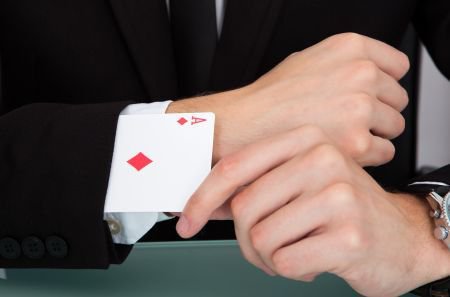 My passion for cards came from my mother. She would rather play cards with her friends for quarters than bake lasagna or visit her sisters and brothers -- Aunts Annie and Gladys and Uncles Steve Adam and Peter.
Saturdays my parents would invite friends over to spend the evening. After a session of drinking my father's homemade wine, a glass of which could make the imbiber drunk for two days, they would retire to the living room for a game of euchre or canasta. One of my brothers or I would fetch a half gallon of dad's wine from the cool storage room where he kept the wooden casks.
One night after my dad's boss and his wife left our house after a card-playing visit, Mom watched their car pull out of our driveway. Then she said, 'Alvin and Betty were cheating again tonight. She was kicking him beneath the table when she got a good hand. I know because she kicked me once by accident.'
I was astonished. 'If they're cheating at euchre and you know they're cheating, why do you play with them? Why don't you just cancel the card games and stop inviting them to our house?'
Mom was shocked and showed the logic of small-town philosophy. 'I couldn't do that,' she said. 'They're our friends.'
People who gamble occasionally cheat. Most don't, but there are a few who do. It's something that goes with the territory.
I played $6-12 Omaha High-Low and seven-card stud high-low last night at Talking Stick Casinno in Scottsdale, AZ. The conniving ways of some of the other players both amused and amazed me. Players try so hard to appear weak when they have a killer hand, and hey try to look strong when they are weak.
It's fun for me to try to spot cheaters at the table. Some of them are so bad they need to take acting lessons.
When I know somebody is a bluffer, I tend to keep my good raising hands to a minimum and let the cheater make the raise. Generally he falls into my spider web. When he raises, I wait until the other players call him and then I re-raise. Sometimes he will throw away his hand and other times he will throw good money after bad and call. In either case, I have the upper hand.
Cheaters can be found in all aspects of gaming. While in the past, it was almost expected that the House would try to cheat you, today that has dramatically changed. Thanks to the Internet, more people can create cheating conniving ways to take advantage of the odds.
Cheaters switch or conceal cards, they change dice, they use magnetic or other technical devices on roulette or the slots, or they do something else that they feel gives them the edge.
I have never cheated at gambling. That is so boring. It is much more fun and exciting to beat the cheaters at their own swindle. That is the real challenge of gambling. Let the games begin.