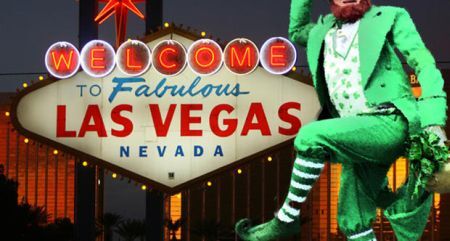 He wore wide ties, a big smile and loved to give away free food, candy, cash and cheap rooms at the El Cortez and other Las Vegas casinos that he owned.
John David Gaughan Sr., known to friends and strangers alike as Jackie Gaughan, was born on Oct. 24, 1920 in Omaha, Neb. At one time, he and his family owned or had interests in 10 casinos in downtown Las Vegas, including the El Cortez, Union Plaza, Gold Spike, Boulder, Las Vegas Club, Flamingo, Western, Golden Nugget, Royal Inn and the Showboat..
While Gaughan was celebrated for many accomplishments, he was best know as the man who fed Las Vegas thanks to his .29 cent breakfasts of eggs and toast and the steaks and prime rib he served at the lowest prices in the gambling mecca.
'There will never be another casino owner like Jackie Gaughan,' said former Las Vegas Mayor Oscar Goodman, who was a close friend. 'He'll never be replaced in this town. He was a piece of Las Vegas.'
Not that Jackie was perfect. He rubbed elbows with mobsters during an era when the mob owned Las Vegas. His business partners included Bugsy Siegel, Meyer Lansky, Dave Berman, Moe Sedway and Gus Greenbaum.
At one time, Gaughan reportedly owned 25 percent of all the real estate in downtown Las Vegas. The Gaughan family eventually sold their interests receiving $82 million for casino resorts and real estate that today is worth billions. As famed newscaster Paul Harvey would say, here is the rest of the story.
Jackie Gaughan was born into an Irish-American family in Omaha in 1920. He served in the U.S. Air Force during World War 2 and became acquainted with Las Vegas when he was assigned to Las Vegas Air Force base, now Nellis AFB.
After his honorable discharge, he was hired as a legal bookmaker at the thoroughbred horse race tracks around Omaha. When the Nebraska State Legislature made the mistake of passing a 10 percent surtax on legal bookmaking that ruined the industry, Gaughan took his money and went to Las Vegas where he bought three percent interest in two casinos, the Boulder Club and the Flamingo Resort.
Jackie didn't always get along with the mobsters. He had a celebrated run-in with Dave Berman when he tried to get a favor from a maitre d. Berman called him a 'dime a dozen' guy and the two maintained a frosty relationship for years.
A family man, humanitarian and supporter of the Catholic Church, Jackie was proud of his Irish heritage. He became well known for his wide ties including one with the image of a leprechaun that he always wore on St. Patrick's Day.
After buying interests in the Las Vegas Club and the Western with partners Sam Boyd and Howard Cannon in 1971, Gaughan continued investing in casino resorts and undeveloped real estate.
Although his gambling interests were widespread, his first love was the El Cortez, a luxury property at Fremont Street and Las Vegas Boulevard that reeked of old Las Vegas.
There he maintained an office where he worked 12-hour days, seven days a week. The walls of his office were covered with photos of him with many celebrities who headlined shows at his casinos.
'Jackie Gaughan was one of the most generous guys Las Vegas has ever seen,' said a former employee. 'He never knew a stranger. He would walk around town with his pockets filled with free food coupons or candy.'
'When he ran into somebody who was busted, it was not unusual for him to hand the person a $100 bill whether the individual was a friend or stranger.'
Gaughan purchased the El Cortez in 1963 from John Houssels who built the casino. Houssels had originally sold it to Meyer Lansky, Bugsy siegel, Gus Greenbaum and Moe Sedway, but bought it back when the mobsters needed money to fund the Flamingo Resort, a project that led to Bugsy's violent death when the mob discovered he was skimming profits.
I first began going to Las Vegas in the 1970s. I still remember those flashing neon signs and billboards at the El Cortez advertising .29 cent breakfasts. Of course, I had to try them out. I mean, what kind of breakfast could a person expect for .29 cents?
It turned out to be a good breakfast served with a smile by attractive waitresses and I always left a generous tip.
Jackie and his childhood sweetheart, Roberta Mae, were married for 54 years until her death at the age of 75. Along with her husband and two sons, she worked in the casinos and was in charge of counting coins.
In 1980, Gaughan built a 14-story, 200-room for $10 million at the El Cortez. He also opened up the El Cortez to new slot machines and games provided by the slot machine manufacturers. They would test their new machines and games on Jackie's customers and then move them to other casinos once the machines proved to be popular.
'Jackie Gaughan really was a special kind of guy,' remembered an old Las Vegas regular. 'Who else would carry around extra containers of gasoline in his car to give to stranded motorists?' He did it all the time. He even paid for funerals for strangers who died penniless.
Gaughan supported the Catholic Church as well as Bishop Gorman High School where his sons were students. In 1989, the Clark County Chapter of the National Conference of Christians and Jews named him Humanitarian of the Year.
His only surviving son, Michael, today owns the South Point Hotel Casino and Spa along with the slot concessions at McCarran International Airport in Las Vegas.
'Dad was the kind of guy who did business with a handshake,' Michael said after his father passed away. 'His customers were his friends. He loved to gamble and he almost always ate at the cafe or gourmet restaurant at the El Cortez.'
Toward the end of his life, Jackie Gaughan was confined to a wheelchair. He continued going to his office at the El Cortez and after work could be seen in the casino's poker room playing limit poker with the regulars. He would be flanked by security guards who would prevent people from talking to him because of his deteriorating physical condition.
During an interview with a reporter from the Las Vegas Sun when he was in his 90s, Gaughan said he would never retire.
'This is my life,' he said. 'I have no other place to go.'
Senate Majority Leader Harry Reid called Gaughan 'a pioneer of the gaming industry, adding 'There is nobody more respected in the industry.'
Jackie Gaughan died quietly in his sleep from pneumonia at a Las Vegas Hospice on March 12, 2014. He was 93.