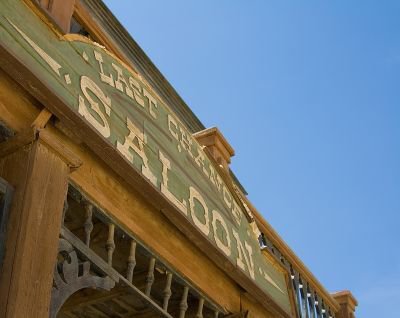 Somewhere between Kingman and Wickieup, AZ. there is a wide spot in the road where you can stop, fill up a tank of gas and enjoy a refreshing cool drink to fight off the Arizona heat.
I haven't been there for a while and don't know if the place goes by the same name it bore in the 1980s -- the Last Chance Saloon. The place rose from the shimmering heat waves of the desert into real buildings.
The Last Chance Saloon.
A gas station.
And a motel.
I remember the place because I always stopped there on my way to Las Vegas, an hour and a half away. My late buddy Dave Molina and I would pull off the road to give the car and ourselves a rest before making that final 100 miles.
The owner was a friendly desert dweller who had a couple of horses penned in a corral. When Dave and I walked into the bar, no matter what he was doing, Pete would amble over to our table, toothpick jutting out of the corner of his mouth, and give us a friendly insult before the cute waitress Dixie would serve us the usual -- two ice cold Coors beers.
'I thought you boys were still in jail,' 'Pete would say, smiling.
'We were,' I would say as we took our seats. 'The judge took off our ankle bracelets yesterday. 'We're free to travel as long as we stay within the Continental United States.'
Pete was a former welterweight boxer who had retired to Arizona after running up a pretty good record in the ring. He and Dixie had met in Las Vegas. She was a showgirl in a chorus line at the Riviera and Pete was a blackjack player who needed someone to manage his life. Dixie was the perfect woman for the job.
They bought a piece of property just off the highway and over a period of time constructed a bar, motel and service station. He had several employees including a mechanic named Red who could repair anything that had an engine.
Red was a former rodeo bronc rider who enjoyed a drink. Pete gave him a room at the 32-unit motel. It was an ideal existence for all of them, as long as Red stayed reasonable sober.
Dave and I would have a couple of beers while listening to music by Johnny Cash, Waylon Jennings, Glen Campbell and George Jones. After paying the bill, I would slip Pete a $20 bill to cover a tank of gas for our return trip to Phoenix.
'Good luck with the gambling,' Pete would say as he placed the bill in the cash register. What's the game this time?'
'Blackjack,' Dave said. 'We have a new system we want to try. It's based on Professor Ed Thorp's book, 'Beat The Dealer.'
Dixie was a reader -- Pete wasn't. 'I heard about that book,' she said. 'Isn't he the UCLA college professor who used a computer to figure out a system for winning at blackjack?'
'That's him,' I said. 'It involves basic strategy and a card-counting system. He won $25,000 in a weekend. Dave and I are hoping to do the same.'
Pete shook his head. 'Good luck, guys. You'll need it. Those casinos don't exactly give away their money, you know.'
Pete kept a couple of riding horses, a red roan and a gray gelding, in a corral behind the saloon. They rarely missed a ride to watch the sun set over the distant mountains. Red would saddle the horses for them and boost the trim Dixie into the saddle. Then he'd tighten the cinch and give the horse a friendly slap to send it into a brisk trot.
I would kid him about it and say, 'I thought you were a mechanic.'
'I'm everything Pete and Dixie want me to be,' said Red, who hailed from Odessa, Teas. 'Mechanic, handyman, wrangler. It's all the same.'
They would follow us to the parking lot and give a friendly wave to send us down the road. I would tune in a country western station and try to find 'Good-hearted Woman' by my friend Waylon Jennings or a George Jones song or maybe Glen Campbell's 'By The Time I Get to Phoenix,' so we'd get the proper send-off.
'Good luck, boys,' Pete would shout. 'Don't forget to write. That $20 should fill your tank. But be careful. The price of gas is going up to 39 cents a gallon!'
The final thing I would see in my rear-view mirror as we headed down the highway would be the blinking neon sign above the Last Chance Saloon. It was a comforting sign and Las Vegas was dead ahead.