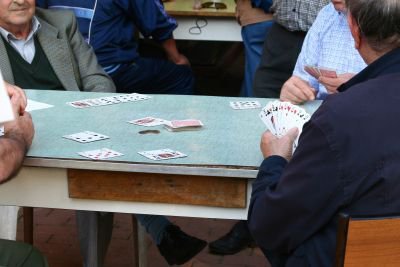 Anybody who doesn't think gambling has a social side has never belonged to an Elks Lodge, American Legion Post, VFW or Moose Club. And you never stepped foot inside the New Orleans Athletic Club, that is for sure.
It's a fact of nature that when men gather together, unless it's a church convention, there is probably going to be a poker or blackjack game going somewhere on the premises.
One of the best social clubs I ever gambled at was the New Orleans Athletic Club in New Orleans, LA. The poker game was so popular tat even Gov. Edwin Edwards, the silver-haired sugar daddy of Louisiana, was a member of the club and did his politicking there.
A commercial fishing magazine in Covington, located on the other side of the 30-mile causeway from New Orleans, had hired me as field editor. I was married, had a good paying job and was learning to play poker when somebody told me about the athletic club's weekly poker games.
'It's easy to join and they have great exercise equipment to get you in shape,' my friend said. 'They hold poker games twice a week -- Thursdays and Saturdays. The minimum buy-in is $500 and you'll meet attorneys, judges, politicians and business owners. Hell, you might even run into the governor. He enjoys a good game of poker along with the next fellow. Give it a shot.'
And so I gave the club a try. I joined, paid my $30 annual dues and found myself accepted as an upstanding member of society and a poker-playing member of the New Orleans Athletic Club, also known as the New Orleans Athletic Assn.
The game was wild and lucrative. Louisianans, especially those who are the upper crust of society, aren't afraid to risk their money, especially when the scotch and vodka are flowing freely as it did at the club.
Sure enough, two weeks after I started playing there, a familiar silver-haired dandy in a $2,000 suit came into the room. Everybody rose to pay him homage except for this dumb Yankee who was too busy raking in his chips to realize the governor had arrived.
Edwards circled around the room, passed out his personal cards, gave me a quick double-take and said, 'You're new here, son? Welcome to Louisiana, land of milk and honey. I supply the milk and honey.' He winked and handed me his card while everyone smiled.
I belonged to an American Legion Post in Phoenix where a veteran named Carl Collins ran a dealer's choice poker game three times a week. The regulars included Western, given that nickname because he read western novels between hands; an assistant police chief; a reporter from the Arizona Republic; and two trouble-shooters for the Salt River Power Co.
All of the regulars were veterans who participated in the activities sponsored by the Post. We all had learned to pay poker in the military. The dealer's choice aspect of the nightly games suited as well and we would switch from seven-card stud to seven-stud high-low, six-card stud, and even five-card stud with one card down. That was Carl Collins' favorite game and he nicknamed it 'Huckey-Buck' because of the dramatic impact when you turned over the hole card.
There were no chips in the game. We all bought in for a minimum $20 and played with cash.
When I took a job as editor of the Brownsville Daily Telegraph in Brownsville, PA., I heard about a good poker game at the Elks Club. It was easy to become a member of the club as long as you had a sponsor. No problem. Sam Niccola was chief of the Brownsville Police Department and a friend and he volunteered to be my sponsor.
Drinking and gambling, gambling and drinking. Flirting with the pretty waitress who called herself Apache but who had never been near an Indian reservation -- she grew up in South Brownsville and was great for the room.
The players included Fanny Nicola, Sam's wife; Mugsy, who baked wedding cakes and who was Fanny's best friend; a young coal miner named Dave; and Andy, who was in his 90s. Andy had been born in Russia and had worked in the coal mines before his retirement. He was a good poker player who chain-smoked Lucky Strike Cigarettes while sipping vodka and he never lost.
Today the American Legion Post in Phoenix has off-track betting and still hosts a poker game a couple of times a week. I haven't played in the game since getting back to Phoenix, but plan to do it one of these fine evenings. Hey. It's a social game, right?