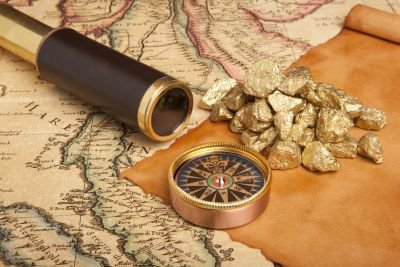 Every true gold seeker is a detective at heart. And no gambler I have ever met, regardless of his favorite game, would ever turn down a chance of finding a mother lode.
When I pack up my gold pan, plastic vials, chisels, sledge hammer, water canteen, Ruger .22 with the mini-mag hollow points and a brown paper bag of ham-and-cheese sandwiches my daughter Rossana says sweetly, 'Well, where is the gold detective going this time? Caracas? Fairbanks, Alaska? Or are you just going to your back yard? Wickenburg, perhaps?'
I reward her with my gold detective's smile. It's a little sinister but she handles it well.
'Caracas is too far and too expensive, although there's a lot of gold in Venezuela,' I said. 'Did I ever tell you about the time I flew to Aruba for a poker tournament --'
'And almost took a side trip to Caracas which was 30 miles away? Yes, Dad you've told me that story about a dozen times.'
'Oh? Anyhow, no Caracas or Alaska this time. I'm going to South Mountain to try a little gold panning.'
'South Mountain? That's just six miles from where we live.'
South Mountain happens to be one of my favorite parts of Arizona. It's a mountain range that compares in beauty to the Superstition mountains. A two-lane road winds from Central Avenue in Phoenix into the mountains with scenic stops along the way. The view from the top is almost overwhelming. You can see for nearly 100 miles into the Valley of the Sun and beyond.
'I never heard of gold deposits in South Mountain,' Rossana persisted.
'Well, there's a certain rumor that some nice gold nuggets have been found near a hidden stream halfway up the mountain. And you know a rumor is all it takes to get my gold detective juices flowing.'
It's fun being a gold detective. Unlike other detectives, I don't deal with homicides, bank robberies, violence or kidnappings. All I mess with is gold.
Years ago I had a partner whose name was Joe Willcox. Joe, his wife and family owned and operated the Joe Wilcox Indian Arts store in Sedona, AZ., 80 miles northeast of Phoenix. On weekends, he would drive down to my newspaper and we would go off on a gold hunting expedition.
I never knew our destination and never really cared. With Joe, I knew it would be fun, exciting and productive. He once took me to Rich Hill six miles north of Wickenburg. We spent a Saturday there looking for gold in the stream beds that cross the top of the hill and found 13 gold nuggets in a boulder Wilcox cracked open with a chisel and sledgehammer.
On another occasion he took me to Lynx Creek near Prescott, the mile-high city. There in knee-deep cold running water beneath a canopy of trees, we panned for hours and managed to nearly fill a small plastic vial with gold dust, flakes and tiny nuggets.
Ted DeGrazia, a Tucson artist, was another gold detective who partnered with me. Ted's favorite place to pan was the Superstition Mountains. We would meet at the Superstition Inn where saddled horses would be waiting for us in a corral. The ride to Weaver's Needle and DeGrazia's favorite camping grounds along a stream took nearly six hours, but it was worth it.
'This area is sacred to the Apaches,' Ted told me. 'We're only here because they gave me permission to be here. I paid them for the privilege by giving them a painting.' He pointed to an original piece of artwork in a canvas bag that he had carried into the mountains.
'How much is it worth?,' I wondered.
Ted shrugged. 'One...two thousand dollars. Who knows? A painting is worth what somebody is willing to pay for it. Anyhow, they showed me where their gold mine is located and I'm going to go there after we've unoaded out equipment and help mysef to whatever gold I find.'
'I'm going with you, ' I said.
'No you're not, amigo. You're staying in camp til I get back. If the Apaches ever found out that I had told someone about their secret god mine, they'd cut my throat.'
I stayed in camp, drank coffee and tended the horses while Ted was gone. He returned loping into camp on his big buckskin carrying a heavy leather pouch with at least a dozen gold nuggets in it -- and all of them were big.
That night while I was sleeping, an Apache slipped into camp and accepted the painting from DeGrazia. Although I never saw the Indian I did see his moccasin tracks near the campfire.
I never found gold in South Mountain -- not yet. The horse I rented from a stable at the bottom of the mountain turned up lame and I had to dismount and lead it back to the stabe. The stable owner refunded my money and I am planning another trip in the near future. A gold detective never gives up until the lode is found.
You can find gold in many parts of the United States. Just do an Internet search for your geographic area and you'll get the information you need to determine where to look. I can assure you of one thing -- it will challenge you to the heights to find the rarest of yellow metals. I will also guarantee you that for a little while, you'll forget all about slot machines, cards, dice or race tracks. That is what being a gold detective will do to you.