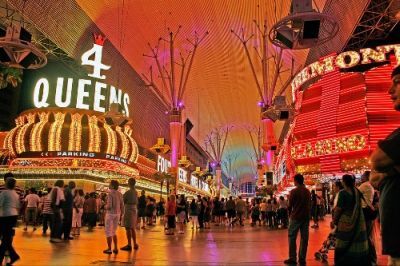 Italian film director Federico Fellini was known for his bizarre portrayals of people in movies like 'City of Women,' 'La Dolce Vita,' 'Fellini Satyricon' and other classics.
In 'City of Women,' the famed director portrays Marcello Mastroianni as an Italian businessman who cannot control his lust for women but who is taught his manners when he becomes trapped in a city of feminists who gather there for a convention directed against men and their power over women. 'Satyricon' is a brilliant portrayal of the decadence of Rome that led to the city's eventual collapse and rebirth.
After visiting Las Vegas, one of my favorite cities, last week I am convinced that Fellini would have loved to have produced a film about Las Vegas had he lived long enough.
There is a place on the Las Vegas Strip that one well-known commentator claimed was the location where every person in the world who traveled internationally would at one or more times in their lives find themselves -- Fremont Street and Las Vegas Boulevard.
I have been at that location many times. Las Vegas visitors who use the city bus system gather there whether they are interested in the 'Fremont Street Experience' or just cruising the Strip on a Las Vegas city bus or in a private vehicle.
If you have never had the Las Vegas experience, here is what you can expect to see.
People who attend a Barnum and Bailey Circus are entertained by elephants, tigers, dwarfs, men and women in tights walking on tightropes or swinging from ropes in the sky high above the floor of the circus tent.
On the famed Las Vegas Strip, you probably won't see any wild animals unless Siefried and Roy are entertaining with their caged animals in a parade. However, when I cruised the Strip last Saturday evening, my eyes were filled with sights of a man in an Uncle Sam uniform wearing a top hat and striding down the boulevard on stilts.
I also viewed colorful midgets and dwarfs dressed in cowboy garb, bare-chested men looking like they had stepped out of a 'Tarzan' movie, long-legged showgirls wearing tights, bra and feather hats.
There were clowns, sci-fi monsters, and gaudily clad actors who looked like they had stepped out of Alice in Wonderland or Sesame Street mixed in with the thousands of people who were entertaining themselves in the city that never sleeps. Fellini would have loved every moment of it.
On a Saturday night, forget about moving fast on the Strip. It just won't happen.
It took me nearly an hour to move five blocks from Tropicana Boulevard to Steve Wynn's Encore, a casino resort that cannot be described. It must be seen to appreciate its grandeur and beauty.
I have no idea how many casinos there are in Las Vegas. There are casinos tucked into every corner of the Strip. I firmly believe a person could live in Las Vegas for a year and never visit all the casinos that city holds.
Like the baseball character said in 'Field of Dreams,' build it and the people will come.
Well, they built Las Vegas and the people keep coming, more of them every year.. The dazzling mecca dedicated to gambling and fulfilling the average individual's lust for fantasies that are denied them in their hometowns will never grow old.
I stayed at the Orleans Hotel and Resort which, despite being old compared to some of the new attractions on the Strip, still remains one of my favorite places to amble.
I saw the old familiar faces at the sportsbook. Marvin was still running the daily poker tournaments in the large air-conditioned poker room. I saw my friend Jimmy who worked for many years at Binion's Horseshoe and the Stardust. He looked fine and in good health despite his years
I even saw Oklahoma Johnny Hale, creator of the Senior World Series of Poker, playing in a no-limit Texas Hold'em tournament. Well into his 80s, Johnny's health is not what it used to be. But there he was, a stack of chips in front of him, in his familiar white baseball cap and red shirt, studying the other players and trying to talk them into calling his bet when he had the nuts.
'Johnny,' I said, sticking out my hand, 'I thought I would be invited to attend your funeral.'
He cocked an eye and rewarded me with a thin smile. 'Not yet, Sonny Boy,' he said, pushing out a bet 'The Lord's gonna have to wait for that event.'
Las Vegas and the Strip. Mistress to mankind. A cornucopia to man's cathedral to himself.
Let the games begin.