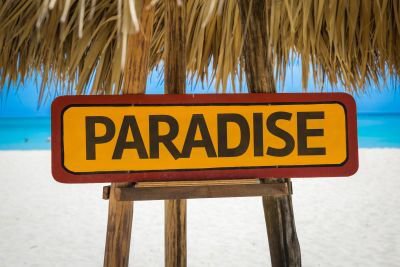 It's always good to hear from my regular readers. I read a letter just the other day that brought back a flood of memories and I'd like to share it with you.
Robin lives just outside Pittsburgh, PA. She is an executive secretary for Westinghouse Corp and is engaged to marry David, whose family owns a clothing store in Monroeville. Here is the gist of her email and my response to her.
'We love the stories about your experiences in the Caribbean. David and I have been dating for the past 18 months and finally decided to get married. It's his second marriage, my first. He likes to play poker and backjack, while I enjoy the slots and cruises. We're looking for paradise and want to know your recommendations for a honeymoon we will never forget and that will keep us together forever.'
That sounds like a tall order, Robin, but here goes my best shot.
If the Windjammer Barefoot Cruises were still sailing out of Miami Beach and Ft. Lauderdale, FL., I would point you in the direction of Capt. Mike Burke's fleet in a heartbeat.
Sadly, Windjammer Barefoot Cruises went out of business a couple of years ago after a vicious hurricane destroyed one of their finest ships and sent it and their loyal crew to the bottom of the Caribbean Sea.
The windjammers were the long ships - vessels measuring up to 280 feet in length, and able to carry up to 100 passengers and a crew of around 25. During the heyday of Capt. Mike's barefoot cruises, I sailed on the Yankee Clipper, Flying Cloud and Fantome and visited many island paradises, including Grand Cayman, Isle de Saints, Berry Island -- which by the way happens to be my favorite -- St. Kitts, Dominica and Nevis.
What I liked about windjamming was the intimacy of the tall ships. You could sleep on deck while dolphins and flying fish swam along next to you. There was a 24-hour bar and restaurant that could provide you with something to eat and drink in the wee hours of the morning And if you were brave enough, you could even get married at sea.
When the Fantome capsized in a devastating hurricane after trying to outrun the story, Windjammer Barefoot Cruises were overwhelmed by lawsuits, government actions and other problems that affected the cruise line's ability to perform and they just shut down operations. Capt. Burke, a World War 2 Navy veteran, had basically retired from the business and left the ships to his son and daughter to operate
One of the ships -- I believe it was the Flying Cloud -- was used in the movie, 'White Squall,' starring Jeff Bridges which re-enacted the true story of a group of high school students who drowned after going on a maritime adventure that ran into disaster when a white squall capsized their vessel in the Eastern Caribbean.
I gave Robin and David several options for their honeymoon, all which offered the best of tropical beaches, gambling and prices that could fit their budget..
My number one choice for any couple seeking paradise is Aruba.
You can fly to Aruba or take a cruise out of Miami or Ft Lauderdale. While the ships are not windjammers, there are several cruise lines that a good travel agent can book you on and the prices generally amount to around $100 per day.
I spent 10 days in Aruba several years ago The island is a tropical gem with miles off white sand beaches, eight casinos, gold mines, some of the world's best deep sea fishing, green monkeys, reggae music and easy access to Venezuela just 30 miles away.
While the Natalie Holloway tragedy will probably make some people hesitate before setting sail or flying to Aruba, I would strongly recommend the island. While the Dutch government is not perfect -- no Caribbean government has achieved that status -- it works hard to keep visitors safe.
I stayed at the Holiday Inn which has a great casino that features live poker, a sports book, Caribbean stud poker, blackjack, dice, slot machines and other games with an island touch..
Unlike Las Vegas or Atlantic City, Aruba does not provide 24-hour gambling. The various casinos on the island open at different hours ranging from 10 a.m. to 4 pm and usually close around 4 am. All gambling is done with U.S. currency rather than the EC dollar.
One thing I would warn you about is rum. The Barbados rum is powerful and you should limit your intake. Also, be careful not to leave your drink where somebody might put something in it. Naughty, naughty. Some islanders have a rather wicked sense of humor and there is no telling what they might slip into your rum and Coca Cola.
For those who are truly adventurous, there are flights available between Aruba and Caracas, Venezuela, just 30 miles away. There are many bargains in Venezuala, from jewelry made of pure gold, diamonds, emeralds and sapphires. The dining in fine restaurants is outstanding and the night clubs remind Caribbean tourists of Havana.
One word of caution: be careful of roaming too far from the center of Caracas. The crime rate in Venezuela can be a bit alarming and you wouldn't want your honeymoon or vacation to be interrupted by a hostage-taking incident.
If you want another choice, I would highly recommend St. Kitts or Nevis. The islands are separated by a three mile channel with ferry boats and private aircraft available to fly you between islands.
St. Kitts has a dozen casinos including Jack Tar Village operated by the Marriott Hotel. The casino has some of the best dining on the island, featuring spiny tail lobster, coconut soup, great steaks, pineapple chicken and tropical drinks.
If you tire of gambling, you can go island hopping and visit Nevis or Anguilla where Banky Banks lives on Dunes Preserve and plays hot reggae music. Banky is a friend of Jimmy Buffet, Willie Nelson, Israel Vibrations and other top reggae groups and he is almost always in a party frame of mind
People ask me, 'Is the Caribbean safe to travel?' My answer is that it is as safe as New York City or Miami. Just keep your valuables close to you and use the good sense God gave you. If you do that, you'll be fine and you'll have a lot of great stories to share with your family and friends when you leave paradise behind and settle back down to life in America.